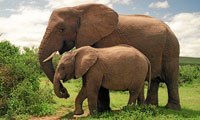 After contingents from the government comprising a number of ministers paid numerous visits to Hwange National Park, following the discovery there of elephant carcasses that died from cyanide poisoning, it was widely thought such a level of involvement was what was needed to put an end to the gruesome killings.
But as days go by, and more elephants and predatory animals continue to die, it would seem that either not enough effort is being put towards actually stopping the brutal killings, or those tasked with attending to the problem are sleeping on the job.
An elephant death toll that initially stood at around 40 when the infiltration by poachers of Hwange National Park became public knowledge, now stands at a staggering 103, according to the Zimbabwe Parks and Wildlife Authority, as an additional 11 elephant carcasses were reportedly discovered last week.
Their tusks were brutally plucked out after being killed in the very same manner — by poisoning their water holes and salt licks with cyanide, a highly lethal chemical whose consumption results in an assured instant death. Two more salt licks are reported to have been poisoned, in addition to the previously reported 35.
The last killings had prompted numerous visits to the crime scene by a number of ministers, among them the Environment minister Saviour Kasukuwere, Information minister Jonathan Moyo, Defence minister Sydney Sekeramayi, Local Government minister Ignatius Chombo, Agriculture minister Joseph Made, Health minister David Parirenyatwa and Mines minister Walter Chidhakwa.
How do poachers keep managing to kill?
As the Hwange National Park elephant killings story continues to make headlines, it has gained the publicity many felt was needed to scare the poachers enough for them to stop. But, almost a month after the last reported killing, the poachers have killed again! This is in spite of the fact that three of those that had allegedly been involved in the initial killings were arrested and now face as many as 16 years behind bars.
After the death of the additional 11 elephants, two more poachers were arrested last week; one of them (Norman Ncube) was reported to be as young as 18 years old. After Kasukuwere was sworn in as the new Environment minister, taking over from where Francis Nhema (now the Indigenisation minister) had left off, notable in most of his inauguration speeches was his stern warning to poachers, assuring them that their days were numbered.
"We are declaring war on the poachers. We are responding with all our might because our wildlife, including the elephants they are killing, are part of the natural resources and wealth that we want to benefit the people of Zimbabwe," said a visibly irate Kasukuwere.
In no time after he was sworn in, and as the number of animal deaths in Hwange continued to rise, Kasukuwere came out saying the government had set up a taskforce that would get to the bottom of what was happening in the park. Soldiers were reported to have been deployed into the area.
But seeing as how the elephant killings seemed to have become for the government a security matter, it is then surprising that the poachers are still somehow managing to strike.
There is a general belief that poaching in the country is now the work of well-orchestrated syndicates and that the men that have so far been arrested are very minor players whose incarceration will do nothing to perturb the "big guns" that are fuelling the ruthless acts.
Many now fear that the killings will continue until Hwange National Park — the biggest game reserve in the country and third biggest in Africa — is cleared of all elephants, and indeed eventually all animals.
Zimbabwe is still believed to be home to some of Africa's largest elephant herds, with an estimated 40 000 elephants thought to be in Hwange.
But because wildlife audits have not been conducted in a long time, it is very hard to tell just how much wildlife there really still is.
It would not be surprising if the country was to wake up to find out there is very little wildlife left, contrary to popular belief that the country has more animals than it can handle.
Unfortunately, the Hwange National Park poaching — the biggest animal poaching in the history of the country — has come at a time Zimbabwe is trying so hard to revive the tourism sector. It is no secret that most tourists from abroad that visit Zimbabwe would not consider it a complete package without seeing the wildlife that have always added to Zimbabwe's appeal as a tourist destination.
In the meantime, the nation waits with bated breath to find out just who is behind the on-going poaching, and just why, even when the issue is being treated as a security matter, the poachers are still managing to penetrate Hwange National Park.
For feedback, email: cmasara@standard.co.zw