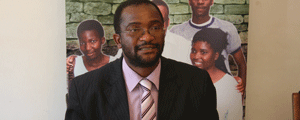 MUTARE — MDC-T National spokesperson, Douglas Mwonzora says his party will launch its manifesto on July 6 in Harare after having successfully fielded candidates in all constituencies across the country.
Report by Our Correspondent
Mwonzora said the document will touch on robust and inclusive economy, rural transformation, infrastructure, health services and defending people's rights.
"We are going to the elections, promising our people jobs. Zimbabwe is sitting on 85% unemployment," said Mwonzora.
"Our school leavers from colleges, high schools and tertiary education are not employed. We know some Zimbabweans have been conditioned to think like entrepreneurs in townships and we have a special package for these people,"
Turning to the issue of rebel candidates who filed their papers at the nomination court as independents, the MDC-T spokesperson said the party was bigger than an individual, and people should learn to accept defeat in primary elections.
He said the forthcoming harmonised elections were crucial and needed a unity of purpose.
He said what was important at the moment was to focus on winning an election.
"What is critical at the moment is to get Prime Minister Morgan Tsvangirai to the State House, once we win the elections there is room for everyone. It's not everything to be an MP, you can be a senator, councillor, Ambassador, director or permanent secretary.
There are so many good things one can be," said Mwonzora.
Some of the candidates who filed their papers as independent candidates include former Daily News Editor-In-Chief Geoffrey Nyarota who lost to MDC Manicaland spokesperson Pishai Muchauraya in Makoni South. Acting Mutare mayor George Jerrison filed his papers in the local authority elections after he lost to Tsitsi Foya during the primaries.
In the Chikanga-Dangamvura constituency, MDC-T was forced to file two candidates Giles Mutsekwa and human rights defender Arnold Tsunga after the primary ended in a dispute.
"What has happened is that both candidates have filed their nominations under the party's name and we have allowed them to do so because under the Electoral Law once a candidate is registered under a party, the political party can withdraw the name of the candidate within a specific period of time. As you aware the Chikanga-Dangamvura elections were aborted for variety of reasons, more than twice now.
"We are going to do a special selection of a candidate and after that we will withdraw the other candidate. I am sure the leadership is working on that and President Tsvangirai in particular is seized with the matter.
"We are going to sit down as leadership and deal with the matter and one of them is going to step down. They signed an affidavit before the chief election officer that they will abide with the party decision to withdraw, should the need arise.
"Arnold Tsunga and Giles Mutsekwa are both reasonable people. They are both valuable people in the MDC and the leadership will see where to place them in the future government," said Mwonzora.
He said despite this incident, MDC was happy that it had fielded candidates in every constituency across the country.
"We are happy that we filed a candidate in every constituency. I am particularly happy myself that in my constituency that the battle lines have been drawn between MDC-T and Zanu (PF) and no other party. It's between me and Herbert Nyanhongo, and let me just tell the Zimbabweans that I am going to retire this man nicely," he said.
Mwonzora said the MDC hoped that the elections will be free and fair and will not be replica of a 2008 violent election.
"As MDC we continue to call for an even playing field. We want an election that is not a repeat of 2008, an election that guarantees the secrecy of the voters and the vote. Election's should be funny to the people of Zimbabwe not an election that brings fear, timidity and sorrow," he said.