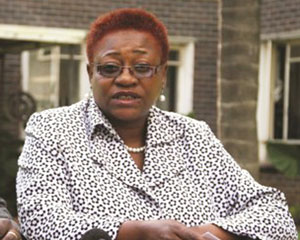 SERVING members of the police force continue to openly support President Robert Mugabe ahead of elections next month in direct violation of the Police Act which forbids them from dabbling in politics.
REPORT BY CAIPHAS CHIMHETE & PHYLLIS MBANJE
Some of the officers took part in Zanu PF primaries last week and are set to represent the former ruling party in forthcoming elections slated for July 31.
The Police Act forbids members of the force to actively participate in politics.
A police officer is deemed to be actively participating in politics if he joins or associates himself with an organisation or movement of a political character; or canvasses any person in support of, or otherwise actively assists, an organisation or movement of a political character.
A police officer also is deemed as having participated in politics if he or she: "…displays or wears rosettes, favours, clothing, symbols, posters, placards or like articles having a political significance; or attends a political meeting or assembly when wearing the uniform of the police force or any part of such uniform likely to identify him as a Regular Force member."
Among those that participated in last week's Zanu PF primaries are Senior Assistant Commissioner Ronald Muderedzwa and Assistant Commissioner Oliver Mandipaka who won tickets to represent Buhera Central and West respectively.
Two weeks ago, police recruits openly declared their allegiance to Mugabe and Zanu PF at a pass-out parade in Harare. The officers wished the 89-year-old leader, who has been ruling the country for over three decades, a "resounding success" in the forthcoming elections.
Police Commissioner General Augustine Chihuri has also declared his allegiance to Mugabe and declared that he would not salute anyone without liberation war credentials, in reference to Prime Minister Morgan Tsvangirai who did not fight the war.
Other securocrats have also vowed that they will not allow Tsvangirai to rule this country, even if he wins elections.
However, if a police officer is suspected to have links with other political parties, especially the MDC led by Prime Minister Morgan Tsvangirai, he or she faces disciplinary action. Some have been ejected from the force.
A police officer in Chiredzi was recently hauled before a disciplinary hearing for driving an MDC-T legislator's car.
Constable Brighton Mangoto appeared before police internal disciplinary board after he drove a car belonging to former MP for Chiredzi Central, Moses Mare into the police camp last month. Mangoto said he wanted to buy the car and was doing a test drive before he could pay.
The matter is still pending.
Last month, three officers were detained for attending an MDC-T rally. An internal police court sentenced Courage Manyengavana, Marshall Zindoga and Lovemore Mupedzapasi to 14 days detention for acting in a "manner which brought disrespect to the police".
In 2011, a female police officer, Faith Mereki was fired for allegedly having close links to an MDC-T legislator.
SECURITY SECTOR REFORMS HAVE BEEN RESISTED
Efforts by Morgan Tsvangirai and MDC led by Welshman Ncube to effect security sector reforms have been fiercely resisted by President Robert Mugabe and Zanu PF.
Even Sadc at the summit in Mozambique earlier this month ordered that security forces publicly state or restate their commitment to the rule of law.
But Mugabe derided the calls for security sector reforms in Namibia recently.
Security forces 'biased' towards Zanu PF
Human Rights Watch (HRW), a New York-based human rights body, has said chances of a free and fair election in Zimbabwe were remote, as long as the existing weaknesses in the security sector reforms remain.
It accused the security forces of being "biased" towards Mugabe and called for stringent reforms to "rein in police, the military and internal security agents".
Political analyst, Shakespeare Hamauswa said it was sad that the police had a tendency of flouting its own laws.
"Some of these people have various interests that they acquired through the party, like mining ventures and other business prospects so they would not want to lose these. They would rather serve the party that is safeguarding their interests," said Hamauswa. "Another issue is that these guys have an umbilical-cord type of relationship, whereby because they served together in the army they feel obliged to keep supporting their comrades-in-arms. They fought together side by side and they are forever attached to each other." Hamauswa urged the MDC formations to come up with a clear transitional strategy.
"People are generally afraid of a change of government because it leaves them feeling exposed and so the various opposition parties need to devise credible transitional plans," he said.
Another political analyst, Effie Dube said it was prudent that the police and the army respect the Constitution.
"No one is allowed to violate the Constitution, the police and the army should not be partisan," said Dube. "This will prevent them from dispensing their duties efficiently. They cannot participate in political matters, it is simply unacceptable."
Dube said the role of the law officers was to provide and ensure safety to the citizens and not to take sides with any political party.
"Their duty is to ensure that everyone who wants to assemble with their preferred party is protected to do so freely and even [at] voting time everyone should feel safe enough to vote."
He also said the police and the army should fulfil their professional obligations to the state.
"It is extremely important that they should fully observe their duties."
Police spokesperson Charity Charamba demanded questions in writing.
Two weeks ago, the police had however, promised to issue a statement on the matter of serving officers contesting elections under the Zanu PF ticket.