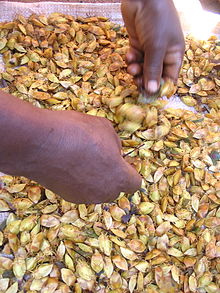 AN increasing number of enterprising women in the perennially drought-stricken Bikita district in Masvingo province are resorting to selling stinkbugs [harurwa] — small edible insects — for survival.
BY MUSA DUBE
Bikita is the third driest district in Masvingo after Chivi and Chiredzi and is perennially-plagued by food shortages induced by low rains.
At Nyika Growth Point, one of the busiest centres in the district, women rush to each and every vehicle that stops, holding dishes full of the insects, shouting "harurwa! harurwa," to attract the attention of customers.
Charity Musoro, an elderly woman who sells the edible insects at the dusty growth point, told Standardcommunity recently that most women had resorted to selling haruhwa in order to save their families from starvation.
She said the district had not been receiving enough rainfall for the past two consecutive seasons, spelling disaster for both people and animals.
"We did not harvest anything for the past two seasons, and the only way we can survive is through selling harurwa and buying food stuffs such as maize meal from the proceeds," Musoro said.
A small cup full of harurwa costs US$0,50. On a good ACday, Musoro takes home anything from US$5 to US$10.
"We also use the money to pay school fees for our children," she added.
Marweyi Chiwara, another vendor at the same growth point, said people's plight worsened in the district after most of the non-governmental organisations (NGOs) that used to provide them with food aid were stopped.
"We don't know why the NGOs that used to provide food to people have stopped doing so, because people are starving here," said Chiwara.
Last year, Masvingo Provincial governor, Titus Maluleke banned 29 NGOs from operating in the province, leaving thousands of people exposed to hunger and starvation.
The organisations had been accused of defying his order to register with his office and of helping starving villagers with food aid as a way of campaigning for the Movement for Democratic Change (MDC) led by Morgan Tsvangirai.
Harurwa is not only a source of income, but also a traditional delicacy and an essential part of the people's diet in Bikita and surrounding areas.
One of villagers, Makanatsa Jarava said the harvesting of harurwa was seasonal and started from March to September each year.
"We go to the forest in the morning between 6am and 7am, shake the trees so that they fall to the ground where we can easily pick them up," she said.
"After picking the harurwa, we carry them home, and roast them."
She said they could be stored for a long period of time before they go bad.
Some villagers said enterprising traders are coming from as far as Harare to Bikita to barter the insects for maize meal, flour, sugar, soap and cooking oil.
"Some people from Harare come with groceries and other commodities and do barter trade. For half a bucket of the insects I can exchange it for 20kg of maize meal," said Jarava.
The forests in which harurwa are found are strictly regulated.
Traditional leaders keep an eye on the forests and punish anyone found cutting down trees.
Severe reports of hunger in Bikita come at a time when the Zimbabwe Vulnerability Assessment Committee (ZimVac) says hunger is on the rise in the country with an estimated 2,2 million people expected to need food assistance during the pre-harvest period early next year.
This is the highest since early 2009 when more than half the population required food support.
"Many districts, particularly in the south, harvested very little and people are already trying to stretch out their dwindling food stocks," says UN World Food Programme [WFP] country director, Sory Ouane. "WFP is working closely with the government and partners to respond to the looming food crisis, and will start food and cash distributions to the most vulnerable in October."
The current high levels of food insecurity are being attributed to adverse weather conditions, the unavailability and high cost of agricultural inputs such as seeds and fertilisers and projected high cereal prices owed to the poor maize harvest.