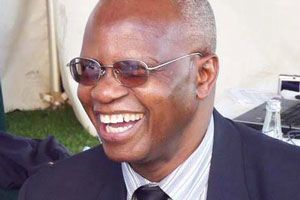 FINANCE minister, Patrick Chinamasa will this week make his maiden trip to Washington for the annual meetings of the World Bank Group and the International Monetary Fund (IMF), barely a month after taking over the reins at Treasury.
BY OUR STAFF
The meetings run from October 11 to 13.
Chinamasa is set to use the meetings to re-engage the multilateral institutions. The country requires lines of credit to reboot the economy which is suffering from liquidity constraints.
However, Reserve Bank of Zimbabwe (RBZ) governor, Gideon Gono would not be part of the delegation, saying yesterday that he was crafting domestic responses to the challenges facing the economy.
Gono said international tasks would be tackled by Chinamasa, while the RBZ team would focus "on home challenges".
"I would have loved to go but have pressing domestic commitments to do with crafting survival strategies for our sanction-constrained economy," said Gono.
"There is an SMP [Staff Monitored Programme] that spells out the roadmap for Zimbabwe to qualify for debt relief and other forms of multilateral funding support."
In June, the IMF approved the supervised economic reform programme for Zimbabwe, as the country re-engages the international community. The SMP runs up to December.
What was needed, Gono said, was to "craft and communicate authoritatively to the world that we are friendly to foreign direct investment, that Zimbabwe will not grab anyone's business or capital who comes to invest in the country and that the country respects property rights."
Gono said government has to work flat-out to address the liquidity challenges facing the economy through improved exports, attracting foreign direct investment, diaspora inflows, lines of credit and direct government-to-government grants.
He also said government has to tap into the confidence liquidity; that is, money outside the formal banking channels.
"We need to grow the confidence in our economy and it starts with citizens of that economy. There is a lot that government can and should do to harness liquidity from internal sources," he said.
Gono said liquidity challenges were fatal for the economy and, "we must not play Russian roulette with our economy by doing anything that worsens our situation on that front".
He said with expectations from people high, "we have no choice but to be level-headed in our approach to our economic revival while delivering promises made to the people by the ruling Zanu PF".
"There should be no room for extremism or irrational exuberance in our actions and pronouncements," he said.
"Business, politics, labour, civil society, NGOs [non- governmental organisations], and the international community should find each other and work together. That is the only formula for success."
Gono said he would announce his monetary policy statement which was due at the end of July 2013, as soon as Chinamasa had gone through the central bank's proposals and was satisfied.