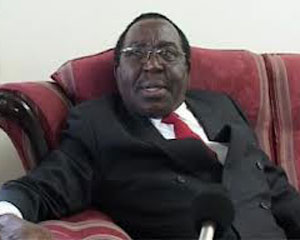 President Robert Mugabe is under pressure to use this week's Zanu PF 14th national people's conference to elevate party national chairman, Simon Khaya-Moyo to vice-President, it has emerged. Khaya-Moyo's promotion to replace Vice-President John Nkomo, who died in January this year, would under normal circumstances require a congress in terms of Article 5 of the Zanu PF Constitution.
But sources said Mugabe was nevertheless empowered by the same constitution to appoint anyone to any position.
A politburo member said there was now a push by a section in the party for Mugabe to use his powers to fill a number of vacant politburo positions, including that of VP.
"Their argument is that elevating Khaya-Moyo and filling vacant politburo positions will strengthen the party ahead of next year's conference. But others have a feeling that such a push has a succession agenda," he said.
Senior Zanu PF officials, among them central committee and politburo members, who used to be Zapu before the 1987 Unity Accord, recently met in Gweru and cleared the way for Khaya-Moyo to assume the post of second VP without the need to go for a special congress.
The former Zapu officials also settled for former Matabeleland South governor, Angeline Masuku to replace Khaya-Moyo.
The position of second VP is traditionally reserved for former Zapu members in accordance with the 1987 Unity Accord between the party and Zanu PF.
Vacant politburo positions include that of secretary for finance, previously held by the late Harare governor, David Karimanzira who died in 2011.
Several other politburo positions including the ones held by the late Higher Education minister, Stan Mudenge who died last year and that of Kumbirai Kangai who died a few months ago, are also vacant.
Zanu PF spokesperson, Rugare Gumbo yesterday said it was Mugabe's prerogative to appoint a VP and politburo members.
"He has the prerogative to do that as party President. So it is really up to him," he said.
But the politburo source said it was unlikely that Mugabe would agree to the proposal. He said national secretary for administration, Didymus Mutasa was not interested in the national chairmanship position, but wanted to become VP in the event of the incumbent, Joice Mujuru eventually taking over from Mugabe.
But another senior Zanu PF official said while Mutasa was openly loyal to a faction linked to Mujuru which swept most of the recent provincial elections; there was a push by a group from Manicaland that it was time for the "Godfather" of the province to also aim for the highest office.
"There is a belief by some that since Mutasa is the Minister of Presidential Affairs and has also been given the state security portfolio, he is being groomed to take over from Mugabe," said the official.
He said Mugabe was always full of surprises and at Thursday's politburo meeting questioned the calibre of some of the recently elected provincial chairpersons. The official said no one in the meeting from the different factions in the party dared to answer Mugabe when he raised the issue.
He said anyone who eventually succeeds Mugabe, has to have the blessing of the 89-year-old leader. The official said some powerful business people in Zimbabwe, including bankers, mostly educated at Kutama College have teamed up with politburo and cabinet ministers to form the "Friends of Mugabe" which aims to ensure that the Zanu PF leader finishes his term of office. Some members of the new group, including the likes of Local Government minister Ignatious Chombo, also belong to the "Mugabe Five Year Team" which has similar objectives.
The "Mugabe Five Year Team" has the likes of Zimbabwe Defence Forces commander, General Constantine Chiwenga and Justice minister, Emmerson Mnangagwa who together with Mujuru are viewed as the leading contenders in the race to succeed Mugabe.
The two factions linked to Mugabe do not want a leadership shake-up at next year's congress as they are said to prefer the status quo to remain, with the 89-year-old leader remaining at the helm.
NO FIREWORKS EXPECTED AT ZANU PF CONFERENCE
Zanu PF officials said no fireworks were expected at this week's Chinhoyi ZanuPF conference which comes at a time when the party is heavily divided after last month's provincial elections seen as the precursor to the battle to succeed Mugabe.
Gumbo said preparations were going smoothly with everything expected to be in place in time for the official opening of the conference slated for later this week. The conference is expected to strategise on how the country can ensure food security, social service, poverty eradication, infrastructure development, beneficiation and value addition in line with the recently launched Zimbabwe Agenda for Sustainable Socio-Economic Transformation (ZimAsset).