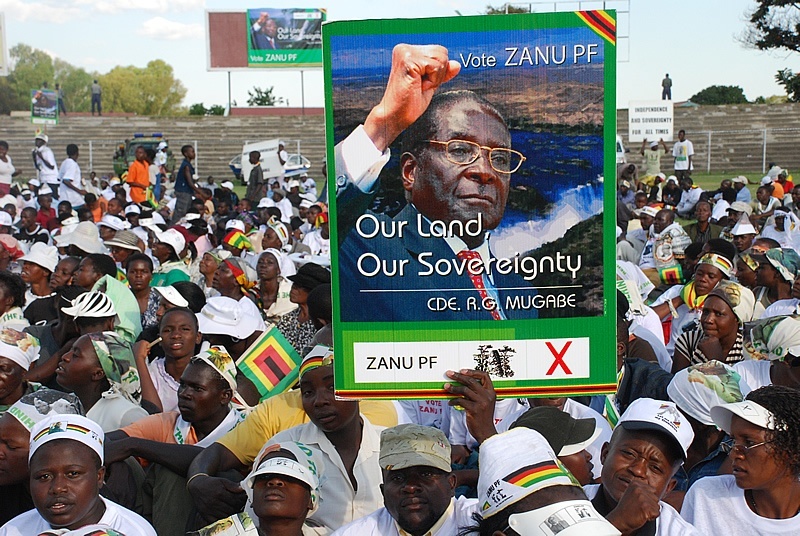 ANOTHER year has begun, but 2014 promises to be less eventful than 2013 which proved to be politically turbulent.
BY PATRICE MAKOVA
The year begins on a gloomy note, with many Zimbabwean unsure what is in store for them amid prospects of an economic meltdown and worsening liquidity crunch.
Last year few would have predicted that Zanu PF would thoroughly defeat the MDC-T with such a wide margin in the July 31 elections. It will therefore be difficult to predict what's in store for 2014. But there are some predictions which seem unavoidable as they represent deep currents in the country's political life.
Intra party fights will continue, while the nation's political divides will become wider. After securing a two thirds majority, Zanu PF and President Robert Mugabe are prioritising economic revival anchored on indigenisation and mining.
But the opposition MDC-T has said Zimbabweans should brace for fresh elections this year claiming that it had become clear Zanu PF has failed to stop the economic meltdown. But this seems to be wishful thinking on the part of the opposition.
Elections are due in 2018 and there is no indication that the meltdown will bring down the government. Many are still giving Zanu PF the benefit of the doubt and are hopeful the party will eventually deliver.
University of Zimbabwe political science lecturer, Professor Eldred Masunungure predicted that 2014 will not be a good year for average Zimbabweans judging by the poor performance of the economy in the past four months.
He said for many people, 2013 ended on a note of despondency with a considerable disenchantment with post-election Zimbabwe.
"The year started badly and it is likely to end on a worse note," said Masunungure. "The crisis of expectation is going to be a major feature of 2014. The expectation that Zanu PF will deliver on its campaign promises appears to be doomed. There is now a considerable disenchantment."
The major political event this year will be the Zanu PF December elective congress. The congress is expected to come up with a clear successor to Mugabe, who turns 90 next month. Events leading to the congress will reflect heightened factionalism in the ruling party. A fierce contest for Central Committee positions similar to what happened during last year's provincial elections is expected.
Last year's provincial elections were marred by allegations of vote-buying and rigging as a faction linked to Vice-President, Joice Mujuru fought another one said to be loyal to Justice minister, Emmerson Mnangagwa. Both Mujuru and Mnangagwa have repeatedly disowned claims they are leading factions, or harbouring presidential ambitions.
"It will be dog eat dog in Zanu PF as the party heads to the December congress. There will be gladiation for supremacy," Masunungure said. He said this year, there was no longer any real threat or competition to Zanu PF from other political parties after they were thoroughly beaten in last year's July 31 elections.
The political scientist said lack of real competition was causing Zanu PF to become complacent and arrogant.
Masunungure said the picture was gloomy for the MDC-T as struggles for power within the party would continue this year. He said a lot will depend on how the MDC-T leader, Morgan Tsvangirai and his "kitchen cabinet" responded to the crisis in the party. The UZ lecturer said Tsvangirai has an option of either calling for an extra-ordinary congress this year to heal the wide rifts in the party, or wait until 2016 when it is due.
At regional level, it is expected to be quiet in Sadc, save for the Democratic Republic of Congo (DRC) which continues to be volatile due to rebel threats especially in the eastern part of the country. Elections are expected in South Africa, Botswana, Mozambique and Namibia. Voting is expected to be uneventful as the countries have in the past successfully organised free and fair polls.
Political analyst, Thabani Nyoni said the opposition would continue to be in disarray. He said the MDC led by Professor Welshman Ncube was now as good as dead, while the MDC-T looked like it was now in the intensive care unit unless something dramatic happened to avert the downward spiral.
"It [MDC-T] will continue to be a protest movement and very divided. We will continue to hear protest of voices here and there," he said. Nyoni said civil society would being speaking more on socio-economic issues rather than political ones.
He said some CSOs would start engaging government and monitoring its activities, but others would continue to disengage. Nyoni said it was likely that CSOs will not speak with one voice, while there would be uncertainty in terms of NGO funding.
Another political analyst, Gift Mambipiri said 2014 was going to be just another numerical year.
"The truth of both science and life is you reap what you sow," he said. "We cannot therefore expect to reap in 2014 what we never planted in 2013, or the preceding years."
Mambipiri said in 2013, the country "planted" a contested election on July 31 and adopted the Zimbabwe Agenda for Sustainable Socio-Economic Transformation (Zim Asset) which he described as "wishful turnaround agenda paper".
"Finance minister Patrick Chinamasa also announced a budget statement that confounded both industry and economics students in the manner that it raised more questions than answers," he said.
But Zanu PF insists that Zim Asset will kick-start the economy through value addition and beneficiation, poverty alleviation and other measures. The government is projecting an economic growth of 6,1% in 2014
No fireworks are expected as Parliament debates the alignment of over 100 existing legislation to the new Constitution. These include the Criminal Procedure and Evidence Act and the Criminal Law Codification and Reform Act, Citizenship Act, the National Prosecuting Authority (NPA), the Access to Information and Protection of Privacy Act (Aippa) Provincial and Metropolitan Councils Act, which have to be realigned to the new Constitution.
ZANU PF HAS FAILED TO INSPIRE CONFIDENCE IN THE ECONOMY — NYONI Political analyst, Thabani Nyoni said the crisis of confidence in the economy will continue. He said Mugabe's inauguration speech, the Zanu PF conference in December and the 2014 budget failed to inspire confidence in the economy.
"If we look at the 2014 budget, government will continue milking citizens by introducing a number of new taxes," said Nyoni. "There will be no improvement on employment and industries will continue to go under."
He said there would be cosmetic reforms including media-related ones, as well as a lot rhetoric on issues such as corruption but no real action being taken.
"Parastatals will continue operating as business as usual," said Nyoni.
Nyoni said the Zanu PF was likely to be a damp squib with Mugabe being re-elected for another five years. "It is unlikely the congress will bring finality to the issue of succession," he said.
Nyoni, who is also the Bulawayo Agenda executive director, predicted a huge influx of Zimbabweans who were living in South Africa. He said many Zimbabweans living in South Africa were finding it difficult to survive as things were no longer well in the neighbouring country due to economic and social problems.
"An influx of Zimbabweans back home will put pressure on service delivery. Unemployment and poverty will continue to be at precarious levels," he said.
Related Topics