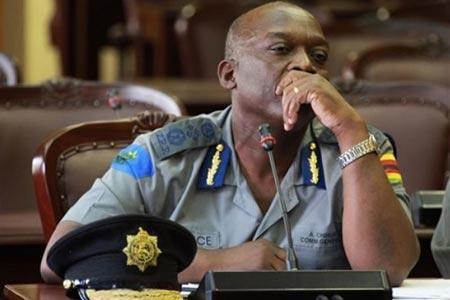 Few schools in Zimbabwe can match the pass rates recorded by ZRP High School over the past few years.
By Wellington Zimbowa
Situated on the outskirts of Harare's Hatcliffe high-density suburb, with an intake of 700 students, ZRP High School, which first opened its doors in 2001, has now made it into the top three in the Zimbabwe School Examinations Council O' Level results.
It has also registered good pass rates at A' Level.
This year it posted a 95,58% pass rate to remain at third position for three years in a row. The school only trails behind Midlands's Anderson Secondary School (97,71%) and Matabeleland North's John Tallach Secondary School, (96,15%), according to the education ministry.
A recent trip to the school, the only high school run by the force, bared testimony to the driving spirit behind its success where order, discipline and sheer determination are ingrained in both the students and staff.
It's not about anti-riot police officers wielding baton sticks in classes. All the teachers, whether civilian or members of the force, elegantly dress in civilian clothes.
"On joining the school after passing my interviews, I had a briefing with the Commissioner General [Augustine Chihuri] and was really moved by his passion for the development of the school," said Johannes Chingonzo, the school head.
"He talked about his vision for the school, his drive and what he personally wants to do for the school. I was moved by the fact that someone of a higher authority had such a passion for what I was trained to do. I took it as a personal challenge."
The seasoned educationist who broke records at Monte Cassino High in Macheke where he headed from 1987 to 2007, attributed ZRP High's success to the police chief.
He said his zeal to propel Zimbabwe forward through nurturing and moulding young minds into progressive and hardworking sons and daughters of the soil gave birth to a firm culture of hard work and self-determination.
"If you go around and ask any pupil who they are, they will either tell you 'I am proudly Zimbabwean' or 'I am Doctor or Engineer' so and so.
"Then one needs to research about the desired profession and start to act in accodance with it.
"If one wishes to be a medical doctor then we would be expecting them to be helpful, polite and kind," he said.
The school offers 10 subjects at O' Level and arts, commercials and sciences at A' Level. Under the tight supervision of either the headmaster or teacher on duty, it's all business from 4am up to 10pm daily, from study time to classes and study time again.
In line with its founding vision to produce globally competitive products, French classes are offered with plans to introduce Chinese lessons well underway.
Each year, the head added, at least three students from the school win various scholarships to study outside Zimbabwe, including the American government-sponsored scholarships through the United States Embassy Education department.
The school has also proven its mettle in extra-curricular activities as the institution has also scooped national and provincial honours in debate, public speaking, drama, chess and athletics.
Being the 2013 National Debate on Climate Change winners, sponsored by the United Nations Development Programme (UNDP), ZRP High School is also vying to defend its title.
Chingonzo added: "We are very serious on extra curricula activities as our aim is to produce progressive students. We seek to identify and nurture different talents in our students so that they can have something to offer the world as failure in class does not mean incapability all round."
The head also added that most of the food consumed at the school comes from the sweat of its own staff and agriculture students. Some of the farm produce such as tomatoes are sold commercially to farm produce distributors like Favco.
But ZRP High School also has its own fair share of troubles.
Although the school has a resourced computer library with internet connection for supervised research and computer lessons, there is no laboratory for A' Level sciences, a factor that has forced its successful O' Level science students to pursue studies elsewhere.
Those remaining, usually average performers, are then left to improvise with the junior lab, which Chingonzo, himself a science teacher, says limits the scope and depth of experiments done.
ZRP High school also has to contend with an improvised library although a proper library, recently completed, is set to open its doors soon.
However, Chingonzo said Commissioner General Chihuri — the major individual school donor outside government — has vowed to deal with the problems. He is motivated by the school's record performance.
He said so stiff is competition for A' Level places that only students with 5 A's at O' Level are admitted.