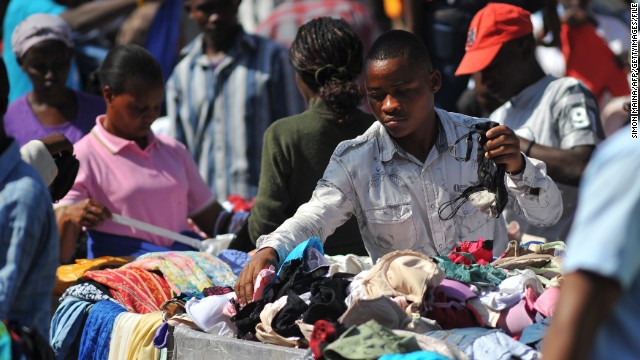 THE importation — legal or otherwise — and selling of secondhand clothes from Mozambique in Mutare is literally choking this eastern border town's streets and market places.
by OBEY MANAYITI
The sight of people carrying huge bales and bags of clothing items has become a common feature in Mutare. Traders in the merchandise are seen almost everywhere, especially in the evening, displaying their wares on the streets and shop verandas in the Central Business District and high-density suburbs.
During the day, these vendors invade offices and other work places while others peddle their merchandise at beerhalls, outside supermarkets or at any place where people may be gathered to socialise.
The majority have however, found home at the giant Sakubva market where wholesale marketing of secondhand clothes has become brisk business, attracting people from the whole country.
The secondhand clothes and footwear, which will be packaged in bales, are believed to be donations from people in developed countries destined for the less privileged in Africa.
Mozambique has been a major beneficiary of such donations over the years.
In many instances, the clothes will be of high quality — some items virtually new. Prices for most items range between one dollar for trousers, dresses and other clothing pieces to US$20 for leather jackets and formal suits.
A recent survey on the streets of Mutare established that secondhand clothing business has become the most brisk and gainful venture for locals.
Andrew Zimunya (33) said he had worked for different construction companies since 1999 until he broke his leg in July 2012. After that he went into cross-border trading.
He started off by going to South Africa but soon dumped the route as the business was proving difficult to sustain. Zimunya then joined a friend who was in the business of selling secondhand clothes from Mozambique.
He has now established a faithful clientele at workplaces and other areas around Mutare where his wares sell like hot cakes, he said.
"I go through the border when importing my wares since I do not go for bulk importation. All I need is money to pay my rentals, school fees for my daughter and food. At the moment it's working for me," he said.
However the majority confessed that they smuggle in the bales of clothing through illegal entry points. Syndicates involving police details and tax officials are allegedly the common feature in this business.
"If I go through the border, the tax that Zimra charges is so high that even if I sell all the items in the bales, I will not break even," said Tendai Nyangani.
"Therefore, we go through the illegal crossing points and it is not much of a hustle because there will be people commonly known as "Jorijo" waiting to help us for a small fee.
"From the point of buying in Mozambique up to the point of selling here in Mutare there are always people waiting to help us for as little as $1," he added.
Most secondhand clothing traders claim they have proved to be a major competitor for renowned clothing shops in the country because their items are more durable and affordable.
"There is no money at the moment and people prefer secondhand clothes from Mozambique because they are of better quality than the stuff that most clothing shops are selling now. They are also less expensive and durable," said Sheilla Marange, a civil servant who said she supplied clothes to most of her workmates.
However this business is risky. Traders play cat-and-mouse games with the local authority law enforcement agents who raid and confiscate their wares.
They are sometimes arrested and fined or are taken to court where they are charged with smuggling.
"When we smuggle the bales, we are wary of the police officers and Zimra officials that are out hunting for bribes. We pay some to facilitate the smuggling but there are always problems as others will not honour their part of the deal and go on to arrest you even after you have paid them bribes," said a vendor who refused to be named.
"We usually do the smuggling at night and in our syndicate there are people in charge of smuggling and others responsible for selling. Our syndicate specialises in reselling bales in bulk to people from other cities. In the absence of a viable industry in the country, we are managing to sustain our families," he added.
The vendors complained that their biggest problems were the municipal police who wanted a share of their hard-earned profits. "The business is profitable but we have to be constantly on the look out because we are always raided and at times we lose all our wares," explained Nyasha Peduru at Sakubva market where about 200 vendors are housed.
Most of the vendors said they had for a long time asked the political leadership and legislators to facilitate regularisation of their trade to enable them to earn a decent and honest living. Others said they wanted the government, through the Small and Medium Enterprises ministry, to provide them with capital, so as to expand their businesses.
"We can organise ourselves into cooperatives and I believe if we are given capital our businesses will grow. We also need a proper selling point, a place where there are proper ablution facilities so that we guard against diseases. This is the only industry left in Mutare and its helping almost everyone in this country," said Peduru.
They challenged politicians to fulfil their promises made during last year's harmonised elections where they promised to build a state-of-the-art selling place for vendors.
On average, the majority of people interviewed said they realise about US$250-US$350 as net profit a month.