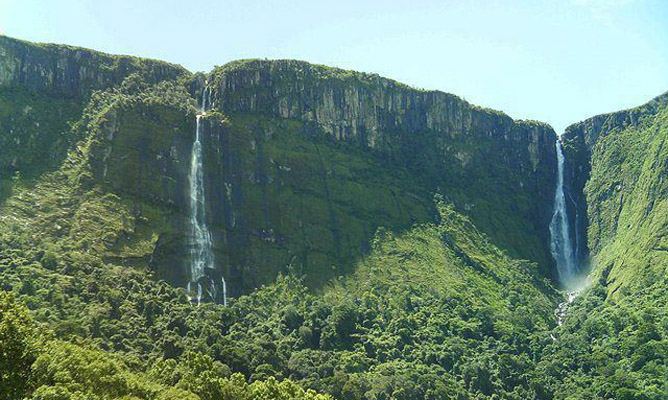 It stands at a majestic height of over 2 500m and the swirling mist rising from the ever-green foliage gives a breathtaking view, but Mount Nyangani has "swallowed up" many admirers whose fate remains a mystery.
By Phyllis Mbanje
Frivolous but seemingly convincing claims have been thrown around, with the latest saying that the missing people might actually be alive somewhere.
While many people have given up hope of ever seeing them alive, some traditional leaders in the area have made sensational claims that these people might be alive after all.
Headman Mushonga Saunyama says there is a spirit medium in Mozambique who had indicated that the missing lot is alive and there is need to perform some rites to bring them back.
"The spirit medium, Barauro, has told us that the missing people can be found if certain ceremonies are done," Saunyama said in an interview with The Standard.
The headman was adamant that there was need to go to Mozambique and consult the medium whom he believed had the powers to locate the missing people.
"They were simply blown away by the wind and are wandering somewhere up the mountain," Saunyama said.
He said there were many strange sights on the mountain which included trees which had what looked like human female breasts.
"When you see such things, it is not allowed to then point or remark on it. If you eat any of the wild fruits and they are bitter, you should not complain or swear, just keep quiet," Saunyama cautioned.
The headman said time was of essence if the missing people were to be found.
A year ago, a young couple Zayd and Neelam Dada from Belvedere, Harare, went hiking with another couple.
Halfway up the mountain, the others decided they had seen enough and turned back, but Zayd trudged on eager to see more of the beautiful mountain. That was the last time he was to be seen.
A massive search was launched with friends and family all hopeful that they would find the 31-year-old.
His distraught wife turned up at the mountain everyday hoping to be re-united with her husband.
International search experts alongside traditional leaders, the Zimbabwe National Army, Air force of Zimbabwe, Zimbabwe Republic Police, and Mountain Climbers' Association all combed the treacherous mountain, but there just was no sign of Zayd. He had simply vanished like others before him.
Strange tales of the sacred mountain were exchanged and locals proffered their own explanation to the disappearance.
They were convinced that some traditional rites needed to be performed before the tourist could be found.
The local traditional leadership, which included chiefs Saunyama and Tangwena, held traditional ceremonies in the hope that the missing tourist would return.
Some said the search with helicopters and other modern gadgets had worsened the situation and angered the ancestral spirits guarding the mountain for centuries.
Days turned into weeks, weeks into months and slowly the spirited searchers ran out of steam and one after the other, they packed their bags and went home, discouraged and confused.
Zayd was not the first one to vanish on the mountain. In 1981, two daughters of former Finance minister Tichaendepi Masaya also vanished without a trace and have never been found.
Thomas Gaisford, a second-year Human Science student from Oxford University in the United Kingdom, lived to tell his tale when he also got lost on the mountain in November 2014.
After winning the Wallace Watson Award Lectures, which encourages and assists college students to undertake expeditions or travels of a challenging nature in a mountainous or remote area, he chose to come to Zimbabwe.
Before embarking on the hike, villagers in surrounding areas warned him against the idea and even told him about Zayd, but Gaisford had fallen under the spell of the gorgeous mountain whose serenity was too irresistible to his free spirit.
Hours later, alone, cold and frightened, he was to remember the cautious statements with regret.
Retelling his story later, he said a sudden fog suddenly enveloped him and he lost his way.
For 10 dreadful hours he battled not only against losing his wit, but the strange creatures that crawled on the mountain.
Gaisford narrated how the bitingly cold rain whipped his face and numbed his toes, but he held his own and prayed hard for his safety.
That night he must have dreamt of his soft bed back at the Leopard Rock motel and hot cocoa.
As fate would have it, the fog cleared in the morning and he finally made his way down.