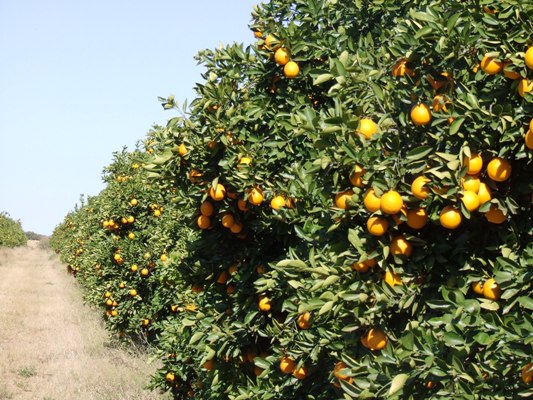 A prominent Beitbridge farmer has accused a soldier of threatening to shoot his employees if they fail to leave a citrus farm that has been under siege since last year.
XOLISANI NCUBE
Ian Ferguson, who owns Benfar Farm, made the revelations in a letter to the Lands ministry. He wants the government to reverse the allocation of the farm to Darlington Muleya and pave way for new investment.
Benfar is one of the most productive farms in the district and has 25 000 citrus trees
According to Ferguson's letter, Muleya has been terrorising the workers for some time, with the police allegedly paying a blind eye.
"He was armed with a rifle on each of the three occasions he made an appearance on the farm and threatened the staff that if they did not vacate the staff quarters by Sunday morning, they would be meeting their ancestors," the farmer wrote in the later dated January 12. "This was taken to mean by the company staff that he would shoot them.
"This was reported to the police in Beitbridge who claimed that the man had an offer letter so was the owner of the property and was quite entitled to carry a weapon and to physically eject illegal occupants (our company staff) from the property."
Lands minister Douglas Mombeshora could not be reached for comment as his mobile phone was unreachable.
This is not the first time that Ferguson has had his property targeted by Zanu PF officials, Cabinet ministers and State security agents.
The Beitbridge farmer said he has on several occasions engaged police to resolve the matter, even going to the extent of writing to the police Commissioner-General, Augustine Chihuri, but no action has been taken.
"We have been told that the district police officer, Chief Superintendent Patrick Majuta has issued instructions that all issues involving the Ferguson family are to be referred to him as he would deal with them personally," wrote Ferguson.
"This man has for the past two years been blatantly partisan to the point where crimes committed on the wildlife conservancy, 23 in number to date, have not even been issued with RRB numbers."
He said on two occasions he wrote to Chihuri complaining about Muleya's conduct but the letters were yet to be acknowledged.
"The only solution to resolve the issue on the citrus farm is to cancel the three offer letters that were issued to Darlington Muleya, Nkululeko Nyathi and Anele Ncube, at the earliest possible opportunity to enable the investors with capital to come in and resuscitate the infrastructure and citrus orchards."
"The position on the property is becoming critical and deteriorating by the day," Ferguson said.
Majuta was also not reachable for comment yesterday.
Ferguson's nearby wildlife conservancy was also invaded by Zanu PF supporters in 2010 and they have refused to leave despite the land being declared unfit for human habitation.