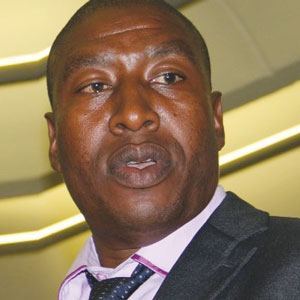 PRESIDENT Mugabe recently revealed that the country lost $15 billion out of diamond mining operations in Chiadzwa. One of the activists who was maligned by the government for raising a red flag on the opaque nature of diamond mining activities in the area was Centre for Natural Resources Governance director Farai Maguwu (FM). Last week he spoke to our reporter Obey Manayiti (OM) on Mugabe's latest disclosures. Below are excerpts of the interview.
OM: What is your reaction to Mugabe's allegations that $15 billion was lost in Marange since commencement of diamond mining?
FM: I agree with the president on that, based on numerous sources who have given us indications on how much Zimbabwe was losing in terms of revenue.
In 2009, then Reserve Bank of Zimbabwe governor Gideon Gono said we were losing $1,2 billion through artisanal mining annually.
In 2011 after the lifting of the ban on Marange diamonds, then minister of Mines and Mining Development Obert Mpofu said Zimbabwe was going to earn $2 billion in revenue annually.
If you look at these people's statistics, you would find out that these officials were informed to predict that, so I agree with the president's claim.
However, I have more questions than answers as to why government allowed the looting.
After all, it is the biggest player and it is hypocritical of the government to accuse companies of robbing it when it has 50% ownership, except on Marange Resources where it owns 100%.
The president must explain and give us answers because he and the responsible minister at that time were presiding over the sector.
OM: In your view, who is responsible for the theft?
FM: First and foremost, the president must bear the responsibility because he personally issued the mining licences to the companies.
Secondly, the then responsible minister (Mpofu) who was paid by tax-payers to ensure that Zimbabwe diamonds were exploited for the benefit of the people should give us answers. He should account.
Thirdly, we have ZMDC, which holds 50% shares on behalf of government, save for Marange Resources where they have 100% control, which should be held accountable.
OM: As one of the people who were monitoring the mining process in Marange, did you see any indications diamonds were being stolen?
FM: From our monitoring, it was clear and it was very audible that looting was taking place in Marange and the government was shielding itself through the sanctions mantra.
(Former Finance minister Tendai) Biti declared to the nation that revenue from Marange diamonds was not being remitted to Treasury.
There was also a research that was done by Global Witness titled Financing a Parallel Government which also revealed that in companies like Anjin, 50% shares were deposited into one official from the Zimbabwe Defence Forces' account.
We also had employees who worked at the mines who told us how porous the system at Chiadzwa was.
We also had the impression that security forces were deployed in Chiadzwa to harass and persecute Zimbabwean nationals there because foreigners implicated in illicit diamonds flows were walking scot free.
OM: Civil society organisations monitoring Chiadzwa were accused of focusing on human rights violations alone instead of exposing underhand financial dealings. What is your response?
FM: It's not true at all. We made noise and if you go to your archives, you will see for yourself. Of course, our entry was on human rights but we went beyond that into monitoring revenue transparency.
It's only that during the time, government wanted the revenue to benefit the few elites and they called us names to say we were sellouts for the noise we were making.
OM: What should be done now to recover the stolen money?
FM: We should first know who stole it. The president should set up a commission of inquiry, which should investigate and unravel the truth about Chiadzwa diamonds.
This commission should expose how the mining companies were identified, licenced and disclose the shareholders of the companies.
The government should also carry out forensic audit of mining operations from 2009 to date.
There is also need to carry out extra territorial investigations to establish the destination of the illicitly acquired diamonds.
There should also be extra territorial prosecutions on foreigners accused of looting the diamonds. In recovering the lost diamond revenue, those who cannot be prosecuted here should be prosecuted within their own jurisdictions.
But obviously before that, evidence should be provided.
After all, the buck stops with the president, he has the final authority to set up a commission and make sure that all processes are followed.
OM: Mines minister Walter Chidhakwa wants diamond mining to be done under one unit. What are your views on consolidation?
FM: Consolidation is very problematic in many ways. There are indications of an attempt to nationalise the mines in the name of consolidation.
The challenge is that state institutions have been given freedom to do as they please and they are not held accountable.
There is no guarantee the consolidated mine will perform differently from state institutions like the Grain Marketing Board, National Railways of Zimbabwe and Air Zimbabwe. State institutions in Zimbabwe are a national disgrace.
If they consolidate and as long as it is run like a parastatal, then we foresee chaos.
The current chaos in Marange was created by a group of people who felt they were left out of the looting banquet.
It is formed by people who felt left out in the looting spree. Consolidation doesn't work. OM: In your view, which model should be followed?
FM: There must be an open tender system where the suitable investor is chosen on merit and not on the basis of political connectedness.
We should keep the diamonds in the ground now while we attend to regulatory systems.
We need a new fiscal regime where companies will remit royalties and other taxes directly into Treasury.
It seems our laws are so weak that our minerals are benefitting other countries.
We need a national debate on how the country can benefit. We need new laws for that so that we sort out our governance issues.
Pushing for consolidation is like doing the same thing repeatedly over and over again and expecting different answers.
OM: Do you think communities around the diamond mines benefitted anything from the discovery of diamonds?
FM: The situation of communities in Marange and those who were displaced to Arda Transau is very unfortunate.
We have learnt a lot of lessons from Marange, that without an effective government in place and political leaders who protect their people, mining increases vulnerability of the communities.
In Marange, people were displaced and never compensated.
The problem associated with Marange displacements are going to affect even the coming generations. Government must move in quickly to address that.