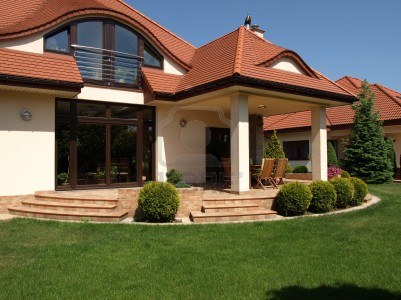 The country's upscale properties are still being sold at record prices pegged at millions of dollars, making them more expensive compared to those located in South Africa's most exclusive suburbs due to Zimbabwe's informalised property market, experts have said.
BY TATIRA ZWINOIRA
In a report done by New World Wealth — a global market research body — Camps Bay, a suburb located in Cape Town, South Africa, is the top suburb of upscale homes sold at an average of $1,38 million (R20 million) as at the end of 2015.
However, these houses are sold at that price due to their proximity to the beach which makes them "prime property".
Unlike Cape Town, Zimbabwe's most expensive suburb Borrowdale Brooke top homes can reach as high as $2 million and this without the beach front proximity that Camps Bay enjoys.
In emailed responses to Standardbusiness, property analyst Washington Musiiwa said the reason why some of these upscale houses were being sold at such high prices was due to owners seeking to invest in South Africa.
"Lately, due to the fall in value of the South African rand against the United States dollar, we have had quite a few Zimbabweans based in South Africa selling their properties in Zimbabwe at a higher price and invest in South African properties.
However, with the changes most such sellers now feel they might not be able to externalise their proceeds from property sales as the central bank has tightened screws on transfer of cash out of the country. All these have caused very slow uptake of real estate," Musiiwa said.
"Diaspora-based sellers have also joined in the wait-and-see attitude. Some buyers are on the market because they are afraid to keep their United States dollar as cash in financial institutions as the risk of having their cash converted into bond notes is haunting them. they would rather keep it as brick and mortar in real estate."
However, he said, the majority of sellers were afraid to dispose their properties as there was a perception they might get the purchase price as bond notes. According to Global Property Guide, a global real estate market research company, as of the end of last year, the average price for a house in South Africa measuring 80 to 140 square metres (sqm) was $ 52 293 (R 877 000) and medium-sized houses of 141 to 220 sqm cost $ 73 997 (R 1 241 000).
However, the average price of a house measuring 221 to 400 sqm was $ 118 599 (R 1 989 000).
A survey by Standardbusiness showed that high-density houses were cheaper in Zimbabwe than in South Africa. As for the medium to low-density houses, Zimbabwean properties were more expensive.
Medium-sized houses in suburbs, similar to those in South Africa, such as Highlands, Mandara, Greendale, Chisipite, Avondale, Marlborough, Milton Park and Mabelreign among others, range between $120 000 to $450 000.
Upscale homes in suburbs such as Borrowdale, Borrowdale Brooke, Greystone Park, Helensvale and Glen Lorne can range anywhere from $280 000 to as high as $8 million.
Zimre Holdings Limited chief executive officer Stanley Kudenga said the problem was that the economy in South Africa was highly formalised compared to Zimbabwe's informal market.
"I think it is the economic fundamentals that you have got in Zimbabwe. We largely have an informal market so the formal sector has suffered mostly and this is the sector that we mostly rely on. Whereas the economy in South Africa is highly formalised, so the pricing there will be much better," Kudenga said.
With the downturn of the economy, many houses have seen decreased sales, creating voids that are slowly being taken up by companies that move out of the central business district which is often expensive in terms of rentals.
Musiiwa said investors in Zimbabwe had very limited options and that the South African industrialisation level was not centred on the capital city only, as is the case with Zimbabwe.
"Very few invest in gold or the stock market for instance. The majority find comfort in real estate as the only safe investment vehicle. South Africa is diverse. These among other reasons cause real estate in Zimbabwe to be very expensive compared to South Africa," Musiiwa said.
"Most buyers in South African real estate are financed by financial institutions, while in Zimbabwe cash buyers drive the industry, and the few who can get mortgage are getting them at very high rates, thus they have to be high income earners."
As the properties remain unaffordable, property managers have sought to lease out properties to companies since rentals in the central business district have gone down.