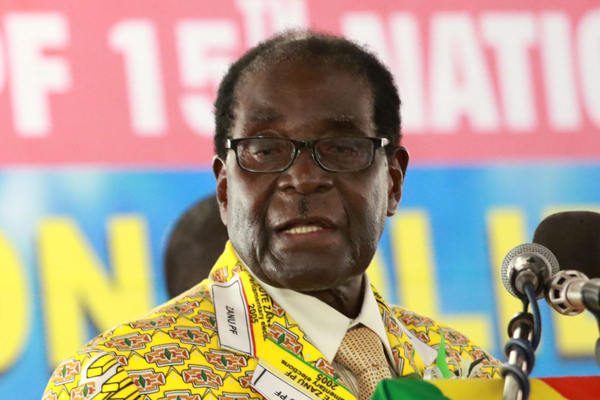 PRESIDENT Robert Mugabe is a besieged man, his aura of invincibility appears to have all but gone as protests pop up like mushroom in summer, while calls for his removal grow into a crescendo.
From #ThisFlag campaign, the opposition MDC-T demanding that he explain the shocking disappearance of $15 billion in diamond revenue and an end to rampaging corruption, vendors picketing at the Harare International Conference Centre demanding that the Vice-President Phelekezela Mphoko moves out of Rainbow Towers Hotel, to Christian groups demonstrating against Education minister Lazarus Dokora's contentious National Pledge, pressure is mounting.
Mugabe's Zimbabwe is burning around him, but as those close to him have revealed, he could actually be sleeping peacefully.
Missing democracy activist-cum-journalist Itai Dzamara's brother Patson has continued with demonstrations demanding his brother back, giving State apparatus constant headaches with spontaneous solo and group protests. He has been joined by groups such as #Tajamuka/Sesijikile and a Kariba-based cleric Patrick Mugadza, who last week launched a campaign code-named #Mugabe must fall.
Meanwhile, the country's biggest port of entry, Beitbridge was forced to shut down on Friday for the first time in a century. Ordinary people affected by a government policy to ban mostly foodstuffs imported from South Africa have rebelled.
The border town was literally burning, but Mugabe continued with business as usual as if nothing was happening.
One of Mugabe's defenders, former Zanu PF activist Acie Lumumba who broke away to form his own party, Viva Zimbabwe, went overboard and took unprintable pot-shots at Mugabe. The Zimbabwean leader's former number two Joice Mujuru is now leading a fledgling opposition party, Zimbabwe People First. Two weeks ago at a rally in Harare, Mujuru asked of Mugabe, whose love for travelling is legendary: "You should not just be flying out of the country. At the end of the day you must be asking yourself what it is that you have done for the people".
It's seemingly all going pear-shaped for the 92-year-old who insists he will stand for re-election in 2018, when he will be 94.
But Mugabe has not always been the leader that anybody could just wake up and pass a negative comment on, especially one that has unprintable expletives. Any inclination to challenge Mugabe was akin to applying for serious trouble. Many bear the scars of what has become the hallmark of his near four-decade rule. However, the walls of Jericho seem to have fallen and the inimitable former guerrilla leader is now the subject of constant ridicule from his subjects, hitherto a cowed population.
#ThisFlag front-man and cleric Evan Mawarire, who began the protest after "failing to raise his children's school fees", says Zimbabweans were now identifying with each other's personal struggles.
"More than it being a fashion, people now identify with each other's personal struggles and it's becoming clearer by the day, even to the ordinary citizen, that the source of our common problems is the government that has failed us.
"It's now difficult even for the most reserved of persons to just keep quiet because the level of resource mismanagement and the blatant corruption cannot be excused any longer," Mawarire said.
He added: "What you are seeing is a lack of leadership and a cry from the citizens to restore order and cast vision. The Bible says in Proverbs 29 verse 18 'Where there is no vision, the people perish'. When people run amok, it's not because they are lawless; it's because they have no vision to focus on".
Mawarire said his group was now setting up structures beginning in Bulawayo, Gweru, Kadoma and Chinhoyi. He could not, however, reveal his plans going forward. MDC-T spokesperson Obert Gutu said Mugabe's stranglehold on power was waning. "Nothing lasts forever," he said.
"President Robert Mugabe's hold on power is increasingly becoming fragile both within his own Zanu PF party and also in the country as a whole. No rocket science is needed to appreciate that this is the end game for Mugabe," Gutu said.
"The sun is setting on Mugabe's political hegemony. This is one of the main reasons why there is unprecedented factional fighting within his party and why even ordinary citizens are finding it increasingly fashionable to protest against Mugabe's continued stay in office".
Social and political analyst Ricky Mukonza said the Zimbabwean crisis could have reached tipping point.
"I think the reason is that the Zimbabwean crisis has now managed to affect everyone in various facets of life. The youth cannot find employment, businesspeople cannot do business because of a disabling environment and civil servants can't get paid at the end of the month.
"This tells you that the crisis is fast-reaching boiling point and with that, people have nothing much to lose in protests. Remember there is a generation that has not known formal work despite graduating from colleges and universities and this generation is fast-realising that time has run out; they are reaching 40 without being economically active," Mukonza said.
"This is the generation that you see leading protest movements such as #Tajamuka, etc. In fact, I can safely say the greatest security threat that this government is facing is from its own citizens and not external forces".
Another analyst Maxwell Saungweme concurred adding, "Zimbabweans have had enough".
"The socio-economic problems Zimbabweans are going through are vast and people have naturally reached a level where they can't take it any more. People have really been pushed against the wall and the only option is to question the system through action and words," Saungweme said.
Vendors Association of Zimbabwe leader Sten Zvorwadza, out on bail following a string of anti-Mphoko demonstrations, said the country's leadership had turned into a "terror mafia against citizens".
"Our history is marred by the first dark history of colonial masters which was characterised by repression and oppression.  This saw young men and women deciding to revolt against such injustices. In 1980 we attained independence, but despite this freedom, those that represented Zimbabweans have turned out to be a terror mafia, sparing no one who holds a different viewpoint from theirs," Zvorwadza said.
Zvorwadza added: "This has led to people withdrawing from participation in national political issues. The very people who have been oppressed by Zanu PF since 1980 are now organising themselves and declaring that 'enough is enough'. This is why you now see a breed of youths who appreciate that Zimbabwe is theirs, not these elders who claim perpetual ownership of the country despite their advanced ages".