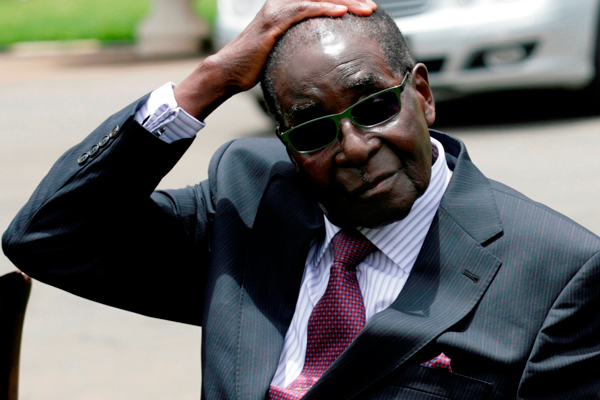 In August 1997, President Robert Mugabe suffered the biggest embarrassment at the Heroes' Acre in Harare when war veterans drowned his speech with protest songs.
NEWS IN DEPTH WITH PAIDAMOYO MUZULU
The former fighters were angry with the Zanu PF leader after he refused to meet them over their demands for compensation.
A shaken Mugabe later gave in to pressure from the militant war veterans who were led by the late Chenjerai Hunzvi and they were awarded hefty pensions, a decision that economists always point to as the genesis of Zimbabwe's debilitating economic problems.
After the appeasement, the war veterans became Mugabe's storm troopers, helping the 92-year-old leader to hang on to power even as his popularity waned.
However, things have changed and as Zimbabwe commemorates Heroes' Day tomorrow, the sour relationship between Mugabe and the country's liberators will once again be in the spotlight.
Mugabe returns to the shrine risking being embarrassed following the acrimonious fallout with the former fighters, who last month told him to step down.
The war veterans accuse their patron of being a dictator and running down the economy.
The Zimbabwe National Liberation War Veterans Association (ZNLWVA) has called for protests against the deteriorating economic and political situation in the country in a throwback to the Hunzvi era.
"It becomes senseless [celebrating the day]; its value has been reduced to zero because if people are not receiving what they paid for [with their blood] then it's not necessary for people to recognise the day because the people of Zimbabwe are suffering except a cliqué that is in government — the ministers," ZNLWVA spokesperson Douglas Mahiya said.
"It is time for people to demonstrate and look at themselves in truth and say it's not necessary to recognise the heroes holiday at all," he added.
"People should demonstrate against going to the Heroes' Acre, if their welfare is unattended to. What's the value of celebrating the day?"
Mahiya said the government only showed concern about the well-being of war veterans during the Heroes' Day celebrations but did not do anything tangible to improve their lives.
"Every August as we go towards the Heroes holiday, that is when we see adverts of liberation fighters on television, but the reality on the ground is different," he said.
Bulawayo-based political analyst Dumisani Nkomo concurred with Mahiya, that Heroes' Day celebrations have become meaningless rituals.
"What is happening now is betrayal of the values of Heroes' Day. What Lookout Masuku, Josiah Tongogara, Joshua Nkomo, Masotsha Ndlovu, [Leopold] Takawira and Jason Ziyaphapha Moyo fought for has been betrayed by the massive corruption, suppression of people's rights and creation of an elitist Zanuist coterie," Nkomo said.
"It's a betrayal for the day to be celebrated when war vets are being intimidated, harassed and arrested. they were even tear-gassed earlier on in the year."
The war of attrition between Mugabe and the former fighters has been raging since the beginning of this year.
War veterans are not happy that the president appears to be favouring a faction linked to First Lady Grace Mugabe ahead of their choice for Zimbabwe's next leader, Emmerson Mnangagwa.
Police in April brutally stopped a war veterans' meeting, forcing Mugabe to apologise live on national television after police teargassed and assaulted the party's once strident supporters.
A fornight ago, the veteran ruler vowed to mete severe punishment on war veterans' leaders who allegedly penned a communiqué demanding his resignation.
Four ZNLWVA leaders, including Mahiya, were last week banished from Zanu PF and they joined their chairman Christopher Mutsvangwa who was pushed out of the ruling party recently.
The war veterans now say they believe the Heroes' Day is not worth celebrating because the country's leaders have lost the plot. Maxwell Saungweme, a political analyst says the war veterans are justified to call for a boycott of the celebrations.
"Things have changed and the day will not be the same again. It will be a day to reflect on how the ethos of the liberation struggle have been negated by the hunger for power," he said.
"Mugabe is now lonely and has been isolated by his former comrades as he endears himself with a cabal of young and directionless parasites around him," added Saungweme.
But former Industry minister and MDC leader Welshman Ncube in his weekly political briefing, warned Zimbabweans against taking the war veterans' stance as a sign that they have reformed. "The fallout between Mugabe and the war veterans leadership is not over a clash of values," he wrote.
"It is a pure factional fight over who has a right to dictate who leads Zanu PF and the country.
"Mugabe and his G40 want Mugabe to continue as Zimbabwe's dictator while pretending to be awaiting a 'democratic' decision [by members of Zanu PF] to select a successor at some indeterminate point in the future. "On the other hand, the war veterans initially only wanted Mugabe to endorse Mnangagwa as his successor and crush the ambitions of the 'young turks' in G40," he added.
"Only when Mugabe would not accede to their undemocratic demands to anoint their favoured successor did they attack him, calling for him to stand down and opportunistically accusing him of masterminding historical crimes in which they were in fact his storm-troopers."
Ncube said the former fighters appeared to be pushing a selfish agenda.
"Their fight has so far not been framed as a fight for Mugabe to stand down and allow Zanu PF members to freely and democratically elect a successor, but has been framed as a call for Mugabe to stand down and give way to Mnangagwa as anointed by them as opposed to the general membership of Zanu PF," he wrote.
"They have not framed their struggle against Mugabe as a democratic struggle in solidarity with the people of Zimbabwe to be allowed to freely choose their leaders.
"It is for this reason that democrats must be wary of finding common cause with the war veterans who have so far failed to frame their struggle against Mugabe within the context of the values and principles of democracy."
Ncube said there was no indication that the war veterans had reformed.
"Thus, it is easily conceivable that should they succeed against Mugabe, they would simply revert to their storm-troopers default mode of being anti-democratic agents in the name of the old anti-people and anti-democratic Zanu PF but now under Mnangagwa," he said.
"The resettlement areas would remain open prisons under the guard of the same war veterans for and on behalf of Mnangagwa's Zanu PF."
Mugabe will preside over the main Heroes Day celebrations in Harare while Provincial Affairs ministers will read his speech at provincial shrines.
Opposition parties have in the past boycotted the celebrations, arguing that they are partisan and Mugabe routinely uses them to attack his political opponents.