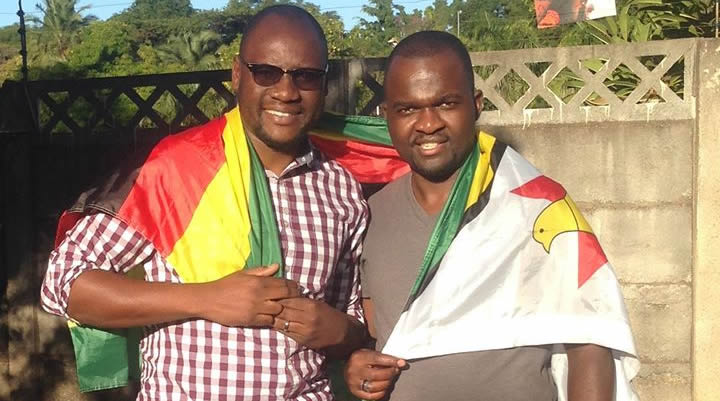 PRESSURE continues to mount on President Robert Mugabe, with protestors taking their anti-government campaign to the United States where the 92-year-old leader will join other world leaders at this year's United Nations General Assembly in New York.
BY OBEY MANAYITI
While followers of #ThisFlag movement and MDC-T supporters yesterday started daily protests demanding that Mugabe addresses Zimbabwe's economic crisis, other activists were lobbying international financial institutions.
Activist, Patson Dzamara along with other Zimbabweans on Friday presented a petition to the, US headquartered World Bank (WB) imploring the international financial institution to deny the government of Zimbabwe lines of credit as punishment for its alleged misrule.
Zimbabwe's economy sunk to world records during the hyper inflationary era before the adoption of the multi-currency system in 2009.
In his petition addressed to WB boss Jim Yong Kim, Dzamara said it was dismaying that reputable institutions were bailing out the Zanu PF-led government which had a crooked record of human rights abuses.
He said standards of living in Zimbabwe had declined to subsistence levels while education and health systems had largely collapsed.
"With the above in mind, we now become aware of reports that there is an effort to clear Zimbabwe's arrears, a debt the government has accrued on the backs of our children's futures, with irresponsible disregard," reads the petition.
"Looking at its past track record, it is inconceivable that their performance will in any way improve, no matter what assurances are given. Incompetence is the least of the charges that can be laid at their doorstep."
He said the on-going civil unrest in Zimbabwe was a result of frustration by ordinary citizens over the Zanu PF-led government.
Dzamara also said the government's brute response to peaceful protestors had exposed it as an autocratic administration that did not deserve any sympathy from monetary institutions.
Many people have been brutalized and had to be hospitalised while others were arrested in the on-going wave of demonstrations and protests.
"For an international institution such as the World Bank to now even consider extending financial help to such a government is more than disappointing — it is a betrayal. Let me be clear. Any such financial aid would not be extended to Zimbabweans, and would not benefit people on the ground," reads the petition.
"Quite to the contrary, it would extend the life-span of a crumbling regime that is harmful to the future of the people and nation of Zimbabwe. It is actually likely that such financial support would directly fund the very mechanisms, physical and otherwise, that cause such harm to a long-suffering population."
The petition added: "It is therefore, with confidence in the justness of our cause, and trust that your institution would not commit such an irresponsible mistake, that I ask on behalf of my organisation, our friends and partners, and Zimbabwe as a whole, that you would not extend or be in any way complicit in extending a financial lifeline to an administration culpable of such crimes against its own citizens."
In an interview yesterday, Dzamara said he was accompanied by Doug Coltart and Rufaro Kaseke.
Anti-government protestors in USA are planning to humiliate Mugabe on Wednesday when he delivers his UN General Assembly speech.