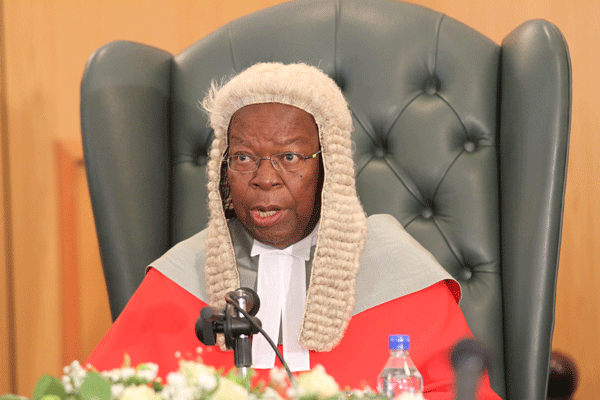 THE Judicial Service Commission's recent interviews of High Court judges who are vying for promotion to the Supreme Court bench exposed apparent laziness and lack of understanding of basic legal terms and principles by some of Zimbabwe's esteemed judges.
news in depth BY VENERANDA LANGA
Chief Justice Godfrey Chidyausiku and his panel of Judicial Service Commissioners and the Attorney-General Prince Machaya subjected each of the shortlisted High Court Judges to hour-long interviews each where laziness and a degree of incompetence on the part of some of the interviewees was exposed.
More than 100 members of the public and journalists who attended the hearings were entertained by some of the honourable judges' answers as they were being grilled.
The panellists who gave the eight interviewees the most torrid time were Justice Chidyausiku and his deputy Justice Luke Malaba.
Justice Malaba queried why 43% of judgements made by High Court Judge Justice Francis Bere were overturned upon appeal at the Supreme Court.
"Looking at the statistics, you seem to have been overturned on appeals quite a lot. In fact, about 43% of cases that have come on appeal were overturned. I want to know if there are any areas of law where the Supreme Court has disagreed with your interpretation of the law.
"It also seems you have been dealing a lot with criminal cases compared to cases involving civil law. Why is that?" Justice Malaba asked.
Justice Bere's excuse was that the number of cases that were being considered by the panel were those from 2013, and did not include the cases he did since 2004 when he joined the High Court.
"I think the statistics must be more elaborate and go back to 2004 because the limited statistics project that I have had 43% of my cases overturned. I have no specific areas of the law that I might be unusually challenged to deal with," Justice Bere said.
Justice Malaba also pointed out that Justice Bere had concentrated his efforts at the High Court on criminal matters, making it appear as if he had little knowledge of how to deal with judgements on civil cases.
However, Bere explained that the analysis of the 2013 cases used by the interviewing panel might have failed to indicate that he is fairly balanced in the application of his duties as a High Court judge.
Senior High Court Judge Justice Alphas Chitakunye was grilled over apparent lack of industriousness wherein compared to his juniors, he was said to have produced a meagre 69 judgements compared to some junior judges who wrote up to 333 judgements.
Justice Malaba gave an account of Chitakunye's work, saying over the past three years 14 cases that he handled had been appealed against. Eight of the cases were confirmed and three cases were pending while three were not confirmed.
"The success rate of your cases is 57%. In addition, 22% of the cases you handled were overturned. You did 16 judgements and only 12 were reportable. Other judges are running at 333 judgements per individual while you are at 69 judgements, why?" asked Justice Malaba.
Justice Chitakunye responded: "I would not know how others went that far to have 333 judgements. The point is we might not have been given the same number of cases to work on."
JSC Commissioner Priscilla Madzonga then shot back at Chitakunye: "Are you saying you are allocated less work than other judges because other judges have 333 judgements against your 69?"
Chitakunye responded that High Court Judges had different approaches in writing judgements and disposing of matters.
Justice Chidyausiku said he was not impressed by the excuses given by the judges and warned them that the Supreme Court posts they were aiming to get were hectic and needed industriousness, especially pertaining to the writing of judgements.
"In other words, we are not looking for judges with excuses of not writing judgements. We are looking for judges that have written quality judgements. If you are going to the Supreme Court and your speciality is only settling of disputes, it creates a problem," Chidyausiku said.
Chitakunye's other excuse for failing to write as many judgements as his colleagues was that he spent most of his time at the Sadc Tribunal where he has a position.
Another High Court Judge Priscilla Chigumba was adjudged as having had a high number of cases from the High Court that were overturned at the Supreme Court by Justice Malaba.
"Does it not really reflect that you still need more time in the High Court? You have done civil cases and very limited criminal cases," Malaba said.
But Chigumba retorted and said the fact that she was confident enough to apply to be interviewed for promotion to the Supreme Court meant that she was qualified enough.
JSC commissioner Lloyd Mhishi also pointed out that Chigumba had the highest number of judgements that were overturned on appeal.
High Court Judge Samuel Kudya was also adjudged by Justice Malaba as having written a paltry 12 judgements in 2013, with none of them reportable.
"Does that mean that you are really not working?" Justice Malaba quizzed him.
Kudya said his job as a Fiscal Court judge was too taxing and kept him on his toes day and night as he needed to read huge volumes of documents.
He claimed he had very little sleep at night and never went out for lunch due to the voluminous work he was faced with.
"The day of a taxation judge is a taxing day because there are huge documents to go through. I do not know the reason why I have not broken down up to now because at times I have had to wake up from sleep and read huge documents," Kudya said.
But Justice Chidyausiku said while it was true that the Fiscal Court was busy, Kudya did not necessarily need to read every page of the documents before him.
He did not mince his words and warned the judges that incompetence would not be tolerated at the Supreme Court bench.
Kudya and Chitakunye also had the gallery in stitches when they failed to explain law principles of collegiality and the Latin legal term stare decisis, which means that courts look to past similar issues to guide their decision.
When asked by Justice Malaba to explain the principle of collegiality, Kudya quipped: "I do not know. Obviously no one knows everything. Your colleagues will be there to assist you and in these days of e-learning, one can easily Google to find out the meaning."
Asked by Justice Malaba to explain the term stare decisis Chitakunye said: "I will not say much except that it is a doctrine you have to apply at the Supreme Court. On collegiality, unfortunately I am not clear about the principle. I cannot recall it right now but I know it."