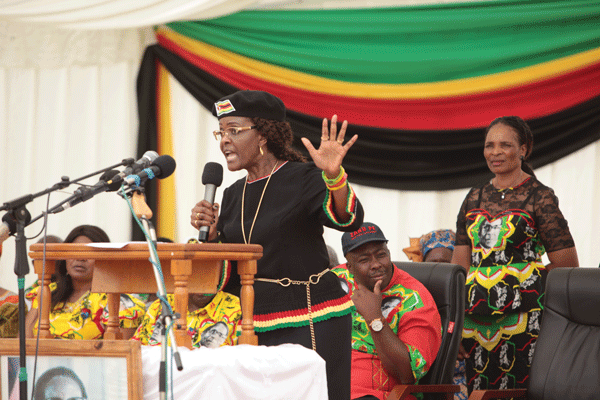 First lady Grace Mugabe's outlandish claim that Zimbabweans will vote for her husband even if he appeared as a corpse on the ballot paper was another demonstration of a her outrageous sense of entitlement.
Comment: The Standard Editor
Her husband, President Robert Mugabe, who turns 93 on Tuesday, is determined to rule Zimbabwe until he dies and it has become clear who is pushing him to hang on to power. The first lady seems to genuinely believe that the Mugabe family owns this country.
Last year Grace told one of her now infamous rallies that if Mugabe became incapacitated, she would push him in a wheelbarrow so that he continues to rule.
She also said the Zanu PF leader would rule from the Heroes Acre — a cemetery for the ruling party's elite.
Addressing a rally that appeared to have been solely organised to admonish senior Zanu PF leaders eyeing the president's position last Thursday, the foul-mouthed first lady decided to insult Zimbabweans with a statement that again made a mockery of the country's democracy.
"We will field a candidate of a corpse on the ballot if God takes Mugabe and people will vote for him just to show how much the president is loved," Grace said with no sense of shame.
The claim that Mugabe is popular with Zimbabweans is false because it is an undeniable fact that he lost an open election in 2008, but remained in power after using deadly violence against Morgan Tsvangirai's supporters.
Mugabe is considered an autocrat because of questionable electoral victories in the past and his heavy-handed treatment of opponents.
Critics of his regime, including church leaders, are routinely arrested on trumped up charges that include treason and undermining the authority of the president.
Such behaviour is not consistent with that of a loved leader, but is typical of medieval dictatorships such as the one in North Korea.
Grace invoked God's name to justify her continued abuse of power and obscene accumulation of wealth at the expense of Zimbabweans who are sinking deeper into poverty.
The first lady has been in the news lately following her dispute with Lebanese businessman Jamal Ahmed over a $1,3 million diamond ring deal.
There are also other scandals that include grabbing of productive farms that exposed Grace as someone driven by greed and not the interests of ordinary Zimbabweans as she often claims.
Therefore, her wishes for Mugabe to rule for life and even from his grave are selfish.
However, she must be reminded of the inglorious exit of dictators and their arrogant wives in countries such as Ivory Coast.
A time will come when Zimbabweans will say enough is enough and claim their country back from predators such as Grace.
Dictatorships also have a shelf life and history has taught us they usually fall when people become drunk with power and start treating people as their toys.
The Chinese rice and second-hand clothes stolen from hard working Zimbabweans that Grace uses at her rallies in an effort to bribe voters will, one day, come back to haunt her.