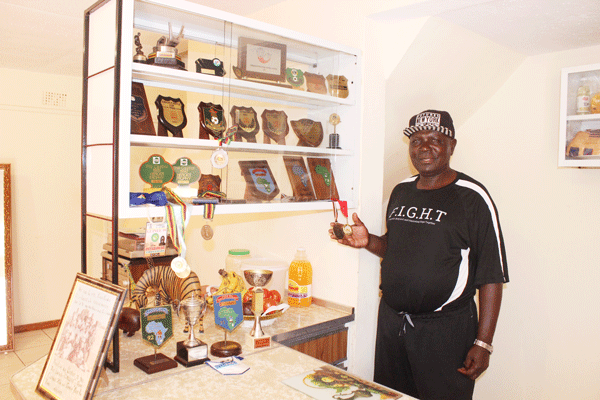 FOR a man who is celebrating 50 years of active involvement in the game of football in Zimbabwe, veteran coach Cosmas "Tsano" Zulu has endured a rather frustrating start to what should ideally be a landmark year for him in the domestic game.
yesteryear profile with SAKHELENI NXUMALO
Having served Bulawayo giants Highlanders — where he is currently the club's goalkeepers coach — for the better part of his coaching career, one would expect the club to celebrate his 50-year experience in style, but alas, the experienced coach is a very disillusioned man. He has gone for three months without pay.
"The saddest thing in my 50 years of football is that as someone who has served Highlanders as a player, coach, team manager and technical director, the team does not want to pay me despite all the hard work that I have put in," Zulu opened up during an interview with Standardsport at his home in Bulawayo last week.
"To be honest, in all these years I have been with Highlanders, they have never valued my contribution as a coach and I feel sad about it because as much as all these people that get into management turn to me when the team is in trouble, they don't want to pay me," Zulu said.
In addition to labouring month after month without getting his dues, Zulu also claims that despite being given the title of technical director in charge of all teams in the last couple of seasons, he was shocked to discover that he was being paid the same amount as the team's junior players as winning bonuses.
"When I was technical director we won the NetOne Easycall Cup and I expected to be paid handsomely, only to realise that I had been paid the same amount like (Godfrey) Makaruse and recently when we got prize money for coming third in the Premier Soccer League championship race, I realised that I had been paid the same amount as Prince [Dube] when I am supposed to be paid double," Zulu said.
The outspoken coach said he has tried to rectify the situation with the Highlanders administration but so far he has not had any joy.
The club's acting chairman Modern Ngwenya last week said they were working flat out to address the situation.
"Like any other organisation, we are all experiencing financial difficulties but we have a solution to deal with problems. We are there to arrest problems concerning salaries, allowances or debts and we are working around the clock to make sure that we make our technical team happy," Ngwenya said.
Born in Masvingo on January 8 1950, Zulu did his primary education in Gaths Mine where his father used to work and that is where he started playing football as a striker for the school team.
After his father retired, the family moved to Mount Darwin in Mashonaland Central Province where Zulu did his secondary education at Mavhuradona Secondary School.
It was, however, in Bulawayo, where Zulu's fledgling football career flourished after relocating to the City of Kings in 1967 to stay with his sister.
"After a week or so in Bulawayo, my sister took me to Barbourfields Stadium and introduced me to the chairman of a team that was training there on one of the outside grounds. I played for that team for a year or so in the Bulawayo Amateur Football Association ranks before joining Bush Bucks where I played alongside [ex-Bulawayo Wanderers and Eagles FC player] Charles Wadawu, who recently passed away," Zulu said.
From Bush Bucks he played for Eastern Midlands and later joined Eastlands in 1973 where he played alongside the late greats, Daniel "Dididi" Ncube and Tymon "The White Horse" Mabaleka.
After leaving Eastlands, Zulu moved to Olympics in 1977, where he linked up with the likes of Barry Daka and Isaac Mafaro, who had quit Highlanders to form their own team.
Two years later Zulu joined Mashonaland United, later known as Zimbabwe Saints, and played for one season before packing his bags to join Highlanders in 1980.
At Highlanders Zulu reunited with Mabaleka and played alongside the likes of Josiah Nxumalo and Mark Watson among a host of other yesteryear greats. It was while at Bosso that he was introduced to coaching by Scotsman Bobby Clark who took charge of Highlanders in 1983.
"In 1983 Bobby Clark came in as coach and the executive wanted Lawrence Phiri to assist Clark but there was a fracas during one of our games which led to Phiri being suspended and Clark chose me to be his assistant," Zulu said.
Having found a team that was largely made up of veterans, Clark introduced junior players who included the likes of the late Bosso and Warriors legend Willard Khumalo, Netsai Moyo and the late Nhamo Shambira. That move did not immediately bear fruit and the team struggled a lot and became relegation candidates.
"I remember one day after having played well but lost away to Rio Tinto in Kadoma, some of our supporters verbally attacked me and Bobby Clark in the team bus on our way back — as back in the day the supporters would travel in the same bus with the team — accusing us of being incompetent. The following day there was a protest by the fans at the club offices which were on Lobengula Street back then and I had to persuade Clark not to quit his position," Zulu said.
Soon after that incident, the team's fortunes improved and Highlanders went on to survive relegation.
The following year after expatriate Clark had returned to Scotland, the Bosso leadership asked Zulu to take over as head coach but he declined and requested that Daka should be engaged as the new head coach.
"I was man enough to admit that I was inexperienced and although the leadership was reluctant to hire Barry, who they felt had turned his back on the team back in the late 70s, I convinced them to take him on board as he had had some experience in coaching as player/coach at Olympics," Zulu said.
Using the drills that he learnt from Clark, Zulu and Daka went on to lift the Chibuku Trophy in 1984.
Many more accolades were to follow and over the years Zulu went on to win everything on offer in the local game with Highlanders and later with other teams.
In 1995 Zulu left Highlanders and went to coach AmaZulu, with whom he won the league title in 2003.
He has also worked for Railstars, Zimbabwe Saints, Quelaton, Zim Leopards, Sizane and Talen Vision as a coach.
He also coached in Botswana where he was in charge of Botswana Meat Commission.
"My biggest regret is that as much as I have accumulated so many medals; financially I never gained anything from football. Yes, when I was with AmaZulu I was earning good money but unfortunately you know what happened with the country's economy," Zulu said.
In 2014 Zulu returned to Highlanders as the technical advisor to Mark Mathe following the departure of Zambian Kelvin Kaindu. He came back into the Bosso fold again in 2015 alongside Amin Soma-Phiri after the Bulawayo giants parted ways with Bongani Mafu and Mandla Mpofu.
In 2015 and 2016 Zulu doubled up as the technical director in charge of all teams and also as the Highlanders goalkeepers coach but this year his duties have been limited to coaching goalkeepers.