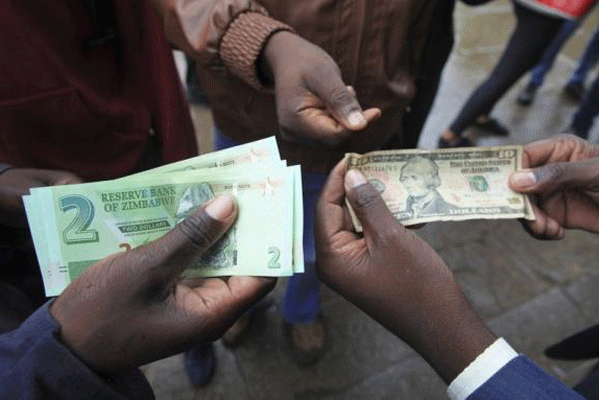 HARARE'S Road Port has become the unofficial bank of last resort, never short of cash, no queues and a multicurrency platform. The money market at this busy bus terminus now plays the role that the formal banking sector has failed. It is effectively making a mockery of the Reserve Bank of Zimbabwe (RBZ).
BY BLESSED MHLANGA
Bundles of bond notes, hard United States dollars and the South African rand openly exchange hands here without any fear of the police that mill around everywhere.
Most of the dealers are poor and do not own the huge heaps of money that they carry around. The money belongs to some big shots in the corridors of the financial institutions, government and business owners — mostly Chinese nationals who pour hard cash on the market every day.
John Chitera said top government officials, supermarket owners and service stations were behind the thriving black market, which is never short of cash.
"We get cash from government ministers and big bosses from banks. Most of it comes in bond notes and our job is to convert the money into US dollars and other currencies like the rand and the pula," he said.
Chitera said they also get close to $8 in bond notes if they manage to get their hands on US$100 and US$50 notes.
"A US$100 or US$50 note is sold for $108 or $54 respectively in bond notes. It's mostly our Chinese clients who want the solid US dollar notes because they are easy to carry or store as opposed to the smaller denominations," he said.
The black market is awash with dollars and rands which exchange hands on a daily basis, supplying cross-border traders and dealers who continue to smuggle cash across Zimbabwe's porous borders.
Top government ministers also reportedly get cash from the black market and import expensive cars and electronic gadgets.
Tonderai Mutambudzi said car dealers, fuel importers and other business people were being kept in business by the Road Port runners who now reliably supply hard currency needed by businesses to stay afloat.
"You know that it takes nearly a month or more for a telegraphic transfer to clear at the bank, sometimes it's even denied but here we offer quick solutions. We convert the bond notes and provide hard currency which is tradable outside Zimbabwe," Mutambudzi said.
He said some ministers collect cash to pay fees for their children abroad and also for their upkeep.
In the absence of industry and with failing production, Zimbabweans have taken to selling cash and not goods, as if to spite RBZ governor John Mangudya who appears to have run out of steam in attempting to solve the bleeding cash crisis.
In Harare's central business district, especially after 5pm, fuel stations refuse to accept plastic money, forcing motorists to buy in cash, which they in turn allegedly pour on the black market.
In Banket and Chinhoyi service stations visited by this reporter were refusing to accept plastic money, saying management was insisting on cash payments only.
"We have not been using swipe for over two months now; the bosses have given us an instruction just to receive cash," said a fuel attendant at the Zuva Petroleum service station in Banket.
Mangudya said such practices were acts of indiscipline in the economy.
"That practice reflects the high level of indiscipline that has crept into our beloved economy which needs a national Zimbabwean approach to exorcise it. Fuel dealers do not export, but yet they are the largest users of foreign exchange that is generated mainly by tobacco and gold producers. Not accepting plastic money, especially after hours, by these traders is not only irresponsible and absurd but also a clear sign of a high appetite to externalise funds," he said.
Mangudya warned that the central bank would deal with indiscipline, although he said all Zimbabweans needed to join hands to fight this indiscipline.
"Traders need to adhere to normal business practice which is beyond reproach. We have put teams comprised of the bank, Zimra and the police to deal with such malpractice. We have also established a whistle-blower or hotline facility to enhance peer policing through reporting illicit dealings," he said.
Bond notes which had been prescribed as a panacea to the flight of hard currency from Zimbabwe have failed to stamp out the cash crisis.
The Zimbabwean economy has an estimated $400 million cash in circulation, half of it in bond notes which are not supposed to leave the country because they are not tradable.
A reputable economist who refused to be named said with the majority of Zimbabweans living on less than a dollar a day and those employed earning below the poverty datum line salaries, only a few elites controlled the cash flow.
"The majority just need money to get by and as long as they buy groceries, pay fees and have transport money, they are okay. They don't even have savings to talk about, so it's out of the question that they can be hoarding cash, but they are the worst affected," he said.
Former Finance minister Tendai Biti said the cash crisis was a creation of the government, which was funding the black market by mopping out the US dollar in the country.
"The system is creating shortages, these guys have failed so they have created a cash crisis but they are desperate for foreign currency now so government itself is the dealer in the money black market. Those people you see holding thousands of US dollars in cash and bond notes at Road Port, they are actually acting for and on behalf of the government. They are not taking that money from bank queues," he said.
Biti said Zimbabwe had a total of $5 billion in deposits but only 5% cash was in circulation instead of 35%, creating the shortages that have hit the economy.
He accused government of taking the bond notes out of the banking system and using it as bait to fish out US dollars from the pockets of people to feed their own greed.
"Zanu PF is like a cat fish. They can't hunt in clear water. They have muddied the waters so that they can make a catch; bond notes have no value, they are like leaves but they are now being used as bait, the rubber worms to catch the fish called the US dollar," Biti said.
Vice-President Emmerson Mnangagwa defended the introduction of $200 million worth of bond notes last year saying they would deal with the cash crisis but this has not happened as things have actually got worse.