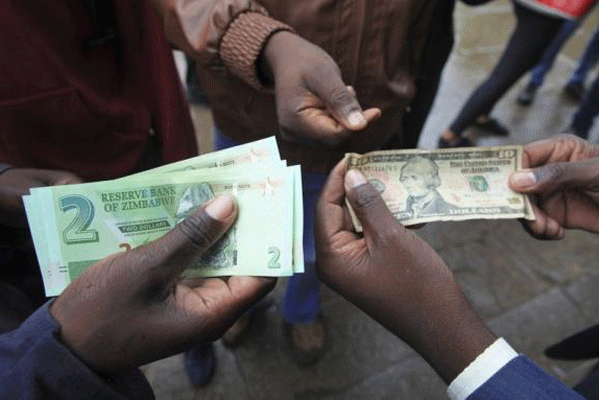 Government invented a cash crisis last year by introducing bond notes. And, because of that weird creativity, Zimbabwe is now saddled with swelling corruption in the financial sector.
corruptionwatch WITH TAWANDA MAJONI
Whenever the word "corruption" is mentioned our imagination jumps to fat, chauffeur-driven hoodlums fixing tenders, diverting public funds and stealing millions of dollars. That is true, of course, but we often omit remembering that even grassroots citizens who we generally view as the victims can in fact make corruption a lifestyle. That is true where the cash crisis is concerned.
Typically, the Zanu PF government is a busybody, fixing good car engines in order to get the brakes working. That is what it did from early last year when it started talking of introducing bond notes so as to solve cash shortages. The truth is that these shortages were not that bad then. Individuals could still get into a bank and walk out with $10 000. Neat greenbacks, and good money too.
But the moment Finance minister Patrick Chinamasa and Reserve Bank of Zimbabwe governor John Mangudya showed that they were serious about the bond notes, the good money started "running away". By the time the bond notes came in late 2016, there was hardly any real money to talk about in the banking system, and the situation has stayed pretty bad since then.
Long queues have resurfaced at the banks, bringing back painful memories of 2003 when the phenomenon of cash shortages emerged in Zimbabwe, and the peak period of the crisis in 2008. Depositors sometimes wait in vain for days because there is no cash to give out. Where it is available, they can only withdraw a maximum of $40 a day, a big record by regional and international standards.
To beat the problem, the financial sector is now encouraging cashless transactions. Ordinarily, that is not a bad idea. Nordic countries, for instance, have gained a good reputation as largely cashless societies. It brings convenience because you don't have to wait in a bank queue to withdraw large sums of money that you can be robbed of the moment you step out.
A cashless culture is welcome, but works only when other things are equal. And because things are far from equal in Zimbabwe, attempts to nurture it are bringing with it a whole cocktail of problems. One such problem is its creation of an opportunity for subalterns to cheat unsuspecting shoppers who are sometimes forced to buy things just to get $5 cash-backs.
This is not yet heralded, but shop assistants are taking home good money on a daily basis, playing around with receipts and POS systems. In recent weeks, I noticed that the money I must have spent on small items I bought from a local shop varied with the amounts that were reflected on subsequent reports on my phone or email.
I would just get into a shop, make a purchase, sign for it without checking and throw away the receipt. I never suspected that there could be any fraud. But when the variances became frequent, I got suspicious. Recently, I went into a local shop in Eastlea and bought three items that I know cost a total of $3,65. But when I got an online report, it was $4,65.
I was so certain of what the items should have cost and went back to the same shop, same POS, the following evening, this time to see if there, indeed, was any cheating taking place. True to my suspicion, there was variance of $1,50.
I haven't yet officially complained about this because I still need to get the real facts about how this fraud is happening. It looks, though, as if the shop assistants somehow inflate the figures and play around with the receipts. But talking to friends and other odd shoppers, the practice is rampant in retail shops. This type of corruption may look innocuous at the surface, but the amounts of money which people are being defrauded of look big.
Imagine that 80 people pass through a crooked till operator on a daily basis, and the shop assistant cheats half of them of a dollar each, she or he will take home at least $40 every day. If she or he works for 30 days a month as is usually the case in the retail sector, the till operator makes $1,200 a month. That is huge. It's unfortunate that many shoppers out there are still naïve and don't take time to meticulously check their receipts against the purchases they would have made, a tasking effort when one is buying many items, of course.
But that is just one instance of how the cash crisis is breeding grassroots corruption. Bank officials are involved too. They sometimes withhold the little available cash and dismiss desperate depositors so that they can distribute the money among themselves. I have learnt of this at one or two branches of my bank, and from the staff members themselves. There is no reason to believe that this is limited to my bank only.
Worse still, bank officials are taking bribes to facilitate the withdrawal of amounts larger than the daily limits.
Giving out amounts bigger than the daily limits is perfectly legal, as long as the central bank clears the transactions. The problem is that the officials are taking advantage of this facility to get kickbacks and favour their cronies and relatives.
Security personnel at the banks have joined the fray too, enabling depositors to "jump queues" for a dollar or two. And because the clients are so desperate to get their $40, they will not hesitate to fork out the little amounts. The sad thing is that this kind of corruption is hardly seen as such. Ordinary people readily boast of how they don't stand in queues and are too quick to accuse the elite of corruption.
There is also a big likelihood that banking officials are feeding the black market with bond notes that are being used for foreign exchange. Town is awash with the bond notes and one wonders where the "money-changers" are getting the money from. In the past, even the central bank was involved in offloading the local currency on the black market, and it would be little wonder if this is not repeating itself.
This is what always happens when a crisis emerges. It gives both the elite and subalterns the chance to be corrupt.
Tawanda Majoni is the national coordinator at Information for Development Trust (IDT), a non-profit organisation promoting access to information on public and private sector governance, transparency and accountability, and can be contacted on majonitt@gmail.com.