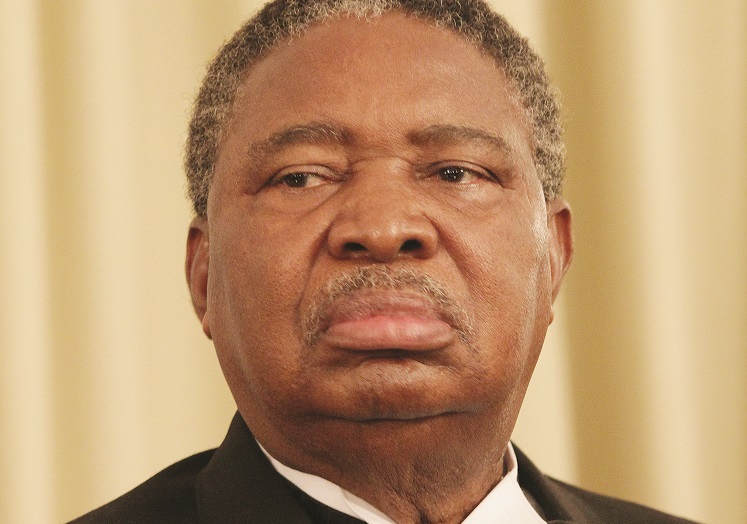 VICE-President Phelekezela Mphoko yesterday reprimanded War Veterans minister, Tshinga Dube for his alleged links to a faction backing his counterpart, Emmerson Mnangagwa to take over from President Robert Mugabe.
By NQOBANI NDLOVU
Mphoko said it was embarrassing for Dube to be hobnobbing with "nobodies" in the Zimbabwe National Liberation War Veterans Association (ZNLWVA) such as secretary-general Victor Matemadanda and chairperson Christopher Mutsvangwa, who have shown open support for Mnangagwa.
The VP, who also mocked Zapu president Dumiso Dabengwa for allegedly coalescing with Matemadanda and the Mutsvangwa-led ZNLWVA to push for a Mnangagwa presidency, made the remarks while addressing Zanu PF supporters at the party's Bulawayo Davies Hall offices.
Mnangagwa allegedly leads a Zanu PF faction known by the name Team Lacoste, which is at war with another group known as G40 over who should take over should Mugabe step down, or is incapacitated over old age and failing health.
The G40 faction is linked to first lady, Grace and her 93-year-old husband. Mphoko is also said to be a member of that faction.
"Tshinga, you are a senior person, I wonder why you hobnob with the likes of Matemadanda. Those boys are nothing. You are more senior than those boys. It's embarrassing," he said.
"Even Dabengwa, I was shocked to hear he is also doing the same and meeting with the likes of Mutsvangwa.
"It is really embarrassing," said Mphoko, who also dismissed reports former South African president, Thabo Mbeki met Mugabe to discuss the Zanu PF succession issue.
Dube, who courted controversy recently when he appeared to be backing demands by war veterans that Mugabe's succession must be discussed openly, sat stone-faced as the VP went on the offensive.
According to some reports, Mutsvangwa met Dabengwa to nudge the former Home Affairs minister to prod Zipra veterans to join forces with the ZNLWVA to support a Mnangagwa presidency.
Zipra was a military wing of Zapu during the liberation struggle.
Mphoko said any other Zanu PF member and faction that has no tacit support of Mugabe is lost, and "will cry".
"Mbeki was in the country to discuss issues to do with business, not anything to do with succession and politics," he said.
"There is no one who belongs to Mnangagwa, no-one who belongs to Report [Mphoko]. Everyone belongs to Mugabe.
"If you want to get lost, have a mentality that you belong to someone. Stop worshipping people, but worship the party. Do no support anyone, but the president. "Support me through the president. If you support me outside the president, you are getting lost.
"Unless, you do the right thing and follow what I am telling you, you will get lost and you will cry till you have no tears. Use me as your reference point, I have never been lost."
Mphoko also defended George Mlala, the deputy to self-proclaimed ZNLWVA association leader, Mandi Chimhene, as a genuine war veteran after Dube dismissed him as a fraudster and a bogus ex-combatant.
Chimene and Mlala have been pushing for the ouster of Dube as War Veterans minister. But Mphoko said the two should amicably solve their differences.
"I don't want to lie to you. I have been with Mlala since way back. We operated together as a unit in North East that was commandeered by [one] Mazinyane," he said.
"Mlala and Tshinga must amicably solve their differences. I as the VP, will fix this [Mlala-Dube fighting]."
The meeting was attended by Zanu PF politburo and central committee members, as well as the provincial executive and other ordinary party members.