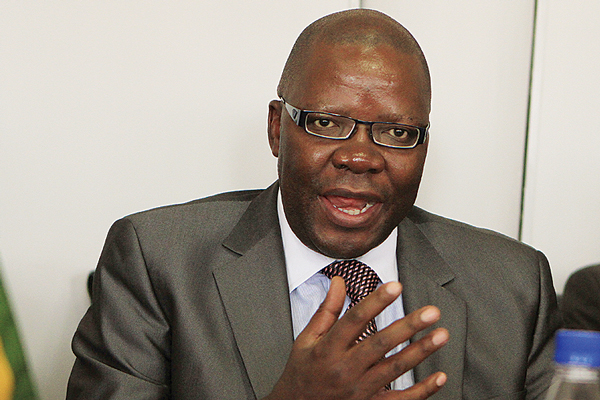 Former MDC-T secretary-general Tendai Biti yesterday, for the first time in almost five years, shared the stage with his ex-boss Morgan Tsvangirai to address a political gathering at Harare's Zimbabwe Grounds.
the big interview BY OBEY MANAYITI
The two had just signed an agreement to form a coalition known as MDC Alliance that also marked a reunion with former Industry minister Welshman Ncube. Transform Zimbabwe president Jacob Ngarivhume and other leaders of smaller opposition parties were also part of the cast.
After the historic event, our reporter Obey Manayiti (OM) spoke to Biti (TB) to understand why he wants to work with Tsvangirai after vowing never to support the former prime minister again.
Biti believes the time has arrived for Zimbabwean opposition politicians to put the interests of long-suffering masses ahead of their individual needs. Below are excerpts from the interview.
OM: What are your thoughts on the coalition deal that you have just signed? Do you think these parties have the capacity to dislodge Zanu PF in next year's elections?
TB: I think that what we did today was to commit ourselves to the idea of the grand alliance under the MDC Alliance and under the leadership of Morgan Tsvangirai.
We had a meeting of principals yesterday and agreed that the full negotiations should end in the next two weeks so we hope that those negotiations will be concluded fully and there will be a full unveiling of the agreement.
Today what was important is the symbolism that we want to work together and we are committed to working together and that is in the best interest of our country.      OM: Are you confident that within those two weeks you will reach an agreement?
TB: We have to for the sake of our people. We have to put our country first and put the people of Zimbabwe first.
OM: In your speech at the signing ceremony, you were talking about the need to rebuild the original MDC. Do you think this will form a strong alliance to defeat Zanu PF. TB: I think the original MDC is a metaphor of resistance and hope and our people need that at the moment. You and I know that on its own, it is not sufficient, and we need everyone on board.
We need the youths, we need students, civil society, we need the trade unions, business and everyone.
We also need reforms too. It is going to be critical that we have some minimum modicum of reforms and if we have a combination of the convergence of opposition parties plus the minimum of reforms, we can give our people a chance.
But we also need luck on our side. In 2008 we had some luck because of the internal fights in Zanu PF and at the present moment there is total mess in our country created by [Finance minister Patrick] Chinamasa and [President] Robert Mugabe.
We have never experienced a more brutal crisis than we are experiencing now.
As I said, 91% of our people are unemployed, the majority of our people are surviving on $0,35 a day, it's a crisis and that crisis requires that we as the opposition work together.
We have agreed to work together until the regime is gone but most importantly, we continue to work together to rebuild and reconstruct our country, that is very critical.
OM: You talked about reforms, but do you think the Zanu PF-led government will bow down to your demands?
TB: They will not, but I think they don't have much choice just like in 2008, they didn't have much choice than talking to MDC.
The nature of the crisis is also affecting them and we as the opposition, we have to maximise the crisis, we have to weaponise the crisis and if we do so they will have to talk to the opposition.
After all, it is the opposition that has the solution, we are the ones who rebuilt and reconstructed this economy that they wasted.
We are the ones who rebuilt the new social fabric that they totally squandered but we have a duty of finishing what we started in 1999, we have a duty of completing the duty that we started when we went to the Women's Bureau at the national working people's convention in 1999.
OM: When you talk of weaponising the crisis, what exactly are you referring to? Are you saying you are going to take advantage of Zanu PF's factional fights?
TB: I am talking about maximising the crisis. I am talking about amplifying their level of incompetence and amplifying our capabilities to resolve the current national crisis that is arresting Zimbabwe.
I have no doubt that the team of opposition led by Tsvangirai deserves to govern this country because we have the experience, we have the intelligence and wisdom and the trust of the people of Zimbabwe.
We showed it during the government of national unity when we stabilised this economy and gave hope and how we made many Zimbabweans feel expectant again. We have a duty to do that again.
OM: In your coalition, are you still open to other parties coming to join you at this stage?
TB: Of course, yes. The idea is that let's all come together. Joice Mujuru was not there and we would like to see her there. Dumiso Dabengwa was not there and we would like to see him there.
Simba Makoni was not there, and we would like to see him there the same with Gilbert Dzikiti and Farai Mbira, so all of us must get on board because Zimbabwe is bigger than all of us and we are only as good as a collective.
OM: As of now can you tell us the distribution of the positions.
TB: We can't be divided by positions, so it means if new parties come we have to start the process and after all, the process is not complete.
Tsvangirai made it clear that it is not about positions but accommodating each other so that we form a formidable strong team.
That is why the door is not shut for those who didn't come. This is not a feeding party where you say we have shut down the doors because the drunkards inside are enough.