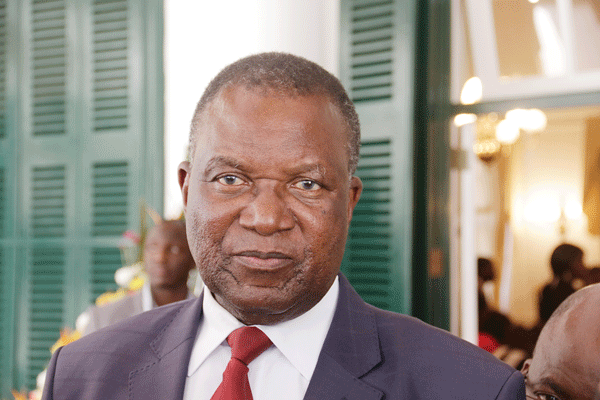 The South African Civil Aviation Authority (Sacaa) on Friday stopped a Harare-bound Air Zimbabwe Boeing 767 from taking off at OR Tambo International Airport, claiming it did not have a "foreign operator's permit."
the big interview BY BLESSED MHLANGA
Zimbabwe has since responded in kind, grounding and denying landing permission to all South African Airways and British Airways planes, leaving tens of travellers stranded.
Our reporter, Blessed Mhlanga (BM) yesterday spoke to Transport minister Joram Gumbo (JG) on the stand-off.
Gumbo dismissed speculation that the grounding of Air Zimbabwe planes by South Africa had anything to do with the Grace Mugabe saga in the neighbouring country.
South Africa last week said it had issued a red alert at all its entry points to stop the first lady from leaving that country before the case where she allegedly assaulted a model, Gabriella Engels was finalised. Below are excerpts of the interview.
BM: Minister, can you please explain the cause of the stand-off between the Civil Aviation Authority of Zimbabwe (Caaz) and Sacaa that has resulted in the banning of Air Zimbabwe and South African Airways (SAA) flights between the two countries?
JG: There is what is called operator's licence which is renewed periodically.
So Air Zimbabwe had not renewed its licence and South Africa Airways had also not renewed its own licence.
So what happened is that South Africa triggered the issue because they were the first to ground the Air Zimbabwe plane because of the non-compliance issue.
BM: This compliance, is it a political issue between Zimbabwe and South Africa which is degenerating into a diplomatic tiff?
JG: It's international compliance in line with the requirements of the International Civil Aviation Organisation.
It's not anything that you can say there is a fight between Caaz and the Civil Aviation Authority of South Africa. But it's just because airlines should comply with that requirement. Both airlines had not complied.
BM: So can we safely say South Africa targeted a Zimbabwean plane?
JG: South Africa started grounding planes last week. It actually grounded other planes from other international airlines, which had not yet renewed their permits.
So they grounded Air Zimbabwe on Friday when SAA had also not renewed its permits. So they [Caaz] grounded theirs as well. That is the issue. It's not anything serious.
BM: Should we say there is nothing serious when passengers are stranded?
JG: Airlines should just comply with that requirement.
BM: Why had Air Zimbabwe not complied?
JG: That's what I am saying. It's just a lapse by people in management. It's not only air Zimbabwe, I am telling you that other airlines were grounded in South Africa and you are just being specific with Air Zimbabwe.
South Africa has also not complied and I told you South Africa also grounded two other international airlines over the same issue.
However, if people had quickly realised that their planes were also not complaint, they should have acted.
If the planes don't have that compliance, they should just be grounded. There are no two ways about it. that has to be done until they comply.
BM: When do we expect this compliance?
JG: The problem is that this happened during the weekend and so for the offices to be opened and the work to be done and for the applications to be made, there is going to be a delay.
So as a result both airlines, the SAA and AirZim, are now incurring expenses of housing people in hotels up to maybe Monday.
BM: What is the cost to the Zimbabwean economy and specifically to the debt-ridden AirZim?
JG: Not necessarily the cost to our economy. It is going to affect both sides. I don't know how I can explain so that you understand.
It's a compliance issue and if it has not been fulfilled, it has to be done. If this happens, then all passengers have to be taken care of in hotels.
Those from Zimbabwe have to be housed in hotels in South Africa until they travel; those who were going to South Africa with SAA are also housed here. So its tit for tat.
But it's a balancing act if you are talking of economies now, both economies suffer.
BM: But can we afford to have a tit for tat with South Africa, our major trading partner seeing that we are on the back foot on the economic front?
JG: It's not a tit for tat, don't be negative my brother. It's not a question of tit for tat. It's a question of compliance by airlines.
They did not comply and not only South Africa and others, that's why I said some planes in South Africa were grounded.
Even in Zimbabwe we will ground even if it's Emirates or any airline which will not be compliant. That is what happens in airlines.
It's just like driving without a licence and you are arrested in Zambia and if a Zambian is arrested in Zimbabwe for the same offence, it's not a tit for tat issue.
It's because you don't have a licence. So many airlines had not complied, they had just relaxed.
BM: As neighbours who cooperate on different platforms, have you failed to reach an agreement to let the planes fly until Monday when you can sort this out?
JG: This is what we were asking the two civil aviation authorities to try and do because this stance is inconveniencing passengers.
But then, if you look at it, SAA and AirZim and the number of planes and the flights, South Africa has more to lose than Zimbabwe.
SAA fly more planes than us to Harare and Victoria Falls so if all planes are not compliant, then there is a problem.
So I was talking to my counterpart in South Africa discussing this issue, saying our airlines have disappointed us because they have to be compliant.
BM: Zimbabwe had a diplomatic tiff with South Africa over the past week [Grace Mugabe's case], could this be in any way linked to that stand-off.
JG: Taking this to that level is failure. This has nothing to do with politics or anything, but in the private media those are the things you want to latch on.
But it has nothing to do with that and [we shouldn't] turn this question of compliance into politics when it is about people who failed to do their work in a proper manner.
BM: We have seen pictures of Zimbabwe Airways in Malaysia, a company which reportedly is going to succeed AirZim. When are the planes coming and how much is the deal worth?
JG: Those ones are not yet here and do not belong to Air Zimbabwe. These are private planes. If you want to buy your planes, buy, then we will give you a licence and you can fly them.
These ones you are talking about have nothing to do with Air Zimbabwe. It's a different company altogether which wants to fly its planes here.
They are like anybody, like fly Africa, like Fly Angels. It's not a question for me. It's a question for those who buy their planes. As minister of Transport, I can only assist those who buy their planes and license them.
BM: Don't you have a deal to buy or lease planes which will be branded as Zimbabwe Airways with the Malaysians?
JG: We don't have money to buy new planes. If we had money, we would have bought already. I said we want to have a partnership, but in pursuing this partnership, I am yet to conclude the deal, because I have to deal with the AirZim debt, which I have placed before Cabinet.
If I am successful in getting that debt taken over by government, then I will be in a good position to negotiate with those I can have a partnership with.
But in the meantime, we have those who want to buy their planes or those who want to lease their planes in Zimbabwe and we encourage them to come and do so.
BM: We understand that Vice-President Emmerson Mnangagwa was supposed to return to Zimbabwe today. How is that going to be possible with planes grounded?
JG: You had been told that he is coming back today? Who had told you that?
BM: Will he be able to come back if AirZim is grounded?
JG: Well, I did not know that. I am in Midlands. Had you also told me that he is landing today I would have been in Harare to welcome him back home. So if you know more than we know, then I don't know.