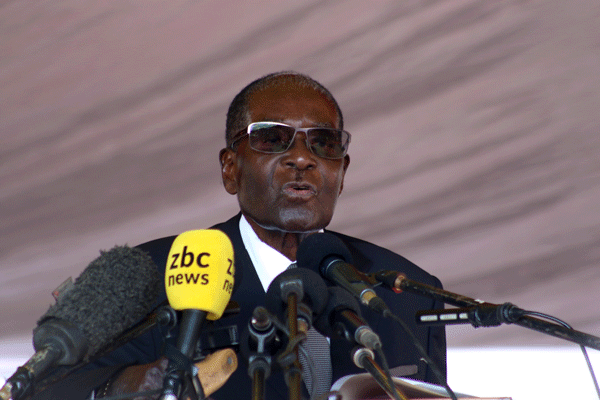 First lady Grace Mugabe was on Friday told to her face that she is the leader of the G40 faction in Zanu PF as members of Vice-President Emmerson Mnangagwa's Team Lacoste launched a spirited fight back during a tense central committee meeting, it has been revealed.
According to sources, the warring factions almost came to blows when the issue of Mnangagwa's alleged poisoning came up for discussion at the meeting that was addressed by President Robert Mugabe.
Mugabe and his wife are livid that Mnangagwa's supporters claim he ate poisoned ice cream from Gushungo Dairies when he was taken ill during the veteran ruler's Gwanda rally last month.
The VP was airlifted to Gweru and subsequently to South Africa, sparking panic in his camp, which accused G40 members of trying to eliminate him.
At a rally in Gweru recently Mugabe, took the unprecedented step of publicly disclosing his deputy's medical records as he sought to debunk the poison theory and on Friday he again complained bitterly about the alleged smear campaign against his family business.
The veteran ruler's rants appear to have added fuel to the fire as sources that attended the volatile meeting said the two factions went for the jugular against each other.
Betty Mutero, a key Mnangagwa backer, is said to have thrown the cat among the pigeons when she claimed that G40 wanted to kill Mnangagwa and that Grace was the faction's leader.
"She said G40 wanted to kill Mnangagwa so that Vice-President Phelekezela Mphoko would take over as acting VP and pass on power to Grace in the event that Mugabe is incapacitated," a well-placed source said.
"She said G40 kingpins will then wrest power from Grace. She said the president was being lied to that VP Mnangagwa wanted to take over power from him."
Mphoko responded angrily to Mutero's claims, declaring that at 77, he was too old to fight for the presidency.
"Mphoko told Mutero not to drag him into Mnangagwa's succession ambitions as he was content with his position as VP," the source said.
Grace yesterday told a rally in Bindura that Mutero accused her of being the G40 leader. However, she said as far as she was concerned, Lacoste was the only faction in the ruling party.
Before Mutero's outburst, Manicaland Provincial Affairs minister Mandi Chimene had taken the war to Team Lacoste, telling the stunned auditorium at the Zanu PF headquarters that Mnangagwa's unbridled ambitions were the reasons Mugabe's business was under siege.
Letina Undenge, a close ally of the first lady, joined the fray demanding that action be taken against Zanu PF officials behind claims that Mugabe poisoned his lieutenant.
The attack against Mnangagwa triggered emotional responses from his backers, with one General Chineka from Masvingo reportedly saying the ruling party was now run through gossip.
Fighting in Mnangagwa's corner, Chineka said the VP was loyal to Mugabe and had no ambition to overthrow him.
"He said Mnangagwa was responsible for the crafting of the party's constitution, which is no longer being followed and would have used the same instrument to remove Mugabe but has not done so because he is loyal to him," a source said.
Politburo deputy secretary for legal affairs, Paul Mangwana is said to have sprung to Chineka's defence, claiming that Masvingo was united behind Mugabe and his wife.
"He said the province would investigate claims that there were members who made the claims that the VP was poisoned with ice cream from Gushungo dairies with the hope of disciplining them," the source added.
But, before he could conclude his argument, Masvingo Central MP Daniel Shumba told Mugabe that Mangwana was lying.
He said Mangwana knew of the people who made the claims and was part of those who ordered Bikita South MP Jeppy Jaboon and Tourism minister Walter Mzembi to leave Masvingo Provincial Affairs minister Shuvai Mahofa's funeral wake last month.
Mzembi was accused of being Mugabe's "blue-eyed boy" who was being used to poison the Zanu PF leader's rivals.
"Shumba accused Mangwana of being a pathetic liar, accusing him of feigning love for Mugabe when they were plotting against him and his wife," the source said.
This source said Masvingo provincial chairman Ezra Chadzamira was irked by Shumba's claims and ordered him to sit down. "He is lying. He formed an opposition party to challenge you president. He cannot wake up today to claim he loves you more than others, "Chadzamira reportedly said.
Shumba left Zanu PF in 2006 to form his own party, the United People's Party, before he retraced his footsteps back to Zanu PF three years later.
Grace told the Bindura rally that Mangwana, a lawyer, told her during the central committee meeting that she did not understand the Zanu PF constitution.
Masvingo last weekend held a provincial co-ordinating committee (PCC) where Team Lacoste tried to do damage control after Mugabe complained over the way his company was allegedly being demonised over the poison saga.
At the PCC meeting Zanu PF chief whip Lovemore Matuke reportedly said anyone who vilified the first lady would be disciplined.
He urged all party members in the province to embrace her because she had initiated a lot of developmental programmes in the province. The move was seen by G40 members as a sign of panic by Mnangagwa backers who were allegedly trying to pre-empt impending disciplinary action.
At the central committee meeting, Harare provincial minister Miriam Chikukwa also accused Mnangagwa of causing the disturbances in Zanu PF, alleging that Team Lacoste was sponsoring chaos in the party.
She claimed that she had evidence of sponsored clandestine meetings by Team Lacoste to topple Zanu PF's Harare provincial chairperson Charles Tawengwa.
A member from Mashonaland West came to Chikukwa's defence, calling for the expulsion of Mnangagwa from the party.
"He said if [former vice-president Joice] Mujuru was fired for causing factionalism but the scourge did not end, the axe should fall on the person she was fighting against," another senior member said.
Mnangagwa gave a very short response, claiming that he only delayed issuing a statement stating that he was not poisoned because he was very ill.
Mnangagwa reportedly said the cause of his illness will be known in due course.
Transport minister Jorum Gumbo and Local Government minister Saviour Kasukuwere reportedly failed to make their scheduled presentations as the poisoning saga took centre stage.
According to another source, it was essentially a factional showdown but with the majority siding with G40 ostensibly to endear themselves to Mugabe and his wife.