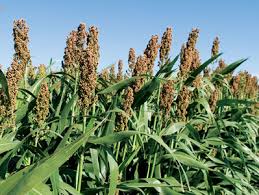 By Jairos Saunyama
Villagers in Matabeleland South's Bulilima district are participating in a small grain seed research programme aimed at ending hunger in the semi-arid area.
Bulilima is one of the country's driest areas and has been experiencing successive droughts due to poor rains.
Maize production in the region is a futile exercise hence communal farmers produce small grain crops like sorghum, millet, cowpeas and rapoko, among others.
Violet Tshuma, a leading farmer from Maloba, said participating in the research project was yielding results as farmers were guaranteed of a bumper harvest after coming up with a number of seed varieties that were suitable for their climate.
"It is good to be working with researchers and experts and come up with seed varieties that suit our own climate," she said.
"This is my second year on this project and all I can say is that the two seed varieties that were bred, did so well last season and I am sure that we are guaranteed of a bumper harvest," she said.
The project code-named community-based seed conservation and management of plant genetic resources, is being implemented by a non-governmental organisation, Practical Action.
Other areas that are set to benefit from the project include Dombodema, Malalume, Goba, Mafeha, Ndiweni, Maloba, Tokwana, Msinjwana and Mazwaligwe, among others.
The project kick-started in 2015 and is ending in November next year. It is funded by the Food and Agriculture Organisation and, International Treaty on Plant Genetic Resources for Food and Agriculture to the tune of $298 162.
Zimbabwe's Department of Research and Specialist Services: Crop Breeding Institute and Genetic Resources, as well as the Biotechnology Institute (National Genebank), are other supporters of the programme.
"This seed conservation and management of plant genetic resources project has ensured food and nutrition security in the area as we now have enough grain for food, and even surplus to sell," said Precious Ndlovu (46), a villager and farmer.
Practical Action southern Africa's project manager for Sustainable Agriculture and Livelihoods, Melody Makumbe said they had so far come up with 10 varieties of the four crops under research in the area.
These crops include sorghum, pearl millet, cowpeas and bambara nuts.
"We are helping these marginalised areas in this research project that is meant to ensure food security in the whole of Matabeleland Province," Makumbe said.
"We are helping the farmers to access varieties of crops that suit their climate.
"In recent years, the area has been hit by successive droughts and today we are happy that these farmers were able to pick seed varieties that grow better and faster in this area."
The seed variety they seem to prefer is CBC4, which adapts well to their climatic conditions.
"For all the four crops that the project is working on, we have 10 different lines of advanced varieties that have been coming from the Department of Research and Specialist Services, particularly the Crop Breeding Institute, who are our key partners," Makumbe said.
Apart from Bulilima, other areas that are benefitting from the project include Mangwe and Matobo.
According to Makumbe, farmers who grow the new CBC4 (cowpeas) and Tsholotsho beard (pearl millet) varieties on small trial plots saw their yields doubling from one to two tonnes per hectare.
The Tsholotsho beard variety has bristles that prevent birds from devouring it.
Avilla Zingoni, an Agritex officer in Khame Ward 22, said about 890 households had benefitted from the programme.
"About 890 households have so far benefitted from the research project. The 10 seed varieties are grown on different demo plots with farmers monitoring each stage as they grow," Zingoni said.
"They monitor things like flowering and maturity before concluding the best variety at the end of the day. "This is helping as they now have knowledge of the best seeds to use to avert hunger."
Marco Mare, a plant breeder from the Department of Research and Specialist Services in the Ministry of Agriculture, who has been working with the farmers, said there was need for other stakeholders to chip in and invest in seed variety research for the benefit of villagers.
"This is the way to go, to use improved technology and research in agriculture will definitely yield positive results," he said.
"The farmers here liked the programme and my wish is for it to be rolled out nationally for the benefit of all farmers." Onismus Chipfunde of the Genetic Resources and Biotechnology Institute, said the project was promoting conservation farming as well as strengthening traditional agriculture through breeding seed varieties that adapt to the climate as well as being resistant to pests.
According to Makumbe, 120 extension officers, Zimbabwe Farmers Union members, the Zimbabwe Smallholder Organic Farmers, Chikukwa Ecological Land Use Community Trust, Farmers' Association of Community Self-Help Investment Group and Towards Sustainable Use of Resources Organisation Trust, as well as 20 000 additional farmers in surrounding areas, have so far benefitted through accessing improved crop varieties.
With exactly a year left for the programmes to conclude, more communal farmers are expected to join in the research programme for the better of their lives.
for Tshuma, the research has brought smiles to her and other farmers.
Today, she stands tall as being part of the researchers of the famous CBC4 seed variety that will soon be sold in shops so that farmers from other areas can access them.