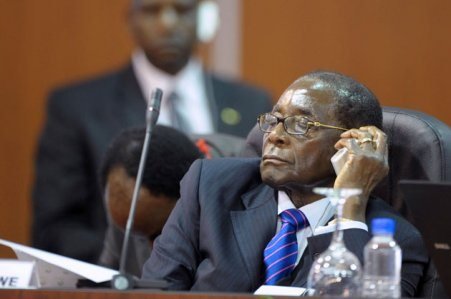 President Robert Mugabe was a spectacle once again on the world stage after cameras of leading television networks were trained on him as he caught up on his sleep during United States President Donald Trump's first address at the just-ended United Nations General Assembly (UNGA).
THE STANDARD COMMENT
Mugabe has become notorious for attending all events he is invited to, only to sleep throughout the proceedings and the 72nd session of one of the most important events on the UN's calendar were not an exception.
[su_slider source="media: 210006720946362,210006720946361,210006720946360″ height="400″]
As if that was not enough, two days later, Mugabe was shown by international television channels walking with great difficulty as he approached the podium to give his own address at the UNGA.
The 93-year-old ruler had to be assisted by his aides as he walked out of the conference room after delivering the speech that was more about Trump than the issues around the theme of the event.
Aides were seen holding his hand as he also sought balance from a wall, staggering off the conference room after the speech. It was certainly not the first time that Mugabe was caught on camera sleeping at a high level summit in a foreign country or struggling to walk.
There are now numerous videos of the Zanu PF leader on the internet either falling down at the Harare International Airport on arrival from yet another jaunt outside the country, or walking with some difficulty at platforms far from Zimbabwe.
Zimbabweans wonder why their 93-year-old ruler continues to punish himself like that by hanging on to power and maintaining a punishing schedule that involves attending each and every summit where he is invited.
Mugabe's latest trip is said to have gobbled over a million dollars as he took along his children and grandchild to New York, in addition to a bloated government delegation.
The government has been dismissive of complaints by citizens that these trips are an unnecessary burden on the taxpayer. Mugabe could have sent one of his deputies to the UNGA, just like other leaders whose countries have far better performing economies such as Botswana did.
Such a move would have saved the president the embarrassment of being caught napping, or the ridicule that ensued after his long walk to the podium last Thursday.
Mugabe showed without any doubt that he is no longer fit for the job.
His address was not inspiring either as he went on about imperialism and other irrelevant issues that had nothing to do with sustainable development, which was the theme of this year's UNGA.
The president's performance vindicated our position ahead of the summit that the trip to New York was an unnecessary expense for a struggling economy like ours.
This country deserves better leadership. Zimbabwe needs a president who is alert and energised to do the job at hand. Our predicament demands that it should no longer be business as usual.
We cannot get that from a leader who sleeps throughout meetings after spending thousands of dollars flying across the globe.