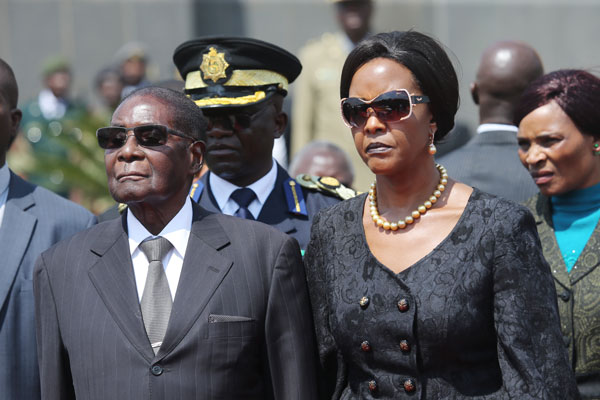 Amassive number of Zimbabweans took to the streets yesterday calling on President Robert Mugabe to resign as the noose tightens on the under-siege ruler.
BY BLESSED MHLANGA / CHARLES LAITON/ SILAS NKALA/STEPHEN CHADENGA
The record crowds that gathered at the Zimbabwe Grounds and Freedom Square in Harare and at City Hall in Bulawayo, among other places, were an emphatic endorsement of an army takeover last Wednesday that saw Mugabe being put under house arrest.
In a rare show of unity, Zanu PF, war veterans, civil society and opposition political parties joined ordinary Zimbabweans in calling for an end to the reign of the world's oldest ruler.
The day's events culminated in a march to State House in Harare where the message was sent to Mugabe that his time was up. A similar march in Bulawayo also ended at State House in a symbolic gesture.
At Zimbabwe Grounds in Highfield, thousands gathered early in the morning, before they marched to the central business district to join multitudes of people who were celebrating the pending end of the Mugabe era.
In what turned out to be more of a street carnival, Zimbabweans celebrating new gained freedom consumed alcohol on the streets of Harare, while dancing to music by Jah Prayzah and demanding an end to Mugabe's rule.
There was a total shutdown of the roads leading to 1 Chancellor Avenue as people from all walks of life called on Mugabe to leave government.
The march by far surpassed all other post-independence political gatherings, and was conducted without incident despite the absence of the police on the streets.
The marchers waved flags, placards, sounded hooters and chanted slogans, which exalted the military led by Zimbabwe Defence Forces commander Constantino Chiwenga.
Some waved placards that read: "Mugabe Must Go, Sadc must not intervene in the internal problems of Zimbabwe and G40 cabal must be charged for stealing from Zimbabweans."
The military took Sadc envoys who are negotiating a peaceful resolution of the political stalemate in the country on a helicopter ride showing them the multitudes that thronged the streets.
Zimbabwe National War Veterans Association secretary-general Victor Matemadanda urged the crowd at Zimbabwe Grounds to march to State House for the ultimate push to oust their former leader.
He said they were even ready to march to Mugabe's mansion in Borrowdale if need be.
Known for his stinging speeches against the first family, Matemadanda told Zimbabweans that it was time for Mugabe to pack his bags because the people had spoken.
"The statement has been made, it's time for grandfather Mugabe and typist-cum-wife to pack their bags and go home. We will not go home until he goes. That is our only message," he said.
Cyber Security minister Patrick Chinamasa, said Zanu PF's central committee would sit today in the capital to discuss Mugabe and resolutions calling for his ouster from the party and government.
MDC-T secretary general Douglas Mwonzora said the show of force by citizens proved that the only way left for Mugabe was to step down.
Former vice president Joice Mujuru, #This Flag leader Evan Mawarire, and Mugabe's Climate minister Oppah Muchinguri also gave solidary speeches denouncing Mugabe and calling for the arrest of those who plundered Zimbabwe's wealth. Hundreds of white Zimbabweans also joined the march and could be seen waving placards hailing the stance that was taken by the army.
"I am happy that the army has taken this stance. For quite a long period of time Zimbabweans have been living under oppressive rule, nobody was free, even the Zanu PF activists themselves, they feared Mugabe and his cronies but now we are here celebrating his fall and he must go," said an old woman, who declined to be identified.
Another Harare man said: "This is a second independence day for us. We have been liberated from Mugabe's rule. We were tired but there was nothing that we could do.
"This day is not in solidarity with any particular political party but it is for every Zimbabwean, regardless of colour, gender or creed.
"We have come together for one purpose, that is to ask Mugabe to step down,"
Although no police officers were in sight, Zimbabweans managed to control themselves and peacefully showed love for one another with motorists providing free transport to several pedestrians who marched along all the major roads leading to the Zimbabwe Grounds from the city centre.
Some ecstatic Zimbabweans could be seen bowing down to members of the defence forces while some even lifted up soldiers while chanting slogans hailing the move taken by the forces.
At Zimbabwe Grounds, several school busses and lorries from all over the country, were parked outside the stadium alongside thousands of personal cars.
Most businesses in the city centre closed shop as their employees joined their fellow Zimbabweans in calling for Mugabe to go.
The marches were not limited to Harare as hundreds also marched in Gweru and Bulawayo.
Earlier on, the Bulawayo Large City Hall car park was turned into freedom square yesterday as tens of thousands of residents gathered calling for long-time leader Mugabe to step down.
The placard and flag-waving marchers — including members of the white community who are rarely seen at such political gatherings — sang jubilantly in anticipation of the dawn of a new era.
Some of the placards hoisted high up in the air read, "Mugabe must go!", "Sadc leave Zim alone".
The march which started around 9am attracted thousands of people and caused serious traffic jams.
To show that the winds of change have blown through the country, the protesters at one time descended on the Bulawayo Central Police station to voice their disapproval of the heavy handedness of the police.
ZTV last night said negotiations between Mugabe and the generals will resume today.