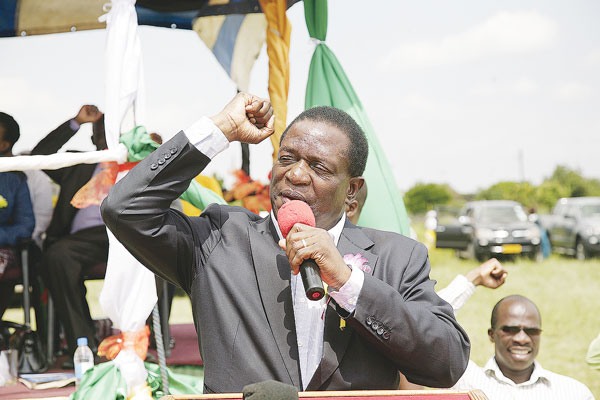 PRESIDENT Emmerson Dambudzo Mnangagwa's inauguration speech was full of promises on the economy, good governance, international relations and a promise to smoothen relations with multi-lateral financial institutions such as the Bretton Woods institutions, in the process winning him the hearts of many.
BY PAIDAMOYO MUZULU
The event was regal, full of pomp and fanfare, just like the coronation of a king after coming victorious from war.
Mnangagwa on November 24 assumed the reins of power after a tumultuous three weeks that saw him fall to his lowest and bounce back politically, albeit with the support of the military.
After two decades of Zimbabwe in the wilderness, cut off from the international community, it was about time to mend the fences and Mnangagwa did not disappoint.
He spoke in the language the West wants to hear – foreign direct investment, improving ease of doing business, parastatal reforms, crackdown against corruption, a revamp of the civil service work ethic and compensation for dispossessed white commercial farmers.
In short, Mnagagwa nailed his flag to the mast as a reformist and neoliberal. This is not new in international politics and it has been witnessed in China and more recently Rwanda.
Mnangagwa has a reputation like that of Rwandan President Paul Kagame of being a strong-man and implementer.
Both men assumed office on the basis of their strong support or backing from the military. In Kagame's case, the Rwandese army general won his stripes from the battlefield in a bloody civil war that killed over 800 000 people in the Great Lakes' nation.
Kagame's Rwanda has become a model African country in successfully recording annual economic growth and receiving foreign direct investment.
Mnangagwa on the other hand gained power by forcing his mentor Robert Mugabe from office in a bloodless coup that lasted a week.
In his first speech to Zanu PF supporters last Wednesday at the party headquarters Mnangagwa confirmed as much when he said: "I was in constant contact with the service chiefs throughout. I wish to also thank the manner in which our defence forces and general Chiwenga have managed the process very peaceful."
Mnangagwa like Kagame all rely on delivering his programmes through command and having very good relations with private capital.
The new president spoke of his command economics that started with command agriculture production. These programmes build on the relationships Mnangagwa has with the military.
In other words, Zimbabwe will see more of the military administration in the running of State affairs. The military are by far the largest player in the diamond industry where they enjoy 50% shareholding in most of the concessions in Marange diamond fields.
Mnangagwa as Mugabe's deputy had started working on the ease of doing business project, a politically correct term for neo-liberalism. Neo-liberalism is a form of capitalism where solutions to most of the economic programmes are found through privatisation.
In the euphoria of having a new leader after Mugabe's 37-year old rule, many people missed the aspect that Mnangagwa did not speak anything to the realignment of laws to the new constitution, liberalisation of the airwaves or repealing of the obnoxious Public Order and Security Act and Access to Information and Protection of Privacy Act.
More worrying, however, is the fact Mnangagwa deliberately skirted addressing the issues of how he came into office.
Not once in his speech did he speak to issues pertaining to ministers and several security agents who were detained by the military.
It is now common cause that former Finance minister Ignatius Chombo was tortured while in detention for a whole week and so was Central Intelligence Organisation director in charge of security Albert Ngulube who was also badly assaulted.
The exact number of those detained or tortured is not clear but many conservative estimates put it closer to a hundred people.
Other senior politicians who had their properties ransacked include G40 kingpins Jonathan Moyo and Saviour Kasukuwere.
Zimbabwe Lawyers for Human Rights and Human Rights Watch last week urged the government to account for all persons who were illegally detained.
Abductions of civillians are not new to Zimbabwean politics. More than 200 MDC-T supporters were abducted and killed during the bloody 2008 presidential election run-off.
It is not far-fetched to say Mnangagwa like the Chinese and Kagame in Rwanda will usher in a new dispensation where the State will play an increasing role in the economy.
Privatisation will be the order of the day under State capitalism and the poor will have little access to services in a thriving economy.
On the political front, Mnangagwa by declaring that "2018 harmonised general elections will be held on schedule" dampened any hopes that there would be any electoral reforms before the polls expected before August.
Like Kagame, Mnangagwa's excesses may be forgotten or forgiven if his economic reforms work and investors are happy.
Kagame this year in August ran a one man race after he arrested his female challenger, Diane Shima Rwigara, a 35-year-old accountant, who is still in custody.
With Mnangagwa's reputation from Gukurahundi and the 2008 presidential runoff violence, Zimbabweans should be wary, have cautious optimism and demand for observation of human rights enshrined in the constitution.
For now Mugabe is gone but the hard work begins. Opposition and civil society has to keep on the alert, push for reforms, hold the government accountable for its actions and above all fight for the poor and vulnerable who usually bear the brunt of neoliberal economics.