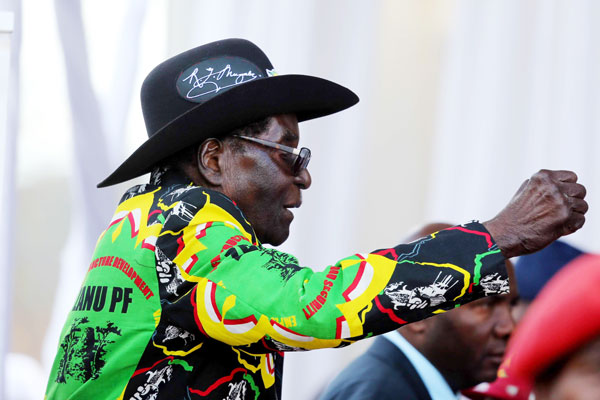 President Emmerson Mnangagwa and his deputy Constantino Chiwenga this week reportedly held a crisis meeting to digest the possible implications of a meeting between former president Robert Mugabe and his erstwhile deputy Joice Mujuru.
By XOLISANI NCUBE
Both Mugabe and Mujuru are bitter over the manner in which they were removed from power in 2017 and 2014 respectively and they accuse Mnangagwa for plotting their downfall.
According to one of our sources, a senior government official, Mnangagwa and Chiwenga met in the absence of Kembo Mohadi, the other VP.
Another source said Mnangagwa had wanted Mohadi in the meeting, but Chiwenga had other views saying they could still "digest the matter without him and brief him later".
The meeting was reportedly centred on fears that Mugabe — who is believed to still command respect and loyalty within some in the rank and file of the military, police and the intelligence unit and other state agencies — could influence division among the top hierarchy through what has been termed "false propaganda".
"Basically the fear is that Mugabe, through his boys [G40] could infiltrate and cause the destabilisation of this government, so the two talked on how to handle such possibilities bearing in mind the possibility of some G40 MPs joining hands with Mujuru's National People's Party (NPP)," said a senior government official.
"They discussed attempts to cause divisions amongst themselves which they suspected was being pushed by some within the intelligence through the spread of propaganda alleging that they are not working well together or were plotting against each other."
There are fears that Mugabe, still smarting from the pain of betrayal by his trusted lieutenants last November — although old and too frail to campaign — could still be a potent election trump card.
Contacted for comment on the Mugabe/Mujuru meeting yesterday, Acting Information minister and Zanu PF spokesperson, Simon Khaya Moyo said the meeting between Mugabe and Mujuru was a private one which was of no concern to government and the ruling party.
"We are not concerned about private meetings and what is discussed thereof. We respect the privacy of any citizen," Khaya Moyo said.
Sources said Mnangagwa's administration was worried that Mugabe's influence could bring electoral disaster for Zanu PF, especially in Mashonaland provinces and rural areas around the country.
Mujuru and her NPP, like Mugabe, enjoy strong support in the Mashonaland provinces.
During their meeting at Mugabe's Borrowdale Blue Roof mansion on Tuesday, the two reportedly made peace over Mujuru's unceremonious ejection from the party and government at the height of factionalism in Zanu PF.
The 93-year-old veteran politician reportedly apologised to Mujuru for firing her on unsubstantiated allegations of trying to topple him from power. He is said to have blamed Mnangagwa and Chiwenga for influencing him.
Mujuru has confirmed the meeting took place and that Mugabe had apologised for kicking her out of Zanu PF and government.
Sources said Mnangagwa and his deputy were concerned about the ramifications on the electorate of the meeting and the alleged apology from Mugabe — especially the effect this would have on diehard supporters of the 93-year-old ex-leader.
"With intelligence reports, the president is very much aware that any attempt to behave as if they want to cause injury or frustration or even soil Mugabe's image, might affect his electoral chances," another senior government official said.
"A number of intelligence reports — especially from Mashonaland provinces — suggest that the ex-president's supporters want to hear that their icon is safe and happy all the time. So the two leaders had hoped to keep his supporters happy with a message that their dear leader was happy."
The source said intelligence reports indicated that Mugabe was still hero-worshiped — especially by beneficiaries of the land reform programme although his wife and most of the top G40 cabal were generally disliked.
"Some would want to hear Mugabe speak if he supports ED, but with these developments, the top leadership is worried."
"The question is, how will Mugabe's legacy be preserved and will the ethos he stood for be protected? For those who had turned their back on Mugabe it was not because of his doing or anything, but it was because of his wife."
Political analyst Alexander Rusero yesterday said the Mnangagwa administration had a lot of work to do to appease Mugabe and win legitimacy in the Sadc region and abroad.
"I think the ED administration needs Mugabe's blessings and endorsement if they are to gain regional and continental legitimacy. But at the moment, it seems nothing much has been done to that effect. A lot of ground work needs to be done so that Mugabe can publicly approve of their administration," said Rusero.
An intelligence report gleaned by The Standard indicates that some war veterans in Mashonaland Central provinces were bitter with the way Mnangagwa rewarded his peers from Masvingo and Midlands with influential positions both in government and party at their exclusion.
The report dispatched for mid-January indicated that only two people from Mashonaland Central had been rewarded in the new administration and the two come from Chiweshe area (Kazembe Kazembe and Fortune Chasi).
"Questions are being asked why only the two were given influential posts when the province is so big and is one of the biggest Zanu PF strongholds," reads the intelligence report.
"Some war veterans are questioning whether the province was being punished because of Kasukuwere [Saviour]. The feeling among the war veterans is that the two were rewarded because they come from the same area where the First Lady [Auxillia Mnangagwa] is originally from."
Kazembe, who is the Sports minister, hails from Mazowe West and Chasi (new Zanu PF deputy secretary for legal affairs) is MP for Mazowe South — all constituencies bordering Chiweshe area where the First Lady comes from.
According to insiders, the two (ED and Chiwenga) feared that given Mugabe and Mujuru's bitterness with the two, a real possibility existed that they could infiltrate the system and destabilise the administration.
"The president was clear that no chance should be given to those who want to peddle a thinking that Chiwenga wants to push him out as this had the potential of creating factions and it would be a return to the Mugabe era," said the source.
Presidential spokesperson, George Charamba was not picking up his mobile phone yesterday. He has, however, previously said Mnangagwa and his deputies were working in harmony and no divisions, either imaginary or real existed.