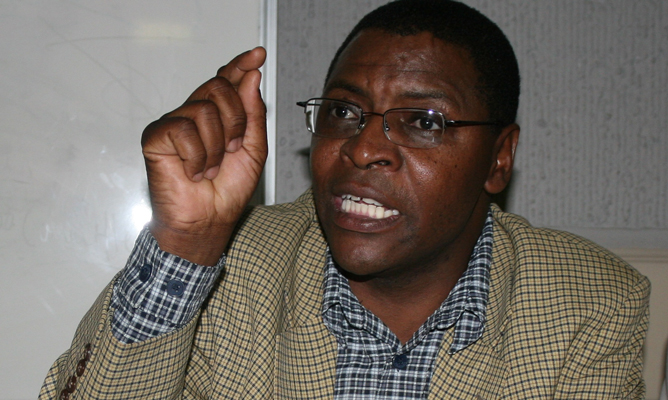 MDC president Welshman Ncube yesterday said the late MDC-T leader Morgan Tsvangirai confided in him that he was losing his battle against cancer and that he was not going to make it to the next elections.
BY NQOBANI NDLOVU
The former industry minister said the veteran opposition leader said he was choosing one of his deputies, Nelson Chamisa, to take over from him. Ncube said Tsvangirai, who passed away on Wednesday, told him this during a private "emotionally draining" meeting they had on January 5 at the late MDC-T leader's Highlands home.
Tsvangirai, who was receiving treatment for colon cancer in South Africa last Wednesday, will be buried in Buhera on Tuesday.
"On January 5 this year, we had a meeting of principals. I was chairing that meeting in the absence of Tsvangirai, who was not feeling well," he said. "I got a call during that meeting from Tsvangirai asking me to visit him the following day at his home.
"I went to his house; it was a Saturday… that meeting was emotionally draining.
"In his words, he said let us be realistic, I am losing this battle with cancer and I will not be with you for long.
"He said he would not make it and would not be with us during the election campaigns, during elections… I kept telling him not to say such things or ever entertain such thoughts," Ncube said while addressing a sombre interdenominational memorial service for the late Tsvangirai held at the Large City Hall in Bulawayo yesterday.
The memorial service was attended by representatives of political parties in the MDC Alliance.
The event exposed deep-seated divisions in the MDC T as vice-president Thokozani Khupe and her allies were conspicuous by their absence.
Ncube added: "Tsvangirai said doctors had told him the drugs and treatment he was receiving did not have any visible effect to ensure he gets better as he was actually getting worse.
"He said doctors also suggested administering an experimental drug as a last resort.
"It was emotionally draining and my mind was rejecting what he was saying, but my heart understood it.
"He asked that we continue with the MDC Alliance, and at the time, we had scheduled two rallies, but we suspended them because of his failing health. "I asked how we would go about it when he was not around. He then said 'I will give you Chamisa to lead the whole process'.
"He asked me to assist Chamisa with this important task to give Zimbabweans another fighting chance in the elections, but I said I could not do that unless Chamisa was also told the same," Ncube said.
"I called Chamisa and he came and joined us and Tsvangirai said the exact same thing to Chamisa that he had chosen him to lead the MDC-T and MDC Alliance in his absence.
"I hope in all this, if we understand each other we realise he was a unifier, a creator of leaders, instinctively connected to the people, resilient and courageous, and forgiving."
Chamisa on Thursday seized control of the MDC-T through the national council, which endorsed him as acting president for the next 12 months, effectively becoming the MDC Alliance presidential candidate. Khupe and her allies have dismissed Chamisa's power grab as a fraud.