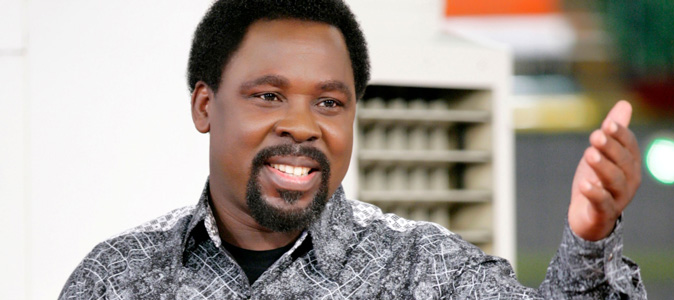 Popular Nigerian preacher Temitope Balogun Joshua (TB Joshua) left Harare on Friday night after failing to meet President Emmerson Mnangagwa under unclear circumstances.
BY XOLISANI NCUBE
The government said the Nigerian had no scheduled meeting with Mnangagwa amid reports that the organisers bungled.
Vice-President Kembo Mohadi and Scholarships minister Christopher Mushohwe met TB Joshua, who was said to be eager to meet Mnangagwa.
Acting Information minister Simon Khaya Moyo said government was not aware of TB Joshua's invitation and reports that Mnangagwa snubbed him were misleading.
"The president is not a snubber. We are not aware as government of any meeting that was set up between the president and TB Joshua," he said..
Sources said one of the people that tried to arrange the meeting, Josey Mahachi, had approached Mnangagwa seeking his help to invite TB Joshua to conduct a day of national prayer.
"The president, while happy to have a national day of prayer, did not, however, want to be associated with one particular religious leader and instead said if churches in Zimbabwe organised the prayer meeting he would attend, but would not invite one prophet ahead of the other," said the source.
According to the sources, after failing to see the president, Mahachi tried without success to engage members of the first family to secure an appointment.
"Josey tried until late evening [Friday] to get some family members to assist, but it was turned down," the source said.
"This caused anger within the TB Joshua camp resulting in him leaving via the back door of his hotel to Robert Mugabe International Airport for Victoria Falls."
Mahachi's husband, Olusegun Agbeniyi, who was part of the team, which was managing TB Joshua's visit, said Mnangagwa sent Mohadi to meet the preacher because "of the sensitivity of the death of MDC leader, Morgan Tsvangirai".
Mohadi, Mushohwe and Tsvangirai are some of the prominent local politicians who visited TB Joshua's church in Nigeria in recent years.