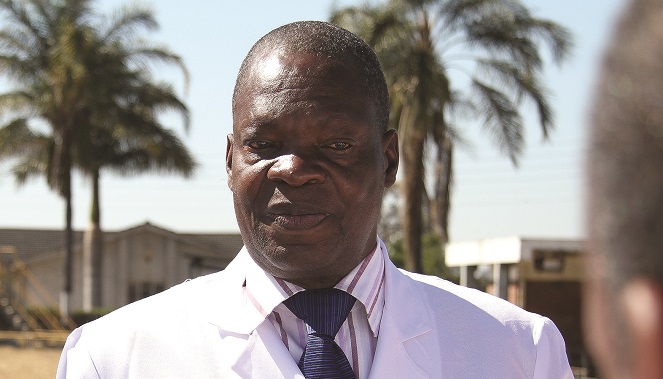 Harare City Council is set to repay a $72 million water and sewer plants upgrade loan from China after being denied the full amount of $144 million and with hardly any results to show for what it spent, our investigations have revealed.
By OBEY MANAYITI
Harare, like other urban parts in Zimbabwe, has experienced acute water shortages for decades due to dilapidated infrastructure and severe shortages of water treatment chemicals against a rapidly rising population.
This has made towns and cities particularly vulnerable to water-borne diseases, with the 2008 cholera outbreak that killed more than 4 000 people representing the darkest period since independence in 1980.
Backed by a government guarantee, the loan was signed for by the then town clerk, Tendai Mahachi, former mayor Muchadeyi Masunda and China National Machinery and Equipment Import and Export Corporation (CMEC) general manager Yang Yinan in 2010.
Former vice-president Joice Mujuru subsequently signed the $144 million loan agreement for the upgrading of waterworks and sewers so as to improve reticulation and boost water supplies to Harare on behalf of the government on March 21 2011.
The loan facility was meant to rehabilitate, replace, install and commission equipment at Morton Jaffray and Prince Edward water treatment plants as well as the Crowborough and Firle sewer works.
A total of $44 million would be spent on rehabilitating Morton Jaffray, the biggest water reticulation plant some 30km to the west of Harare, $17 million on the Crowborough and Firle sewage plants, while $4,5 million was designated for information technology (IT) and automated billing.
Pump stations at Warren Control, Alexandra Park and Letombo were meant to cost $16 million, while $7 million would have been used for water treatment chemicals.
Part of the loan was for the construction of a laboratory and purchase as well as installation of pressure valves, pre-paid meters covering 500 000 households and necessary works materials.
The deal, which council ratified in 2013 and was supposed to be through within 36 months, was envisaged to increase water pumping capacity at Morton Jaffray to 614 mega litres (ML) a day from a paltry 400ML
This would increase the supply of potable water and significantly bring down the incidence of water-borne diseases.
On average, water and sewer reticulation equipment has 15-year life spans, but the water supply infrastructure in Harare had been last upgraded in 1994 when the city's population was estimated at 1,5 million but has since risen to some 4,5 million people.
According to the deal, Harare City Council was not supposed to handle any cash from the loan while CMEC, an engineering consultancy, would procure necessary equipment and refurbish the works as required.
However, investigations showed that there were inconsistencies in the budget allocations and the funds purported to have been spent.
Official figures obtained by The Standard show that design and management cost $7 485 417, Morton Jaffray
($50 291 842), distribution network ($530 097), workshop equipment ($687 272), laboratory equipment ($1 million), IT equipment ($3 521 178), construction equipment ($5 084 189), plant vehicles and equipment ($3 million) and water chemicals ($1,4 million).  
That means there were several variances that included over-expenditure of more than $6 million on Morton Jaffray and under-expenditure of more than $5 million on water chemicals, while almost $1 million less was used on IT.
No satisfactory answer could be obtained from the local authority and project implementers on why they decided to save on water treatment chemicals despite admitting the shortage was hampering adequate production and distribution of water from Morton Jaffray.
The acting water manager, Tapiwa Kunyadini, indicated that the city was producing 450ML of water a day against Morton Jaffray's capacity to pump 614ML given adequate supplies of chemicals and with all the other factors constant.
The $72 million that has been used so far on Morton Jaffray and other sub-projects under the loan has, thus, managed to increase water supplies after the commencement of the works by a paltry 50ML.
"With the rehabilitation done so far, we can produce 520 million litres a day, but we are producing 450 million litres due to (problems with) logistics in chemicals supply," he said. "If we manage to get a constant supply of chemicals, we can run 520 million litres a day."
But his figures contradict the ones given by Michael Chideme, the municipality's public relations manager, who claimed pumping capacity had in fact risen to 520ML.
"Most of the equipment for Morton Jaffray has been delivered and installed and this has resulted in increased production capacity from 400 to 520 million litres a day," said Chideme in a written response.
The city supplies Harare, Norton, Chitungwiza, Epworth and Ruwa against a combined daily demand of 800ML.
Inconsistencies in expenditure, which raise questions on the accountability of the loan project implementation and the competence of local authority officials and the implementers, are also reflected in previous official reports.
A June 2014 audit report gleaned by The Standard and done by a special council committee indicated that 58% of the loan — over $84 million — had been disbursed, contrary to the new official figures putting the figure at $72 million.
Mystery surrounds the remainder of the loan, which council has been struggling to get from China's Eximbank, stalling project implementation in the process.
"We are now left with works that are supposed to be covered by the $72 million that is still to be disbursed. The delay in the disbursement of the second tranche has affected completion timelines which have now been adjusted," Chideme said.
In December 2017, China extended a new loan and grants to the Emmerson Mnangagwa administration totalling $213 million for the upgrading of Robert Gabriel Mugabe International Airport as well as the construction of a new parliament building and a high performance computer centre at the University of Zimbabwe.
Nothing was said about the outstanding water and sewer loan.
Efforts to get convincing explanations on why the financier is withholding the remaining loan drew blanks as the Chinese embassy in Harare would not comment on the government-to-government loan despite promising to do so, while no responses could be obtained from CMEC,  local authority representatives and the ministries of Finance and Local Government.
Controversy that could have spooked Eximbank and other financiers dogged the loan agreement from prior to the commencement of the refurbishment projects covered by the agreement.
In December 2013, Peter Morris, an engineer who was hired under the Zimbabwe Multi-Donor Trust Fund administered by the African Development Bank's Urgent Water Supply and Sewage Rehabilitation Project, noted in a report that there were anomalies in prices of equipment.
In some cases, the prices quoted by CMEC, which also had the responsibility to manufacture some of the equipment, were five times higher than the actual prices on the market.
Morris also questioned the allocation of $500 000 for the purchase of electrical cables, pipes and fittings and noted that the deal had allocated $8 million for the handling and clearing of equipment even though it was supposed to be duty-free.
And the capital's municipality did not help matters.
In 2014, the former chairperson of Harare's finance committee, Norman Markham, a councillor, resigned in frustration over what he said was double-dipping on the part of council.
Part of his resignation letter read: "I shudder at the water rehabilitation deal that has been signed.
"Information technology equipment is covered in this contract, which I have not seen, to the tune of over $1 million.
"Yet in the Harare City Council budget, we also had a similar budget placed for similar equipment."
According to a council investigation in 2014, the local authority did not have a bank account for the project and all payments were made offshore by CMEC.
"The investigation failed to inspect project bank accounts and payment documents to enable it to establish whether there was any abuse of the project funds," read the committee report.
This made it difficult for the city to audit the project and trace payments made to date since there were no bank accounts.
"These reports are key when tracking budgeted costs and actual costs, variance analysis reports, project cash flows, fixed assets tracking, errors of commission and omission, project deliverables, negligent and wilful misstatements, among other things," said the committee.
The investigation raised the possibility of kickbacks around the water project.
Chideme, however, dismissed the allegations of possible corruption.
Part of the money was also used to procure 21 top-of-the-range vehicles, among them an Amarok and a Discovery, by city officials, but the cost, make, type and model of the vehicles did not match project requirements.
The council's proposed budget for 2018 indicates that despite the failure by council to procure the remaining amount, it must start repaying the loan soon.
But that is posing a big headache to the council because it has not completed the projects and will thus find it difficult to source the revenue to service the debt at a time most residents are defaulting on rates payments.
"Repayment for the principal debt is now due and payable at $7 million biannually. A number of works such as Crowborough sewer treatment works, the Firle and Borrowdale Brook pump stations are still outstanding rendering the city unable to comfortably service the debt," read part of the budget statement.
Harare mayor Bernard Manyenyeni said: "If we had drawn down everything we would be paying for that, but we are only paying for what we took."
Council has approached the Zimbabwean government seeking to defer the loan repayment, said Chideme, but even if it succeeds, that will still attract a heavy fine.
"As you may be aware, the loan facility is a government-to-government agreement and the delay in the release of the remainder is being handled by the Ministry of Finance," he said.
"Council has made submissions to government to have the repayment deferred until completion of the project."
Harare, like other cities and towns, has faced acute water shortages for more than a decade, with some suburbs such as parts of Mabvuku and Tafara having gone for years without running water.
Combined Harare Residents' Trust director Mfundo Mlilo said the capital still faced a water crisis.
"The water situation in Harare remains a major cause for concern," he said.
"It is the reason why we rejected the 2018 budget because it did not put sufficient measures to address both water issues and outbreaks of diarrhoeal diseases.
"As there are no plans to increase water purification capacity in Harare, these problems will continue."   
l This investigation was done in collaboration with Information for Development Trust (IDT).