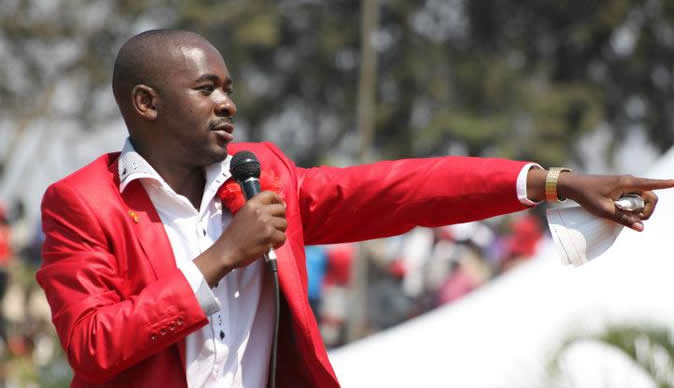 MDC-T president Nelson Chamisa yesterday railed against the "Shonalisation" of Zimbabwe, saying tribal conflicts militated against the country "moving forward. Addressing an MDC Alliance rally in Dete, Matabeleland North province, Chamisa said it was disheartening that other tribes other than those with Shona roots were not getting "preferential" treatment in the country.
By NQOBANI NDLOVU
Only devolution could right the wrongs of tribalism, said Chamisa in his address, adding deliberate tribalisation was to blame for the underdevelopment of Matabeleland. "We don't want the 'Shonalisation' of Zimbabwe. My government, our government, the people's government will respect all tribes, traditions, languages of all our people," said Chamisa.
"We cannot, for example, have the continuation of a situation, for example, where the majority of judges are from Mashonaland . . . this has to come to a stop and we are not apologetic about that.
"We want a Zimbabwe which reflects who we are as Zimbabweans.
"It should never be about tribe and after my two terms of office, I would love to ensure that I leave a Ndebele president."
The underdevelopment and supposed marginalisation has radicalised some pressure groups and political parties such as Mthwakazi Republic Party to push for secession but Chamisa pledged to unite Zimbabweans across tribe and race.
He also waded into the revival of the Ndebele kingship issue, blaming government for frustrating the cultural rights of those pushing for the revival of the Ndebele kingdom.
Government last week blocked the coronation of Bulelani Khumalo as the Ndebele king saying the ceremony was unconstitutional and illegal. The last Ndebele King was Lobengula following the destruction of the Ndebele kingdom by the British Pioneer Column in 1893.
"What is the problem? Let us allow the king to be put in place. It's all about a people's culture and tradition," he said.
"Our cultures and traditions have to be respected, and that way we are going to be stronger as a nation.
"The government must also find closure to the Gukurahundi issue," he added, promising party supporters heaven on earth once elected into office.
MDC and People's Democratic Party leaders, Welshman Ncube and Tendai Biti respectively called on MDC alliance supporters to vote for Chamisa in honour of the late MDC-T leader Morgan Tsvangirai.
"We have no option but to unite from the party branches, ward and provincial level and vote out Zanu PF to fulfil Tsvangirai's wishes and aspirations," Ncube said.