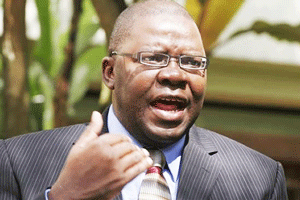 The government has no firm legal footing to enforce the return of the over $1 billion of externalised funds by individuals and companies, experts have said. On December 5 2017, President Emmerson Mnangagwa gazetted Statutory Instrument (SI) 145, which set a February 28 moratorium for the $1,3 billion of known expatriated funds to be returned.
BY TATIRA ZWINOIRA
At the expiry of the moratorium last month, Mnangagwa said $250 million in cash and assets had been returned before extending the deadline to Friday where he would name and shame those that had not returned the funds.
While it is largely expected that government will not bring back the money, the question of whether any law was broken in "externalising funds" has been raised.
Former Finance minister Tendai Biti said there were a number of questions that required answers, adding it could be an exercise in futility.
"What is the basis of the calculation of the $1,3 billion? What is the basis of the definition of externalisation? Which law has been breached?
"And who are those that have brought the money? Why is the Reserve Bank of Zimbabwe not speaking on those things?
"So, everything that this regime does is based on unsound legal premises and principles," he said.
"The definition of externalisation is extraneous in a multi-currency regime because externalisation is defined as the legal exportation of foreign currency, but here the definition of foreign currency is skewed.
"In 2009, we amended the law to allow a basket of foreign currencies which includes the United States dollar, British pound, euro, Chinese yuan, and South African rand, those are now domestic currencies; those are now our own currencies."
Biti said one could not externalise that "which is now the local currency".
"We are earning United States dollars so the whole thing is based on a faulty legal premise," he said.
Experts say this is the main challenge of the holdouts of the $1,05 billion that if externalisation only referred to foreign currency can it still be applicable when the exchange control laws were liberalised to adopt the foreign currency?
Legal expert Thembinkosi Magwaliba agreed with Biti's sentiments, adding that if the bulk of the money was taken between 2009 and 2015 before more stringent exchange controls were put in place, then no crime could have been committed.
"I agree because laws are not meant to operate retrospectively so when a law is promulgated it prohibits future conduct, it cannot prohibit conduct which was not prohibited at the time it was undertaken.
"So, you cannot blame those people for externalising foreign currency when at the time they did so they were breaching no law," he said.
"The fact that the law subsequently came into effect does not criminalise what has already happened.
"Laws have a prospective effect generally and do not have a retrospective effect so I agree that the 2015 changes [exchange controls] do not have the effect to create an offence where none existed between 2009 and 2015."
SI 145 of 2017 states that only money expatriated illegally was subject to the SI and illegally was defined as "any provision of the Money Laundering Act for which a criminal or civil penalty is imposed, and any law administered by the Zimbabwe Revenue Authority under the Zimbabwe Revenue Authority Act for which a criminal or other penalty is imposed".
The problem, analysts say, is that it speaks mainly to illicit financial outflows rather than externalised money as the nature of a liberalised economy made it easy to take money out of the country.
The exchange control regulations were liberalised in 2009 when the country adopted a multi-currency regime to allow for the usage of a number of currencies in the economy.
The current account transactions were enabled to use the different currencies to facilitate the free movement of goods and to create confidence in the economy.
Under this regime, all applications for foreign currency payments were left to authorised dealers such as banks or other licensed financial institutions while surrender requirements and export approvals by exchange controls were removed.
As a result, authorised dealers were empowered to deal in foreign currency and could provide foreign currency for all purposes in accordance with guidelines the central bank drew up.
Analysts say some of the "friendly" guidelines could have aided the outflow of money between 2009 and 2015.
"We know we are in a multiple currency system and as a result there seems to be a number of distortions, just like externalisation to the extent that the United States dollar is now our local currency.
"It may appear that if you externalise it, but it may not have the legal effect," financial expert Persistence Gwanyanya said.
Since 2009, there have been no concrete legislative changes to define externalised funds.
"Before the multi-currency regime, it was defined as foreign currency which has since become local currency," Gwanyanya said.
"I think there should be a subtle recognition that even if we are in a dollarised economy, there is foreign and local currency.
"So I am saying legally the interpretation would appear as if externalisation is not possible under dollarisation."
He added that this was notwithstanding that if there is breach in the exchange control regulations, the central bank can pursue those monies externalised.
In light of these distortions, Biti, Gwanyanya, and Magwaliba agreed that government should rather focus on illicit financial outflows where there is no question of the illegalities with estimates in the billions, more than the externalised funds.
In 2015 alone, the central bank reported close to $2 billion was externalised.
Labour and Economic Development Research Institute of Zimbabwe director Godfrey Kanyenze said another problem was that part of the externalised funds were invested in assets worth billions and was not liquid, which was acknowledged by Mnangagwa.
"Let us say someone externalised and belongs to the G40 [faction]. given the uncertainty, they are not sure what will happen so they would be incentivised to keep their money out because there would be no incentive for them to bring it in," he said.
"Let us face it, it is not the small people like you and me who have been externalising.
"It is big people who have been going to Singapore and all these places who have houses in South Africa and all these places."
He said government ministers to a degree were complicit in externalisation by virtue of sending their children to foreign schools and using foreign hospitals.
"So we need to figure out how to address all these leakages and to create a national identity," Kanyenze said.