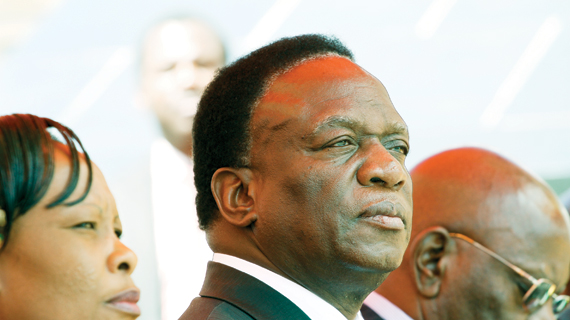 BEFORE the Israelites could enter the promised land of Canaan, they spent over 40 years in the wilderness, where they were assisted with "manna from heaven" when food became scarce.
BY TATIRA ZWINOIRA
The story has since grown to be popular among Christians over the millennia as a reminder that miracles are possible in the face of dire circumstances. This seems to be something the President Emmerson Mnangagwa-led government is imitating if the amount of signed, deals since the new administration came into power last November is anything to go by.
Since November, State media has reported that Mnangagwa and his government have signed over $8,7 billion worth of deals to date in mining, agriculture and capital investments.
But, the only problem is that there is a bitter sense of déjà vu as the previous government also hyped up deals it signed which later fell well short on delivery. In an interview last week, financial expert Persistence Gwanyaya said it was important to remember that memorandum of understanding (MoU) and memorandum of agreements were two different things.
"What is important for you to understand is that, firstly, Zimbabwe has always been signing a lot of MoUs, which is a reflection that there are opportunities that are attracting people into the country," he said.
"But, these MoUs were not materialising into memorandums of agreement, so that is where we were lagging behind.
"It also had to deal with our housekeeping issues, environmental issues that had to be sorted out, so those things would need the top authorities to give assurances that those issues that were hindering businesses to be concluded in Zimbabwe are now taken care of, hence, the movement of the President to different countries."
He said Mnangagwa's trips to different countries were only meant to set the platform, market the country and give assurances and guarantees for them to invest in the country.
"The biggest hindrance now will be: do our people have the expertise to conclude the deals, that is, if they are public deals? Do we have the expertise to conclude those deals?"
Mnangagwa's administration has been announcing signing of 'mega deals.'
Recently, government signed an agricultural deal with the Financial and Commodities Ecosystem (FinComEco) worth $1,5 billion, which is touted to create 630 000 jobs. Even though agriculture has been prioritised as the backbone of the economy, adequate funding to the tune of $2 billion needed for the sector has been well out of reach for years with government failing to attract investment.
These mega deals bring a sense of déjà vu. In 2014, then president Robert Mugabe signed billion-dollar deals with China, but nothing materialised.
Zimbabwe Commercial Farmers' Union director Jeremiah Tavera said it was a tricky process as there was no denying the past failures in realising deals signed.
"Our take on the matter is that things are signed in boardrooms, documents or agreements are signed in the boardroom," he said.
"But, as the public eye, we do not have the inner developments, the details, nitty-gritties, implementation or whether there are issues which those who want to provide the services still want to be addressed even after signing the agreement.
"With an MoU, you agree to sign it, agree to sign whatever is in the document, but maybe there are conditions in that agreement, which have got timeframes, which the other party promises to fulfil in two or three months' time [for example]. "And, if those are not fulfilled, maybe there is a clause that will actually enable them to move away from the deal if they are not satisfied within the three-month period, which they would have agreed."
He said there was no involvement of stakeholders in the $1, 5 billion agricultural deal.
Another major deal that was signed amounts to $4,2 billion with a Cypriot investor to develop a platinum mine and refinery in Zimbabwe, an investment Mnangagwa said showed the country was "open for business".
However, though the new dispensation may be open for business as seen by limiting the 51/49 indigenisation policy to only diamonds and platinum last month, previous experiences have been either hit or miss due to weak deals.
"We have to wait and see whether these people who promised to bring $4,2 billion in the platinum deal are going to bring the money and then use the money in terms of implementing the project in Zimbabwe," Zimbabwe Miners' Federation secretary-general Victor Rupende said.
"I think in the past these people [investors] had no faith in the government or the administration, so they were just trying to please them yet they were not committed to deals they would have signed.
"So maybe with the new dispensation they can conclude their obligations once they sign the deals."
Economist Prosper Chitambara said there was need for an implementation matrix to track the progress made in these deals.
"I think the issue of walking the talk is where the problem has been and for me I do not see much progress in terms of implementation before the elections as the election itself generates a lot of uncertainties," he said.
"So I think real work, earnest work, for me begins after holding elections that are credible, free and fair, so I think that is the challenge."
Analysts say until government puts in implementation mechanisms, these "Mnangagwa deals" will follow the old administration's deals of being dead on arrival.