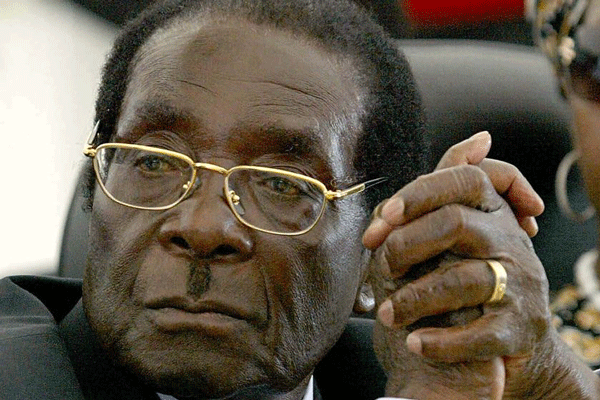 MDC Alliance presidential candidate Nelson Chamisa has been approached by emissaries claiming to represent former president Robert Mugabe and seeking an electoral pact, it has been revealed.
By Staff Reporter
According to impeccable sources, National Patriotic Front (NPF) leaders led by Eunice Sandi Moyo met Chamisa last Thursday for two hours at his Harare offices where the issue of a possible coalition was raised.
Mugabe in March pledged to support the NPF if it was committed to dislodging President Emmerson Mnangagwa, whom he said was in power illegally following a coup against him in November last year.
Former Bikita South MP Jeppy Jaboon and former Harare South MP Shadreck Mashayamombe accompanied Sandi Moyo to the meeting.
However, the meeting said to have caused division in the NPF with some leaders claiming that they were not consulted. They disputed claims that the three were sent by Mugabe.
There is a feeling among some NPF leaders that the party should first establish structures before negotiating electoral pacts.
NPF spokesperson Jealousy Mawarire, who was reportedly unaware of the meeting and got to know about it when he called Chamisa while his three colleagues were still at the MDC Alliance leader's offices, said Mugabe had not instructed anyone to hold coalition talks on his behalf.
He admitted calling Chamisa but said there was nothing extraordinary about the phone called as they always interacted.
"It is unfortunate if any colleague is dragging the name of President Mugabe into their private discussions with the MDC," Mawarire said.
"We have not made it a secret as a party that we are free to consult President Mugabe on any matter that we see fit but certainly, we have not consulted him or sought his opinion on the need to enter into an electoral pact with any political party.
"It is unfortunate that some comrades find it expedient to strengthen their bargaining positions by falsely claiming that their actions are backed by NPF and have Mugabe's blessings."
He said the party had not yet appointed any team to negotiate for an electoral pact and has not even opened up consultations for the same.
"Any attempt to do it outside the party is selfish and not strategic and not helpful to the party's envisaged alliance partners," Mawarire said.
" The NPF believes in the collective wisdom of its supporters."
Mashayamombe and Jaboon were both not reachable for comment but the former Harare South MP addressed an MDC Alliance rally in Harare South a few weeks ago.
MDC-T deputy spokesperson Tabitha Khumalo referred questions to MDC Alliance spokesperson Welshman Ncube. But Ncube was not picking his calls last night.
Meanwhile, an NPF meeting chaired by Sandi Moyo on April 10 and another one on April 9 chaired by party leader Ambrose Mutinhiri resolved to first build strong structures and make an internal appraisal of the strength and weaknesses of the party before entering into any coalition pact for electoral purposes.