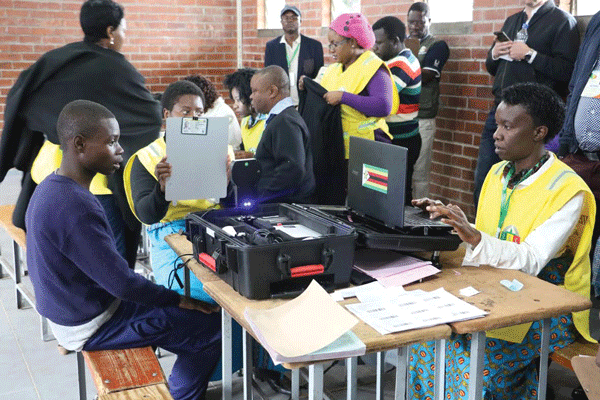 Last Friday, the European Union head of delegation in Zimbabwe, Philippe Van Damme, took to Twitter to participate in the broad conversation on the freeness and fairness of the coming elections. His take is that electoral transparency can be achieved through "open communication and dialogue" with the Zimbabwe Electoral Commission (Zec).
By TAWANDA MAJONI
In the same tweet, Ambassador Van Damme also presents his belief that Zec is ready to ensure that there is accountability in the printing of ballot papers and the auditing of its processes and systems. This follows a huge outcry that Zec wants to keep the printing of ballots away from the electorate so as to facilitate electoral fraud in favour of Zanu PF.
In line with the EU slant, Ambassador Van Damme is pushing to enhance constructive engagement between the government and the people of Zimbabwe so as to move the country forward. Particularly in the context of the 2018 general elections on which many are pinning their hopes for a social, political and economic turnaround after more than two decades in thick sludge.
The ambassador — and indeed the EU delegation in Zimbabwe and other local and international stakeholders — must avoid listening for too long to the calculated lies from Zec and the current government, though. Excessive comfort with those lies is lethal opium. Granted, Zec is not completely clad in black. There are several good things it has done since it took over the management of the voters roll from the Registrar-General's Office. But that doesn't take away the fact that the commission is still wearing a black hood.
On the ground, a significant number of the voting population is avoiding going to sleep before the elections. If it does that, it may die before voting day, so to speak. And what is giving the electorate sleepless nights is the fear to meet Zec in its dreams rather than real life. Sadly, meeting Zec in real life is also a nightmare in itself.
Open communication and dialogue with Zec are just the same as stewing stones. The commission remains as arrogant and opaque as ever before. I will have to reference a single case that is already in the public domain and is therefore safe from the harshness of the sub judice principle, to demonstrate this. On Monday — that is tomorrow — the Electoral Court is going to deliberate on an urgent chamber application by two Harare voters, Warship Dumba and Celine Nyakutsikwa, who are residents of Mount Pleasant Heights.
The two are arguing that Zec misplaced itself by "clandestinely" shifting them from Ward 17 in the Mount Pleasant constituency to Ward 20 in the neighbouring rural Mazowe South constituency. In the 2008 and 2013 general elections, Dumba and Nyakutsikwa voted in Mount Pleasant. When they registered under the biometric voter registration (BVR) exercise late last year, their slips showed that they were Mount Pleasant residents who must therefore vote in Mount Pleasant. Surprisingly, when they checked again, they had been moved to Mazowe South without their knowledge or consent.
One of the arguments that the applicants make is that since there has been no new delimitation after 2008, it is illegal to shift them from their rightful ward to another because that would invariably entail that voting jurisdictions have been changed. Changing the jurisdictions, so the argument goes, equals new delimitation but since there has not been any legally accepted change, the transfer to Mazowe South is illegal.
In fact, close to a hundred other residents of Mount Pleasant Heights petitioned Zec on this as they have been affected the same way as Dumba and Nyakutsikwa. That is not where the problem lies. The merits and demerits of the application are for the court to work on. That they had to approach the courts is because, on numerous occasions, the two reportedly went to Zec to get the anomaly redressed, but the commission refused despite the fact that then chair, Rita Makarau, acknowledged that constituency and ward boundaries had not been changed since 2008. In effect, the court application was a last resort forced by the commission's refusal to entertain their grievances.
It doesn't end there. By now, Ambassador Van Damme must be aware that potential voters and political parties are having problems accessing the voters roll, particularly the electronic version. The electronic version is particularly desirable because it is more searchable and analysable than the hard copy. It makes it easier to identify anomalies and have them rectified on time. With the presidential, parliamentary and council elections set for July 30, time is running out fast. If voters and political parties can't access a friendly voters roll, several things are likely to happen, come the elections. Registrants will find their names missing, which means they won't be able to vote. That is disenfranchisement. There is nothing free or fair about disenfranchisement. Secondly, ghosts are bound to also vote, and so would babies and terminally ill people. That's not fair. Thirdly, voters will discover that they have been moved to other wards and constituencies but there won't be enough time or resources to deal with that. Fourthly and most importantly, the legitimacy and credibility of the 2018 elections would be dented. Voters and political parties are struggling to access the voters roll because Zec is not open for dialogue. And it is a contradiction for an institution thriving on opacity to be transparent and accountable. In turn, even if Zec were to open itself for audits upon demand, the whole exercise would be a farce. Such audits are most likely to be manipulated. That says Zec can easily rig the audits too.
Indisputably, the BVR process was flawed as it was characterised by gross violations such as direct and subtle intimidation. Zec largely failed to address the violations, implying that the current voterso roll is a product of a skewed process. That makes open inspection of the roll particularly essential. But if Zec continues to shut its doors to the voting public and other stakeholders, we can't have free and fair elections, the magnitude of the freeness and fairness aside. Naturally, reports of manipulation of the voters roll are disturbing, not least because Zec is said to be at the centre and allegedly working ultra vires the constitution and the Electoral Act. This particularly applies where the commission and possible third parties are said to be tampering with the roll. I am aware of reports, and evidence thereto, indicating that Zec has moved hundreds of people from their original wards without their knowledge.
It's quite bizarre in some of these cases. Members of the same family are allocated to different local authorities and constituencies despite having voted at the same polling station in previous years and despite having registered to vote in the same constituency. In other cases, Zec has played like it was listening to the voters' grievances, but more surprises have followed.
For instance, in one case, aggrieved voters approached the commission and they were issued with the same new voter slips showing that they had been returned to their original wards. However, the new slips showed the same dates of registration as the old and incorrect ones despite the rectification being done weeks after. That is a blatant, if not criminal, misrepresentation. In some of the cases, Zec has claimed, again bizarrely, that there was misallocation of voters in relation to their wards, local authority jurisdictions and constituencies due to stray registration machines. As you know, these machines are area-specific. But then, if Zec can afford to allocate its own machines to the wrong constituencies, what reason do we have to believe in its efficiency?
The possible manipulation of voting boundaries has numerous unsettling implications. It betrays possible connivance between Zec, the sitting government and ruling party to throw the elections in favour of certain candidates. This applies to local government and parliamentary elections with minimum bearing on the presidential poll. For instance, "hostile" voters can be moved from an urban ward or constituency to a rural ward and get replaced with ghost or real but illegitimate voters who will vote in favour of particular candidates. Those that have been moved are unlikely to go and vote in rural areas but if they do, they will be overwhelmed by the existing voters in the foreign voting area.
This gerrymandering violates section 161 (5) a) and b) of the constitution which provides that Zec must ensure that a ward is not divided between one or more local authorities or constituencies. Besides, unilaterally moving voters means that those that decide to go and vote in new areas will be forced to make a choice that they don't like and doesn't represent their civic and other interests. And if they don't go and vote, they would have been disenfranchised. The bottom line is that Zec has not shed its spots. It remains closed to its immediate stakeholders. That shows it is unaccountable and non-transparent. Since that is what it is, it's not tenable to assume that you can have open and progressive dialogue with it. In all this, the credibility and legitimacy of the 2018 elections are at stake.
l Tawanda Majoni is the national coordinator at Information for Development Trust and can be contacted on tmajoni@idt.org.zw.