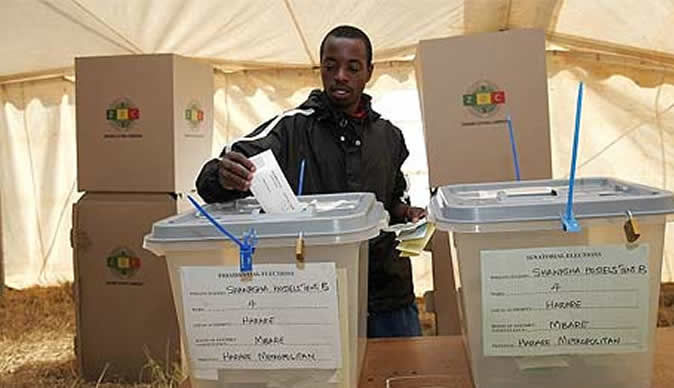 There is a problem when a crab, which tends to move sideways, starts complaining that snakes slither. The local opposition is behaving pretty the same way like a crab.
By Tawanda Majoni
The MDC Alliance and smaller parties like the National Constitutional Assembly are currently working a sweat over the voters roll and are bitter that the Zimbabwe Electoral Commission (ZEC) is behaving badly by frustrating their efforts to access the register in order to analyse it and take appropriate action where anomalies are identified.
These parties are particularly irked by the fact that President Emmerson Mnangagwa went ahead and proclaimed the nomination and election dates despite the fact that ZEC has not yet availed the final voters register. In fact, nomination went ahead last Thursday without political parties, the electorate and other stakeholders having access to the roll, particularly in its electronic form which is more user-friendly.
The point, as articulated by the NCA in an urgent court application last week, and also by Welshman Ncube, the MDC Alliance secretary, is that nomination could not proceed without candidates and voters having definitively ascertained that they were registered properly. The law stipulates that a candidate must be nominated by a specified number of registered voters. You can't conclusively establish that you are registered without access to the voters roll.
The provisional roll, which was also very difficult to access before nomination on June 14, has opportunities and possibilities for errors and, therefore, cannot be used for purposes of nomination. This was amply proved through an urgent chamber application that was recently made by Warship Dumba and Celine Nyakutsikwa of Mount Pleasant Heights in Harare. They discovered that they had been moved from Ward 17 in Mount Pleasant where they have always voted, to Ward 20 in Mazowe South.
Imagine this: Dumba, who is an aspiring local government candidate, gets to the nomination court to file his application under Ward 17 and takes with him voters who have also been moved to Ward 20. At that stage, he and his nominators discover that they have been moved to a totally different ward and local government. How does ZEC handle that without prejudicing the candidate and the nominators?
As Ncube pointed out, ZEC was not supposed to rush things as elections could still take place close to a month after the date that Mnangagwa proclaimed. The commission must have used its time to clean the roll, finalise it and make it accessible to all stakeholders, so as to optimise the chances for free, fair and credible elections. That also means the president must not have been in a hurry to make the proclamation.
The opposition has also complained bitterly about the manner in which ZEC and other relevant state agencies handled the biometric voter registration (BVR) exercise. The campaign was characterised by subtle and direct intimidation and violence. Admittedly, ZEC and the other agencies failed to decisively act on those violations, which means the registration process produced a tainted roll.
These are legitimate concerns, of course. That means the opposition is not offside to complain and its message on how ZEC has handled the voters roll, in particular, is good to listen to. The problem, though, is with the messenger, particularly the MDC Alliance. These guys are accusing ZEC of what they also guilty of.
The manner in which specifically the Alliance handled its primary elections shows that it is nowhere near the moral high ground. This opposition outfit, just like other political outfits, uses party member registers to conduct its primaries. These registers are the equivalent of the voters roll. What happens is that primary election candidates must be given the opportunity to scrutinise the register and be satisfied with it before internal polls are held.
But there are there lots of anecdotes that demonstrate that this was not the case. This applies mostly to the primaries to choose parliamentary candidates. In an amazingly big number of constituencies, the party registers were manipulated. These registers were managed from Harvest House, the MDC-T headquarters, where certain individuals in privileged positions doctored the documents in favour of their preferred candidates, some of who I am told paid handsomely for that to happen.
Disturbingly, some big shots were involved in this scam because they wanted their preferred candidates to win at all costs.
"Hostile" names were removed. Ghost party voters were added. In some cases, candidates were imposed. Quite disturbingly, some candidates never got the registers and if they did, they had them flashed in their faces just before the primaries, literally. Rented mobs moved from one constituency to another voting for chosen candidates simply because the process lacked transparency. In yet other cases, rivals' CVs, a primary requirement, were stolen to jeopardise their chances. It looks like this scam was a calculated institutional operation, just like what we saw in the 2013 MDC-T primaries.
Similarly, the Alliance primaries were not without violence and intimidation. Hired youths gave hell to rival candidates. They decided who voted and musn't and were strategically positioned at the polling points to make that happen. That makes it very hard for the political outfit to make a convincing cause out of the fact that the BVR process was marred by violence and intimidation. This is because, more often than not, humanity has a tendency to look at the messenger before listening to the message.
Now, what is good for the goose must be good for the gander too. The Alliance badly managed its own roll yet it wants ZEC to be sparkling clean when it comes to the national voters register. That is what two-faced hypocrites do. Generally, hypocrites are looked down upon because they are dishonest and dishonesty is universally seen as bad. That hypocrisy betrays the opposition's potential to start behaving like ZEC if it gets into power. It weakens the opposition's moral legitimacy to be complaining about how the commission is handling the voters roll.
Never mind the fact that the opposition is making good points moaning over the voters roll. Where ZEC is bad, so is the opposition. It must have avoided doing what it doesn't want to happen to it. That is approaching the voters roll conversation with a dirty mouth. As they say, charity begins at home.
l Tawanda Majoni is the national coordinator at Information for Development Trust and can be contacted on tmajoni@idt.org.zw.