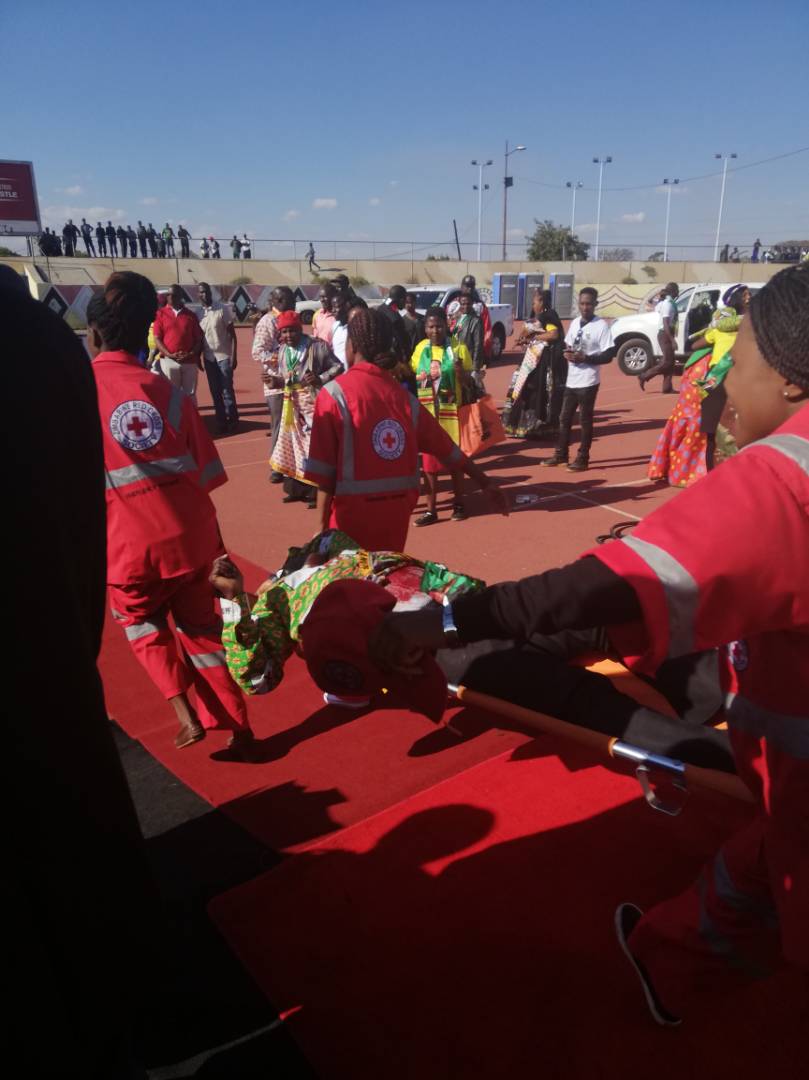 When Patrick Zhuwao urges the British government to send Scotland Yard to investigate the recent White City stadium attempt on President Emmerson Mnangagwa's life like he did last week, don't start on him and conclude he has been smoking a strong grade.
By Tawanda Majoni
He is making a good case. Our cops and spooks who are investigating the scary incident must be nowhere near the crime scene. They are just as clumsy and weird as the attempted assassination. Alternatively, they must have been watching too many homemade comic cartoons of late to be investigating the rally explosion like that.
As it were, you don't expect much from intelligence officers who scamper for their own cover when a hand grenade explodes right at the feet of a president that you are supposed to be protecting. That happens only if you went on duty simply to get an allowance or you think presidential security is stuff for backroom jokes.
But that aside, you hear that the army is allegedly keeping the suspected assassin who launched the hand grenade away from a separate team of investigators comprising police and Central Intelligence Organisation (CIO) details. Maybe it's because the army has so much contempt for the team's approach to investigations. There could be other reasons, but I share this contempt.
Clearly, the cops and spooks abused their power of investigation by seeking to extend their probe to the media.
Reports say the team visited the Zimbabwe Broadcasting Corporation (ZBC) offices and The Chronicle and interviewed the two state stables' journalists for possible leads. They are said to have taken away video footage of the fateful rally at which someone lobbed a hand grenade in the direction of Mnangagwa shortly after he finished addressing party loyalists at White City Stadium, injuring more than 40 people and killing two security aides.
Nobody from government has stepped forth to deny the claim that the cops and spooks tried to train their investigations on the state media. It is, therefore, practically useful to assume that those reports are true. You normally don't keep mum and let those serious reports float around, given the sensitivity of the matter at hand. There is something called freedom of expression as provided for under Article 19 of the Universal Declaration of Human Rights. This inalienable freedom, as also enshrined in section 61 of our own constitution, entails media freedom, which in essence consists in the right to seek, receive and impart information and ideas. For this right to obtain, there musn't be undue interference—subtle or covert — with the operations of the media.
In the course of their work, journalists' obligations musn't extend beyond objectively, truthfully, impartially and without fear or favour seek, receive and impart information. Expecting or compelling them to do otherwise is crass abuse of their mandate as the fourth estate.
Traditionally, for instance, journalists have gone about filming a fatal accident and taking notes for their reports. You don't expect them to turn into Red Cross volunteers in such a situation. Similarly, you don't expect a war reporter to go about defusing bombs at the battlefront, nor should you think he must be called in to give evidence in a tribunal simply because he or she was there when bad things were happening. That rule won't change. If it changes, media freedom is injured.
One major problem with probing journalists who were at work when a crime occurred is that it spawns fear among them. Imagine what will be going on in the mind of a cameraman or photojournalist who is assigned to cover a political rally in the future. Never mind the fact they will go on assignment fearing that the next grenade will explode right in their face. They will also go there with the living fear that, if things go awry as they did at White City Stadium, they are likely to get the spooks knocking on their doors after a hard and trying day. And, of course, our spooks have a mean reputation. They are not the kind of guys that must be door-stepping you so routinely. Needless to say, where there is fear, there is self-censorship, and where there is self-censorship, truth, professionalism and objectivity suffer.
What the police and CIO details did with the ZBC and Chronicle journalists is a very bad and dangerous precedent. There is a real possibility that we will be sliding fast down the slippery slope. Remember that we are dealing with a militarised administration that is, by sober calculations, going to get firmer with its people if it wins or loses the coming elections. By their very nature, military establishments are unpredictable and given to doing crazy things when you least expect it.
Investigating journalists will most likely conflate journalism and criminality. It is easy for a sitting regime to twist bona fide journalists into terrorists if that suits its scheme of things. The world is full of anecdotes to justify this fear. A few months ago, Turkey convicted 13 journalists on the charge of terrorism. Why? Because those journalists worked for a stable that the regime of President Recep Erdogan perceived as too independent and, therefore, politically incorrect. In fact, the strong-arm Erdogan establishment has done the same with many other journalists. Again recently, Brazil turned in Felipe Oliveira, an investigative journalist, for allegedly promoting terrorism after the scribe infiltrated a group that is linked to the Islamic State.
There is paper trail of the same tendency in other troubled countries like Ethiopia, China, North Korea and Thailand.
Ethiopia has over the years used its anti-terrorism law to harass, jail and eliminate independent journalists. Now, the new Ethiopian Prime Minister, Abiy Ahmed, is working a fat sweat reversing the damage his predecessors made.
They largely use the law to justify their clampdown on the media. There is no good reason to assume that it won't happen here, especially given the unpredictability of our militarised administration. Before we know it, journalists will be packing the courtrooms, not on duty, but as State witness and accused persons merely for having been there when a crime was committed.
Also, there is no reason to celebrate the fact that the spooks and cops went to the state media, which they consider their own despite the fact that section 61 of the constitution provides that it must be independent of government control. Tomorrow, the same government will be swooping on the privately-owned media with much comfort. State agents will ask you why you didn't complain when they went to ZBC and The Chronicle. In other words, starting with the official media provides a good excuse to get to the private media. And when they do that, they won't be as nice as they were over the White City Stadium explosion.
Yes, all must be done to get to the bottom of the attempted assassination of Mnangagwa that resulted in fatalities.
Zimbabwe needs its peace for once so the real truth about the explosion must be known. But there are certain things that you won't do in the name of hunting for the truth, and investigating the media is a flat non-no.
l Tawanda Majoni is the Information for Development Trust national coordinator and can be contacted on tmajoni@idt.org.zw.