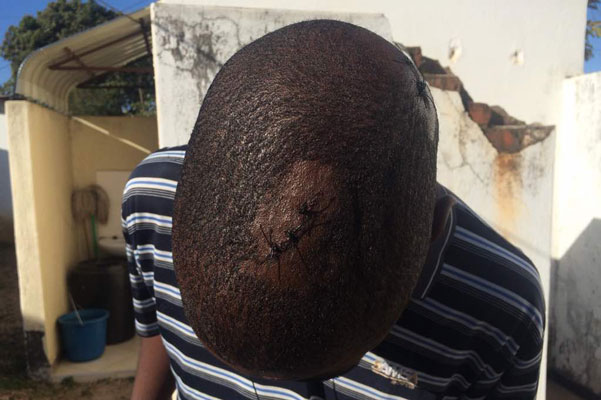 An army crackdown against opposition supporters and polling agents in the aftermath of the July 30 elections has driven several people into hiding across the country, human rights groups have revealed.
News in depth BY TAPIWA ZIVIRA
Soldiers have been accused of launching a reign of terror after opposition MDC Alliance presidential candidate Nelson Chamisa rejected the election results that saw President Emmerson Mnangagwa narrowly escaping a run-off poll.
The incumbent garnered 50,8% of the vote, according to the Zimbabwe Electoral Commission figures now being challenged in the Constitutional Court.
According to a post-election violence monitoring report compiled by the Zimbabwe Human Rights NGO Forum, 199 violations against opposition activists were documented between August 1 and 9.
After the largely peaceful elections, the most disturbing incident was recorded on August 1 when soldiers were deployed into the streets of Harare where they indiscriminately shot civilians, killing six.
The death toll is said have risen to seven while several were left nursing gunshot wounds.
"Violence broke out in mostly high-density suburbs and villages as the military and Zanu PF activists hunted down opposition activists," the NGOs said in the report obtained by this publication.
The Zimbabwe Human Rights NGO Forum is comprised of the Zimbabwe Lawyers of Human Rights, Zimbabwe Peace Project, Amnesty International and the Counselling Services Unit.
Their monitors recorded harrowing tales of opposition activists and election agents who were allegedly tortured by soldiers in the aftermath of the polls.
Some of the victims have been forced into hiding after they were threatened with death.
"From 1-6 August 2018, the responders received calls from people in high-density suburbs (in Harare) who reported that the military was moving around beating up residents," the report says.
"The assailants were identified by the witnesses as they disembarked from military vehicles, clad in military attire camouflage armed with AK rifles and sjamboks. It was reported that there were two groups.
"The first group was beating people at random."
The report said the second group had a list of five names of opposition supporters that they were hunting for.
"It was reported that they went door-to-door beating them up. In the rural areas, assaults were reported of members of the ruling party who attacked opposition persons who had been acting as polling agents," the forum added.
"Monitors from the Forum were informed that some of the victims tried to seek medical help at Chitungwiza General Hospital but were turned away."
Foreign Affairs minister Sibusiso Moyo last week claimed reports that soldiers were torturing civilians in Harare were false because Chitungwiza General Hospital had not treated any injured people.
"The Forum interviewed one of the doctors who later assisted the victims at a private facility," the NGO said.
"The medical practitioner confirms that he saw the military vehicles in the area.
"The total number of assaults is estimated to be 45 and seven non-fatal gunshots by the time this report was compiled.
"The victims, some of whom had bullets lodged in their bodies, including a deaf and mute 44-year-old male victim and some with soft tissue injuries, received medical treatment."
The marauding soldiers also allegedly targeted vendors and vending stalls in Harare's central business area and Highfiled high-density suburb were also destroyed.
"In an incident verified by the teams on the ground in Lusaka, Highfield, a tuckshop was destroyed by soldiers and an amount between $200 and $300 was taken from the victim," the report says.
"In Mutoko East, in Chihwayi Village, Ward 17, an MDC Alliance polling agent had his two (2) houses burnt in the evening of 6 August 2018. All clothing and food was destroyed. The same person was also a victim of arson in 2008."
Cases of harassment of opposition supporters by soldiers and Zanu PF activists are also said to be on the rise countrywide in what could be a repeat of the 2008 deadly political violence that gripped the country after former president Robert Mugabe lost the presidential election to Morgan Tsvangirai.
At least 300 MDC-T supporters were allegedly killed in the violence blamed on Zanu PF and the army, forcing Tsvangirai to withdraw from the run-off poll.
"Various cases of harassment and intimidation by the military have been reported mainly from the opposition's supporters and polling agents," the NGOs said.
"The highest cases have been reported in Chitungwiza, Kuwadzana, Highfield, Dzivarasekwa and Mbare. However, reports have also been received from other provinces such as Midlands, and Manicaland. In Hurungwe West, on 7 August 2018, an MDC Alliance polling agent was harassed by Zanu PF supporters for being a polling agent.
"In Mutoko East Ward 15, Headman Nyamashuka is reported to be compiling names of polling agents. In Guruve, Chifamba Village, Ward 12, a Zanu PF chairperson threatened a villager who had been a polling agent for an independent candidate. Number of violations is estimated at 27."
Civil society groups have also not been spared in the crackdown, which is said have largely been targeting MDC Alliance polling agents.
"A number of civil society members have also been visited at their homes, and arbitrary searches have been done," the report added.
"Whilst in most cases those responsible were in civilian clothes (identifying themselves as police), in some instances, armed uniformed members of the police and army have also been involved.
"Two civil society organisations and their leaders have reported raids at their homes and offices by suspected security personnel."
A Harare man, who was assisted by one of the NGOs to access medical treatment after he was badly beaten by soldiers in Harare's Kuwadzana suburb on Friday, opened up to this publication about his ordeal.
"On my way to town I was stopped by people driving a Mahindra truck without registration numbers," he said.
"There were a couple of people in the car, but two of them, dressed in army uniform, approached me and started kicking and punching me with fists, saying I was one of those who wanted to 'destabilise' the country
"The more I tried to explain myself, the more they beat me up, and after about five minutes, one of them said, 'ya abho, handei' (he's done, lets go) and they left," Still in shock, and nursing swollen legs with blood dripping from his head, Michael went back home to seek help.
But he could not get treatment from a local clinic without a police report and was only rescued by an NGO that facilitated his treatment.
Other victims of the crackdown from Karoi said they fled their homes after they were targeted for serving as MDC Alliance polling agents during the polls.
"After we finished the vote counting process, I was approached by some men in suits and they told me 'the country is ours, you will die for nothing' and they started assaulting me. I fled before I could sign the V11 forms," said one of the victims, a middle-aged woman from Karoi.
Another victim from Magunje said he fled from the area after receiving a tip-off from colleagues that he was being hunted by soldiers and Zanu PF activists, including a former MP.
"A friend tipped me off that soldiers were targeting me after a top Zanu PF official had earlier threatened me with unspecified action," he said.
"I saw several soldiers at the growth point a day after the tip off and I decided to flee to my sister's place in Harare."
On Thursday, Zimbabwe Human Rights NGO forum chairperson Jestina Mukoko wrote a letter to African diplomats based in Harare imploring them to raise their voices against the alleged crackdown.
"We appeal to the African diplomatic community to raise its voice against these gross violations of human rights mainly by the state and its apparatus," read part of the letter seen by The Standard.
"For a government with a powerful state machinery like Zimbabwe, it is difficult to sustain the argument that the people killing civilians on our streets are unknown to the government.
"Forum observers witnessed these encounters and the government must take responsibility.
"History tells us that African governments tend to listen and respond positively when the message comes from their fellow African brothers and sisters.
"And they increase repression when there is silence.
"The people of Zimbabwe will be truly grateful for such intervention. The Forum remains committed to provide any assistance necessary to alleviate the security situation in Zimbabwe."
The Zimbabwe Human Rights Commission has described reports of the crackdown as credible and urged the Zimbabwe National Army to account for all its members and warn them "not to attack civilians in order to stop further harm to members of the public".
Mnangagwa promised to set up a commission of inquiry to investigate the army killings and his government denies deploying soldiers to harass opposition supporters.
Apart from the allegations of the army's physical crackdown on perceived opposition supporters, some activists based outside Zimbabwe have reported to have received threats. One of the alleged victims is Australia-based Victor Chatikobo, who allegedly received threats for 'spreading fake news' about the ongoings in the country. Chatikobo runs a news website that is seen to be anti-government.
There are reports that in some areas, part of the crackdown is targeting MDC Alliance candidates and their agents after Chamisa indicated he has enough evidence to prove the elections were rigged.
An MDC Alliance official told The Standard that some officials threatened they would make the party's losing Parliamentary candidate for Gokwe Kabuyuni, David Siampondo, 'disappear'
Siampondo was allegedly in hiding following the threats.