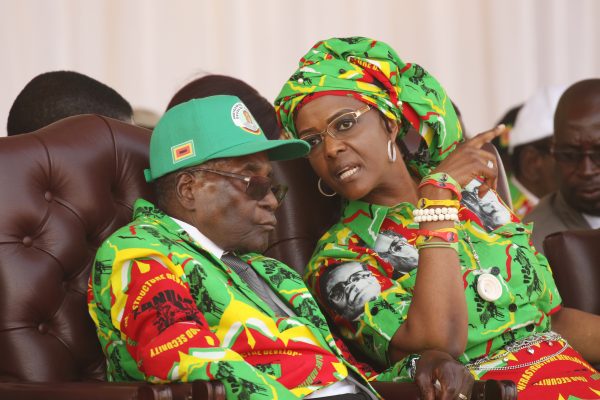 Former President Robert Mugabe and his wife Grace have been fingered in a Zimbabwe Human Rights Commission's (ZHRC) report as human rights violators.
by VENERANDA LANGA
The 2017 ZHRC report, which was tabled before the National Assembly on Thursday, also pointed out that Zimbabweans were suffering due to corruption, political patronage and impunity.
ZHRC chairperson Elasto Mugwadi said in the report 2017 witnessed gross violations of human rights that included the right to life, food and water, education, health, shelter and human dignity.
He said the countrywide Zanu PF youth interface rallies undertaken by Mugabe and Grace when they were still in power were used as a platform to attack and denigrate their perceived political opponents.
"(They) grossly undermined Zimbabwe's founding constitutional values and principles, including the rule of law and recognition of the inherent worth and dignity of each human being," Mugwadi said.
"Accountability to citizens in relation to fulfilment of many of their rights was eroded as government ministers, senior civil servants and other duty bearers spent most of their time attending political rallies and negating their constitutional and statutory obligations to deliver services to citizenry."
The ZHRC report said corruption reported at public entities and in the private sector highlighted the endemic culture of personal enrichment, political patronage and impunity which crippled service delivery across key sectors of the economy. It said this further compromised the protection and fulfilment of human rights to ordinary Zimbabweans.
"In 2017, opposition parties appeared to struggle to offer any alternative to help alleviate the deteriorating human rights situation in the country as their calls to authorities to respect human rights went unheeded," reads the report.
"Perennial disagreements undermined the opposition parties' widely publicised endeavours to form a grand coalition to contest the 2018 general elections as a united front against the ruling Zanu PF party."
The report also cited widespread and pervasive corruption by the Zimbabwe Republic Police officers, particularly the manner in which they were enforcing and managing roadblocks throughout the country where the public perceived them as perpetuating lawlessness and indiscipline.
"Human rights violations were committed against street vendors who were assaulted and had some of their wares confiscated by the ZRP and municipal police mainly in Harare during operations to clear the streets of vendors and during demonstrations against police heavy-handedness," said ZHRC.
"There were allegations of some of the vendors and other protesters having been tortured in detention following their arrest. Efforts by the commission to engage the police following the completion of the Bulawayo (Burombo Flats) and Epworth reports on brutalities committed during the 2016 demonstrations were met with arrogance."