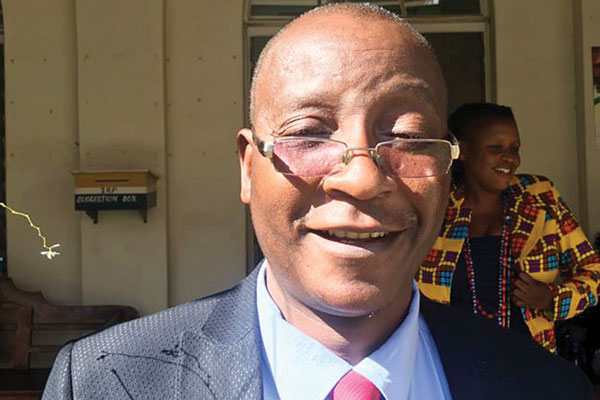 In January President Emmerson Mnangagwa promised that members of the security forces behind human rights violations during the January 14 protests would be prosecuted.
Mnangagwa made the pledge after British television network Sky TV aired video footage of a soldier and policeman assaulting a man in Harare.
However, there have been no reports of soldiers being arrested for the widespread human rights violations, but Justice minister Ziyambi Ziyambi (ZZ) told our senior reporter Xolisani Ncube (XN) in an interview on Friday that the process was already over.
He insisted no members of the security forces were above the law. Below are excerpts from the interview.
XN: A month ago President Emmerson Mnangagwa promised a full investigation into alleged human rights violations by the army in the aftermath of the January 14 protests. How far has that investigation gone?
ZZ: Thank you very much. I think what needs to be highlighted is that the president had received a report to the effect that there were some military personnel that were involved in the violence and consistent with his message throughout was that no one was above the law.
He issued that statement saying if there was anyone who perpetrated violence, regardless of whether that person was a military personnel, police or intelligence officer, there have to be some investigations to that effect.
When the president came back, he was fully briefed, and indeed he indicated that investigations had to be carried out to ensure that if there are any that were involved, they have to face the law. And that was done.
XN: So far, has any soldier been charged for their role in human rights violations post the January 14 protests?
ZZ: What I know is that indeed, yes, we have some who were arrested.
I was briefed by the commissioner-general of police that there were some prison officers who were among the demonstrators. We also have some military personnel who were also arrested, so indeed the arrests that were carried out were not discriminatory.
All those who were suspected to have been involved were accounted for.
What is pleasing is that all those who were arrested were subjected to due process of law.
XN: There have been reports of soldiers and members of the military intelligence being shielded from prosecution by the authorities. Does this mean they had the blessings of the government to commit the crimes? A quick example is the case of the Mbare shebeen robbery involving Military Intelligence Department and Central Intelligence Organisation operatives.
ZZ: The policy of government is that no one is above the law.
The president has been very clear that, in fact, if you look at our Transitional Stabilisation Programme and our Vision 2030, they are anchored on respect for the fundamental human rights and rule of law.
Government has no policy whatsoever to shield anyone who breaks the law. No one is above the law.
The president has indicated that anyone who is caught on the wrong side of the law must face the music.
We strongly believe that if there were complaints about certain individuals who were shielded, reports must be made and due process of ensuring justice prevails will be followed.
XN: The army claimed rogue people that stole military uniforms and arms were behind the January violence. How many people have been arrested so far for those alleged crimes?
ZZ: Indeed a statement was issued by the military because we realised that there were certain elements that were committing crimes using army regalia and the military undertook an exercise to flush out those who had military regalia with them.
However, I don't have specific figures on how many were caught with the military regalia, but I know that a few cases were reported in the press of people who were caught with army uniforms.
Let me say this, the due process of prosecuting them was followed through.
But I do not have specific figures to say how many were caught and so on and so forth.
XN: A large number of people arrested for the January 14 protests have been freed by the courts, largely because of lack of evidence. What is your reaction to criticism that this was mere persecution of opposition supporters rather than prosecution?
ZZ: I think what you have to realise is that of those supporters mainly from the opposition, if they were to be convicted, there would be an outcry that it was wrong convictions.
What is refreshing about this is that it shows that we have a very vibrant rule of law.
It shows that the arresting details in their view, these people would have committed crimes and took them to court.
And what is pleasing is that the court, based on the evidence available, it frees these people.
It shows that we do not influence our courts. Let me tell you something shocking, most of those acquitted were self-actors and the courts acted based on evidence and not on any influence.
This shows that our courts are indeed dispensing justice. They are not there to merely send people to jail, but to give top-notch justice.
The fact that we had a lot of people arrested and acquitted, shows that we have rule of law and people should trust our courts.
Let me explain something, when a protest happens, you do not, as an arresting detail, start to screen people immediately.
You do a thorough investigation and when you take the matter to court, the judicial officer has a duty to integrate the evidence and make a just decision.
As minister of justice, I am proud of the judicial officers who are dispensing this justice without influence at all.
XN: Is the denial of bail to opposition and civil society activists by the lower courts before they are eventually freed by the High Court deliberate as suggested by your critics or it is just incompetence by magistrates?
ZZ: I don't think or I don't believe we have a problem.
It is actually the beauty of our courts or the justice delivery system that if you are aggrieved by a decision of a lower court, either you go for a review or appeal.
So once they have been denied bail by the lower court, they are afforded a chance to challenge that decision.
XN: But bail is now a right unless there are serious and compelling reasons to deny suspects freedom.
ZZ: Yes, it is a right and every court's decision is made based on facts presented.
Bail is given as a right based on other facts availed.
Remember each magistrate makes that decision looking at facts at hand, not just that right.
If the court is satisfied that bail should not be given for various reasons, it will make such a determination.
If the state fails to prove why bail should be denied, automatically bail is granted in the interest of justice.
XN: Why is it that Zanu PF activists such as Godwin Gomwe who were implicated in cases of violence during the protests, including brandishing of guns in public, have not been arrested?
ZZ: I think what we have is a scenario where we have a media that is polarised and certain individuals are labelled easily.
We don't have any report on Gomwe or any Zanu PF member accused of having participated in the protests.
Let me say this, why would a Zanu PF youth participate in protests organised by the MDC and their allies, what for?
Why would a Zanu PF youth fight policies of his own party through violence for that matter? It does not make sense at all.
The issue or idea of dragging Zanu PF's name into the protest was perpetrated by a polarised media, but we don't have such evidence.
XN: But we had Zanu PF youths who were arrested and some convicted.
ZZ: Court papers did not say so, but a polarised media tried to drag Zanu PF into a matter they are not involved in .
I think these are utterances that are being perpetrated by people who want to tarnish the image of our youth league
XN: What is the government doing to demilitarise the National Prosecuting Authority (NPA) following the recent ruling by the Constitutional Court on army and police prosecutors?
ZZ: I think the judgement is in line with the laws of the country and as a ministry we have agreed that we must comply with the NPA Act that requires that prosecutors must have degrees and that the NPA must be manned by civilians.
The court judgement has indicated that within the next two years, the NPA must ensure that the process is completed.
The NPA is going to ensure that they abide by that judgement.
They are aware of it and they have begun progressively to implement the provisions of the NPA Act and the constitution.