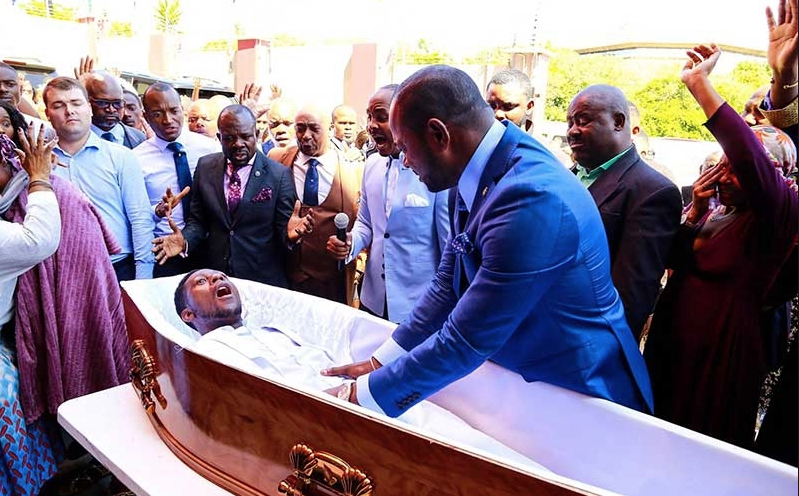 BULAWAYO — The man at the centre of a fake resurrection miracle staged by South African preacher Alph Lukau died vomiting blood, his family says.
Lukau acted out a revival of "Elliot", who came to his church in Sandton, Johannesburg, in a coffin in February. His workmates at a furniture shop in Pretoria recognised him from TV pictures as "Brighton Moyo", but his family in Lupane, Zimbabwe, buried him as Thabiso Proud Mlanje.
"Elliot", whose purported resurrection made international headlines, vanished shortly after the staged event at Lukau's Alleluia Ministries Church. Neighbours at his former home in Pretoria confirmed he had moved out.
A local newspaper, quoting relatives, reported on Friday that the 28-year-old returned to Zimbabwe on March 8 after falling ill and stayed with his in-laws in Insuza, Matabeleland North.
He was admitted at Mbembesi Clinic on March 23, before he was transferred to St Luke's Hospital in Lupane where he died on April 3.
"He was constantly vomiting blood. It was such a painful death. I wish someone could properly explain to me what happened in South Africa," his grandmother, Emily Moyo, said.
South African police reportedly contacted their Zimbabwean counterparts asking for help in tracking down Mlanje, who is thought to have been using a false name at his former workplace.
According to the paper, Mlanje and Lukau are subject of an active criminal investigation by South African police, a complaint believed to have been filed by Kings and Queens Funeral Services whose hearse was used in the elaborate resurrection con.
Police in Insuza said their South African counterparts supplied them details of the case, quoting crime reference number CR 506/02/19.
"They specifically said we should attempt to locate a large amount of money, which they thought Mlanje would have on him, presumably hush-money from Lukau. By the time we located him, he was in a grave," a police source said. Mlanje's in-laws in particular said they had been victims of police beatings as investigators demanded to know where they allegedly hid the money.
With Mlanje dead, the investigation into Lukau could now go cold.
The family supplied a photograph which they said showed Mlanje on a hospital bed just days before his death.
His wife, Simelweyinkosi, insisted she knew nothing about his "resurrection" and denied she was the woman introduced as his wife at Lukau's church.
Speaking from Dandanda Village in Lupane, where Mlanje grew up and was buried next to his grandfather on April 5, his brother Stanley — when showed a video of the purported resurrection — said: "That's Thabiso, I can see him."
Henk Swanepoel, who worked with Mlanje at Vincent Amoretti Specialist Joiner in Pretoria, said he could not say with certainty that the man on the bed was Brighton Moyo, as he knew him.
"I'm afraid I can't confirm or deny whether this man is Brighton or not. He certainly looks a lot like him, but the shape of the head seems different. That could be due to the haircut. I only ever saw Brighton at work, usually smiling and animated," Swanepoel told ZimLive.
ZIMLIVE