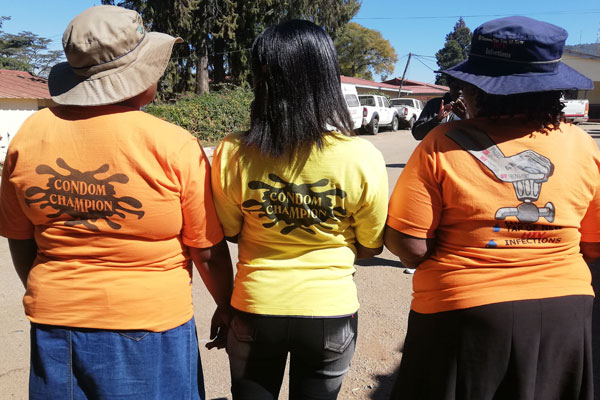 By Brenna Matendere
The National Aids Council (NAC) has targeted sex workers and artisanal miners in the gold-rich Shurugwi district in order to prevent new HIV infections and tame sexually transmitted infections (STIs).
Shurugwi has one of the country's highest HIV prevalence rate which is pegged at 17% at a time when the national average stands at 13%. On the other hand, about 300 cases of STIs are recorded every month.
Shurugwi district Aids coordinator Petros Mazengwa revealed that an initiative dubbed Condom Promotion Programme had since been rolled out.
Selected sex workers and artisanal miners are trained by NAC and spread into hot spots to sensitise their peers about prevention of HIV and treatment of STIs.
"Shurugwi is a hot spot in terms of HIV and STIs in Midlands province and so we have roped in the key populations of sex workers and artisanal miners, who are the major drivers, in order to contain the scourge," Mazengwa said.
"We train them and then we supply them with condoms to distribute to their peers. As they distribute the condoms, they also spread information on HIV prevention and other services such as the voluntary male circumcision.
"We are happy that since the programme started at the beginning of the year, a lot of positives have been scored with people now accessing the services and willing to tame the pandemic.
"Most of the artisanal miners are mobile, so we actually take the services to their areas of work like deep down in the mines and beer drinking places."
Some condom promotion champions who spoke to Standard Style said the programme was changing the behaviour of the key populations.
Siphatisiwe Ndlela, a sex worker who is into the programme, said she distributes the condoms in bars to her peers and in hair salons.
"The uptake is very high. My peers gradually come to understand the need to prevent HIV and stop STIs. If we continue with the programme, we will stop the pandemic in the district," Ndlela said.
Twenty-four-year old Bethel Sibanda said she targets youths between 15 and 25 years and distributes the condoms to them.
"In a month I can distribute about 20 000 condoms. Where I stay with my parents, there is a cabin and I operate from there. I also make outreaches distributing the condoms," Sibanda said.
Tichaona Kwashira, an artisanal miner, said: "Some of my colleagues do not have time to visit the health centres.
"Some can even stay for two weeks while underground. So, as I wait for my shift to go underground as well or during the course of mining, I distribute the condoms and share information on essential services, which helps reduce HIV and STIs.
"Some miners do not want to receive the condoms at public places so they will rather get them at the mines."
Zimbabwe is targeting to end Aids by 2030. Several benchmarks have been set and must be fulfilled by 2020 so that the country achieves the broader goal 10 years later.