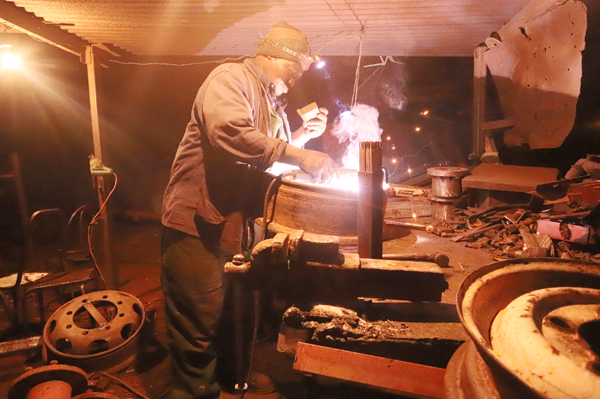 news in depth BY OBEY MANAYITI
For Cosmas Kabondo, the rolling 18-hour power cuts have made life more expensive as his family is scrambling for alternative sources of energy.
Zimbabwe's power crisis deepened early this month when electricity generation at Kariba Dam was reduced drastically due to dwindling water levels.
The situation has been worsened by Zesa's failure to pay debts to Mozambican and South African electricity suppliers, who have cut down on power supply to Zimbabwe.
"The load-shedding is taking a toll on us," Kabondo, from Harare's Kuwadzana suburb, said.
"Many people are taking advantage of the situation as well and at the end, the ordinary person is feeling the heat."
Kabondo said his family now relied on LP gas for cooking, but the costs were now beyond their reach. Cooking gas is being sold for an average of ZW$12 a kg.
"We now have to rely on gas for cooking purposes, but people that sell the gas are taking advantage of the situation to profiteer," he said.
"Some people are selling a kg of gas for as much as $20, while others do not accept payments through EcoCash or swipe.
"Under normal circumstances we spend $20 monthly on electricity, but now we are spending almost $100 on LP gas. We also spend a lot of money buying candles for lighting."
Kabondo said the punishing load-shedding schedule made it difficult for him to buy food for his family in bulk as the refrigerator was always off.
"We cannot buy perishables in bulk as we used to do," he said.
"That means we have to buy meat and other perishables on a daily basis and you know that is every expensive."
Chipo Musandei from Mbare said the power cuts were affecting children because they cannot do their homework after school.
Musandei said children could also not use gadgets such as computers and play games, basically there is now no form of entertainment for them.
"We cannot say we are leading normal lives in this situation. This is also an indication that authorities have failed," she said.
Parents with children at boarding schools said the situation was dire as learners were not able to study at night at a time when they were preparing for crucial examinations.
Boarding schools have not been spared with children now skipping night study time as the institutions cannot afford alternative sources of electricity such as generators.
Kudzai Haripo, a Harare resident, said he was worried that load-shedding and fuel shortages were threatening the social fabric as men were no longer spending enough time with the their families.
"Most often men will resort to going to bars at night because they cannot stay at home where there would be no electricity," he said.
"There are also the fuel shortages where mostly men spend most of their time in queues to source the scarce commodity."
Zimbabwe started facing acute fuel shortages late last year due to lack of foreign currency.
The government has been struggling to address the fuel shortages despite raising the price of the commodity three times this year alone and raising the ethanol blending threshold.
A number of shop owners in Harare's high-density suburbs said their businesses had taken a serious knock due to the electricity crisis.
The shop owners said they could no longer stock perishables in large quantities due to load-shedding and people were buying less.
"It is difficult for small-scale businesses to depend on generators to run their operations because diesel is very expensive and it is in short supply," said a shop owner, who requested anonymity.
"We are just clearing the stock and we will wait for the authorities to address the electricity crisis," he said.
Confederation of Zimbabwe Retailers president Denford Mutashu said shop owners in high-density areas were the hardest hit by the power crisis.
"Power outages have caused havoc in the retail sector as most players are running on generators on a daily basis," he said.
"The load-shedding schedule is becoming a real joke by each day. "The sector players operating in the residential and outlying areas are hardest hit as some have completely discontinued sale of cold chain, poultry and beef products."
Matashu said operating costs had also skyrocketed with one supermarket chain using 600 000 litres of diesel a week to run its operations.
Zimbabwe Commercial Farmers' Union president Wonder Chabikwa said a number of farmers were failing to irrigate their crops and this could lead to huge losses.
"Generally at most we get six hours of electricity a day and mostly from 11pm up to 5am daily," he said.
"We are in winter where our sector must produce the winter crop that the nation requires.
"If the situation is not addressed, we will be faced with huge import bills for wheat, tomatoes, onions, leaf vegetables and potatoes, among others."
Energy minister Fortune Chasi said a short-term solution would be for customers that owe power utility Zesa money to settle their bills. He said Zesa had no money to import electricity.
"I think we should view the current challenges within the context of the debt owed to Zesa," he said. "Initially this amount was $1,2 billion in United States dollar terms.
"So the short answer is yes, there is a solution by paying the debt owed to Zesa.
"If, from $1,2 billion, consumers pay say something like $200 million it will go a long way to resolve our current external debt with Eskom and Hydro Cahora Bassa."
Several senior government and ruling Zanu PF officials have been taken to court by Zesa for failing to pay their bills running into thousands of dollars.
A considerable number of ordinary Zesa customers are on prepaid meters. The minister said local authorities and parastatals were some of the biggest debtors.
Chasi said the government was negotiating with Eskom to resume electricity imports after paying $10 million in an effort to clear the Zesa debt, which stood at $43 million before the payment.
He said the government would also negotiate with Mozambique to resume electricity imports. Chasi urged Zimbabweans to try other sources of energy such as solar.
"Another thing that can be done is for consumers to also begin to work around suitable power-conserving appliances and generally having the culture of preserving power," he added.
"They also need to move on to solar. It is an environment-friendly source of power."
Besides lack of investment in the power sector over the years and the drought, corruption has been blamed for the electricity crisis gripping Zimbabwe. In 2016, the government issued a tender for a 100-megawatt diesel plant in Dema to augment electricity supply, but the company that won the tender, APR Energy, was replaced by Sakunda under controversial circumstances.
Sakunda, which is owned by President Emmerson Mnangagwa's advisor Kuda Tagwireyi, reportedly subcontracted to a losing bidder and in the process doubled the costs of the project.
Auditor General Mildred Chiri last month revealed that the Zimbabwe Electricity Transmission and Distribution Company (ZETDC) had not taken delivery of transformers it paid for nine years ago.
The struggling parastatal paid US$4,9 million to Pito Investments for the transformers that were never delivered.
Chiri said the same contractor was also paid US$561 935 in advance by the Zimbabwe Power Company in 2016, but up to now nothing had been supplied.
During the same year, ZPC paid R196 064 to York International for gas that has not been delivered.
Several Zesa executives are facing corruption charges in the courts.