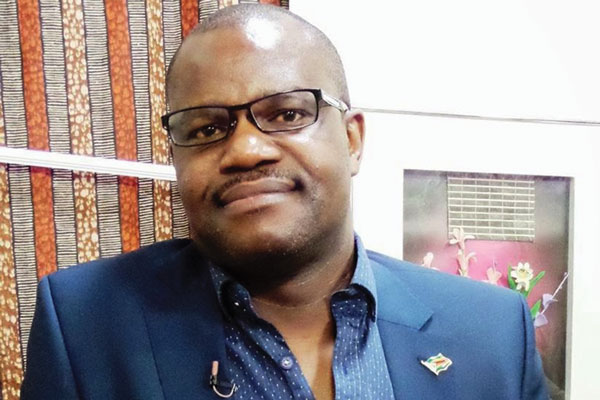 news in depth:BY DUMISANI NDLELA
Zimbabwe is laying the ground for a modern state underpinned by use of artificial intelligence (AI) to boost security in the cities, but critics fear President Emmerson Mnangagwa's government wants to deploy facial recognition cameras for a mass surveillance system targeting critics and opponents.
The project is part of an ambitious Smart Cities initiative, which Mnangagwa said would deliver digitally-networked cities that would transform people's lives, with reconstruction of roads, bridges, schools, clinics and housing.
The modernisation project, he said, would require "high-level security systems".
Mnangagwa's government has been accused of wandering towards authoritarianism, ruthlessly crushing protests and mounting roadblocks and deploying anti-riot police in the capital at the slightest whiff of protests.
Police deployments have become a common feature around the main opposition party's offices to curtail imminent demonstrations.
In its World Report 2020, Human Rights Watch said despite Mnangagwa expressing his commitment to human rights reforms, Zimbabwe remained highly intolerant of basic rights, peaceful dissent and free expression.
Rashweat Mukundu, the International Media Support's sub-Saharan Africa advisor, described information communition technology (ICT) sector-based surveillance in Zimbabwe as "a dark spot in which the state has not pronounced its intentions clearly and yet it is secretly growing its capacity".
"If government has the intention of promoting facial recognition technology, then this must be done in a very transparent manner, with the intention clearly spelt out in a law," said Mukundu, who has researched on surveillance in Africa.
Information ministry secretary Nick Mangwana dismissed suggestions that government was planning to create a surveillance state, saying it was inconceivable that it would track its critics and opposition members.
"The principle of a smart city is based on technology, but technology is not only about security; it's about delivery of service efficiently in a modern way using cutting-edge innovations," Mangwana said.
He said such technology would be used in refuse collection, water reticulation, billing and the transport systems, among a number of things.
"So the idea of security is just one little aspect," he said, pointing out that cameras would be used to control traffic, monitor crime, and create a safe environment for the population on the streets.
Apparently, in the past, government has used secret cameras to pry into the private lives of its critics. In 2007, it fitted a secret camera in the ceiling of Roman Catholic archbishop, Pius Ncube's bedroom, exposing his romance with a woman who worked at a cathedral. The exposure, which was played on national television, permanently silenced former president Robert Mugabe's fiercest critic.
Seven years later, former State security and presidential affairs minister, Didymus Mutasa, warned critics that government could "visit your bedrooms and expose what you will be doing".
"We have our means of seeing things these days, we just see things through our system. So no one can hide from us in this country," he said.
Mutasa's threats represented the attitude of the current government, which despite pledging to usher in a democratic dispensation after an internal, Zanu PF coup in November 2017 that removed Mugabe from power, is showing an increasing disposition towards dictatorship and gross intolerance of dissent.
Now, the technology for digital surveillance is increasingly being perfected, with dictators using it to undermine free speech and opposition.
Facial recognition cameras use a biometric software application capable of distinctively recognising individuals using data captured from people's faces.
It can accurately and quickly identify target individuals once they come within range of surveillance cameras.
While they contend that surveillance cameras were common in a number of countries and had been used to combat crime and promote safety in public spaces and roads, human rights defenders argued that Zimbabwe did not have robust privacy and data protection laws to stem abuse or misuse of data collected through facial recognition cameras.
They said the choice of China in this project was particularly of concern: China has used surveillance technology to suppress people's fundamental rights.
Beijing uses facial recognition cameras for racial profiling and tracking and controlling of Uighur Muslims in the western region of Xinjiang.
"Such suppression is possible because China does not adhere to any human rights-based data protection principles.
"The Chinese government is, therefore, free to use the data it collects in any way," said Misa Zimbabwe, which has led a campaign for laws to protect people from excessive surveillance and data processing.
Mukundu concurred, saying while facial recognition could be used for positive purposes in health, education and many other spheres of life, "the danger is that the experience from China, where this technology is coming from, is that it has been used to violate human rights".
Indeed Chinese firms are playing an integral role in the project, after being approached to "spearhead our AI revolution in Zimbabwe", according to former presidential advisor, Christopher Mutsvangwa, who was instrumental in bringing the Chinese as the Zanu PF secretary of science and technology.
Huawei Technologies, a Chinese telecoms giant helping to build the backbone infrastructure for the surveillance system, which will also support the Chinese-built Parliament currently under construction in the proposed new capital city in Mount Hampden, was last month granted income tax exemption curiously backdated to December 30, 2009.
Huawei last year completed a US$98 million fibre optic project for state-owned TelOne linking Harare and Bulawayo, the country's two major cities, with South Africa.
The project was funded by the China Exim Bank, which is currently bankrolling a network expansion project also being undertaken by Huawei for mobile telecommunications network, NetOne.
The US$140 million, six-storey Parliament is being funded wholly by the Chinese government as a donation to Zimbabwe.
It is part of the ambitious smart cities project, with private sector projects for the construction of hotels and other facilities expected in the area soon.
The government also plans to relocate some of its organs, including the judiciary and executive branches, to the site, where a State House and official residences for the speaker of the House of Assembly and president of the Senate will also be constructed.
The rollout of the surveillance cameras, believed to be supported partly by concessionary funding from Chinese banks under the Belt and Road Initiative (BRI), could start this year.
Since signing a strategic agreement with Chinese AI firms, Cloudwalk Technologies and HikVision in 2018 for cooperation on the mass facial recognition project, government had been harvesting data at the country's airports, state facilities and border points using facial recognition cameras with deep learning capacity donated by these companies.
The cameras were also deployed in the eastern border town of Mutare, where government launched the city's smart city project in December.
Mukundu said: "In Zimbabwe, if this technology is to be adopted, there's need for transparency.
"The challenge is that our government has not been transparent in terms of its surveillance capacity and what that surveillance is being used for, so the truth is that our police, our CIO (Central Intelligence Organisation) and our military now have so much capacity to carry out online and ICT-based surveillance on citizens and we're not sure if they have judicial oversight over where that information is stored and for what purposes it will be used."
While Mutsvangwa said the deployment of these gadgets was to facilitate "smoother passenger processing," the Chinese firms said the cameras had deep learning capabilities, allowing them to forage through vast amounts of unstructured data to develop algorithms for facial recognition of darker faces.
A senior official confirmed that government was building an "artificial intelligence database" using the Chinese technologies.
Although he did not disclose how this was of use to government, CloudWalk indicated the next step was for Zimbabwe to give it such data to develop its algorithms for facial recognition cameras tailored for the black population.
The Chinese government owns a large-scale database, which is one of the most important components for developing AI applications and products, according to reports from China.
Yao Zhiqiang, strategic director of CloudWalk's research and development, had told the Global Times that CloudWalk had demanded strong and stable networks, as well as broad camera layouts, as the next step in their cooperation with Zimbabwe.
Yao said CloudWalk had not yet tailored its facial recognition technology to black people when it signed the cooperation agreement with Zimbabwe.
"The differences between technologies tailored to an Asian face and those to a black one are relatively large, not only in terms of colour, but also facial bones and features," Yao said, noting that in order to make a breakthrough with such technology, deep learning was going to be exploited using data, which was to be provided by Zimbabwe.
But Mangwana said he was not aware of CloudWalk's claims, promising that Zimbabwe's project would be transparent and respect people's right to privacy.
He, however, noted: "We're building our infrastructure to allow for certain things to happen.
"We're launching a satellite into space soon. That's enabling technology and we're laying fibre optic on the ground to ensure the enablers are there. "We cannot run away from technology because of your paranoia," Mangwana added.
"Procurement of material (for a facial recognition project) is done in terms of the Procurement Act of Zimbabwe, which gives us an obligation to do this transparently.
"If, for example, China puts the best bid, which has the most value for money, and flexible terms, then we'll go for China rather than America," he said.
"The point is smart city is aspirational at the moment. There is no tender that has been given to anyone for the smart city.
"We're saying when we move Harare from here to Mount Hampden, we're going to build a smart city. It is going to be our first smart city.
"We're at master plan stage right now and the technology has not yet been awarded to anyone," he said, dismissing claims Cloudwalk and Hikvision were working on the project.
"The new city should be different from the current one. It shall be a smart city and from there we shall roll out smart cities in Zimbabwe.
"But there is no one with a contract. It can be Siemens next year. "It can be anybody. It can be Huawei."
But in December, Mnangagwa launched the smart city project in Sakubva, one of the oldest suburbs in Mutare, dubbed Sakubva Urban Renewal.
The project will result in the demolition of dilapidated houses and slums and construction of high rise flats with the capacity to accommodate 50 000 people, government officials said.
Local Government minister July Moyo said the project would be "rooted in the implementation of user-friendly information and communication technologies".
Mutsvangwa refused to give details on progress on the AI project, saying he was no longer involved in the initiative.
When he signed the deals with Chinese AI companies, he stated that while the technology was being harnessed for security purposes, it would also be used for traffic control, disaster management and even retail and banking.
A telecoms expert familiar with the Smart Cities project said the government's surveillance cameras would work through mobile networks.
"The cameras would have facial recognition technologies. "They would relay data to a central point in real time as well as store it," said the expert.
"The system vastly depends on internet protocols (IP). "It will, therefore, require a very reliable data communication network to function," he added.
NetOne is currently constructing an additional 250 base stations under an agreement with Huawei Technologies International.
The project, funded through a concessional loan of US$71 million from China Exim Bank, is expected to strengthen the mobile network's internet connectivity and result in high speed data.
NetOne has a 28.5% share of LTE base stations, according to the Postal and Telecommunications Regulatory Authority of Zimbabwe (Potraz).
Econet, the privately-owned mobile telecommunications network, has a 69.9% share, with Telecel, in which government bought a 60% stake from Vimplecom in 2016, having a 1.6% share of LTE base stations.
The latest initiative is expected to push NetOne's share of LTE base stations, boosting the capacity and speed of its wireless data networks. Huawei also supports fixed line firm, TelOne, which is transforming itself into a fixed mobile converged service provider.
TelOne, which is wholly government-owned, has one of the biggest data networks in the country.
While the surveillance system will be able to ride even on the Econet and Telecel infrastructure, NetOne was "being boosted specifically for this project," one telecoms engineer said.
Intelligence officers and telecoms regulators have toured Econet Wireless Zimbabwe facilities to apprise themselves of its surveillance system, according to one source.
The system monitors base stations across the country from a control room in Harare.
Econet can see people visiting or passing through its base stations across the country through its surveillance network.
It was not immediately clear if Huawei would confine its role to NetOne's network infrastructure upgrade or be involved in the deployment of surveillance cameras as well.
Econet Wireless Zimbabwe is equally upgrading its network.
Last year the company signed a deal with Chinese telecommunications firm, ZTE, for a multi-million dollar core network project replacing obsolete equipment.
Mukundu said there was a real danger the technology could be used to monitor people's movements and curtail freedom of association.
"It could be used to target, for arrest and for harm, those who are critical of the government," he said.
In countries where data laws are weak, facial recognition technology has been used in an intrusive manner, allowing massive monitoring of citizens.
Stored personal data, which can include sensitive personal information, can be analysed without the authority of the courts, or even without reasonable suspicion of affected individuals.
In other countries, it has been used to monitor activists and political opponents.
"When it comes to those anxieties, which I don't believe are coming from civil society or anyone else but you, we have section 57 of our constitution, which protects the right to privacy," Mangwana added.
"So this is not an unregulated terrain — there will be regulations.
"We have the cyber laws that are coming in.
"They have cyber protection of different things and by cyber we're talking about all this technology, so there are safeguards."
l Dumisani Ndlela is a freelance journalist. This research on digital surveillance was supported by the Media Policy & Democracy Project, jointly run by the University of Johannesburg and University of South Africa