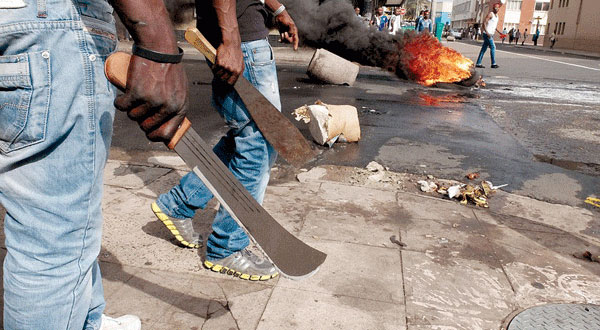 A CHIPINGE soldier allegedly shot a member of a machete gang with his AK47 service rifle following a fistfight while watching soccer at a nightspot.
By Richard Muponde
This came to light when Foster Macheza (27), based at 3.3 Infantry Reserve Battalion in Chipinge, appeared before Chipinge magistrate Joshua Nembaware last week facing a murder charge.
He was remanded to April 14 on $500 bail after his lawyer Langton Mhungu successfully applied on his behalf.
In addition to bail, he was ordered to report every Friday between 6am and 6pm at the Mutare Criminal Investigation Department, reside at the given address and not to interfere with witnesses.
Prosecutor Timothy Katsande told the court that on March 8 at around 8pm Macheza, together with other beer patrons, were watching soccer and drinking beer at a bar in Chipinge.
During that time he allegedly picked an argument with Richard Mapokodo and his machete gang.
A fight ensued and Macheza was overpowered by the gang, which used machetes and logs to assault him.
The soldier, who had been deployed at Sweet Acre Farms, fled from the scene, and went to his residence at the farm.
He armed himself with his AK47 service rifle and went back to the bar.
On arrival, he fired three shots at the gang members.
One of the shots hit Bray Munhewu on the left hip inflicting serious injuries.
The now-deceased Munhewu was rushed to Chipinge District Hospital where he was pronounced dead on admission. A police report was made, leading to the arrest of Macheza and a docket for murder was compiled against him.