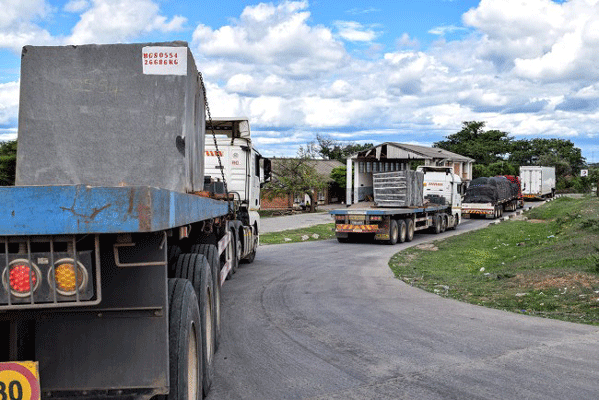 ZIMBABWE may be losing millions of dollars in export earnings through illicit trade of its black granite, fuelling speculation that official export figures may be grossly understated.
news in depth:BY HENRY MHARA
It is estimated that over 200 000 metric tonnes of granite are mined in Zimbabwe annually with over 95% exported all over the world for use in cladding buildings, floors, facades and interior finishings such as kitchen countertops and other luxurious decorations.
According to statistics from the Minerals Marketing Corporation of Zimbabwe (MMCZ), the country earns in excess of US$20 million per year from its granite exports.
MMCZ says granite export figures for the year 2019 have not yet been finalised by auditors, but told this publication that the country produced 185 085 metric tonnes of granite in 2018 worth US$29,161 million.
Those figures indicate a price of around US$156 a tonne, well below the market rates reported by UN Comtrade, a repository of official international trade statistics.
There are fears that the country has been losing even more, with investigations done by this publication showing that a huge fraction of the mineral is smuggled out of the country.
Experts say the export figures recorded in Zimbabwe's financial books do not match the glitter of black granite used to build some iconic buildings around the world, fuelling suspicion the country is losing millions of dollars annually in illicit trade of its stone.
They also say more money in the sector is lost through misinvoicing — the deliberate falsification of the value, quantity or type of a commodity in an international commercial transaction.
"We use fake declarations to smuggle the consignment," said a Mozambique-bound haulage truck driver transporting a giant boulder of granite at Nyamapanda, Zimbabwe's border town with Mozambique.
The driver, who declined to be named, works for a firm that is contracted by one of the granite mining companies in the country.
Seventeen companies, most of them foreign, mine the mineral in the country.
"The company that exports these stones has connections with officials here at the border so sometimes we declare groceries when, as you can see, we are carrying granite.
"Sometimes the officials don't even do physical checks to see if our load tallies with what we have declared.
"There is so much corruption involved," said another driver who also declined to be named.
The driver said these are some of the numerous tricks that are being used to smuggle the granite rocks, including using returning Mozambican trucks.
"Some of the trucks you see in the queue won't be carrying a load," he said.
Alex Magaisa, a United Kingdom-based Zimbabwean academic and lecturer of law at the Kent Law School of the University of Kent, said smuggling of minerals was rampant at border posts.
"The government blames porous borders, but that porosity is a creation of the human hand," Magaisa said.
"There is lots of smuggling going on, often through neighbouring countries where it is said syndicates of foreign dealers are stationed.
"The only problem is that those investigating have an interest in the illegalities. The conflict of interest is plain."
Zimbabwe Revenue Authority (Zimra) head corporate communications Francis Chimanda had not responded to questions sent to him by the time of going to print.
MMCZ confirmed to this publication that minerals were being smuggled out of the country, but said government was putting measures to reduce it.
"The corporation has got a vast inspectorate and monitoring department which carries out surveillance on all mineral activities in order to curb any possible leakage.
"Their activities cover the granite sector as well," said MMCZ in an emailed response.
"The corporation monitors this subsector extensively, however, there is always room for improvement."
In this regard, MMCZ said they had invested in more vehicles and personnel in order to increase visibility in surveillance, as well as construction of weigh bridges at Forbes and Rutenga border posts.
"Due to procurement challenges, only Rutenga has been completed and work on Forbes will be commenced before end of year," said MMCZ.
MMCZ plans to fund the construction of six rail weigh bridges, through the National Railways of Zimbabwe.
In Pfura rural district's Matope area, near Mt Darwin urban centre, this reporter saw miners with Chinese company Indicom slicing a mountain of granite and loading boulders into waiting trucks.
The workers said company regulations did not allow them to speak to the media.
Efforts to get an official comment from the management were futile as we could not track them down for weeks.
But Pfura Rural District Council (RDC) said over 10 000 tonnes of black granite were mined from the areas annually.
Two companies operate in the district.
Due to the poor monitoring by government officials, who rarely visit the mining sites, Pfura RDC suspects the miners understate weight and production figures.
"We only rely on the figures that the companies provide us," Pfura RDC CEO Stanslous Nyachowe said.
There are huge disparities between taxes paid to government through the local authority which, in turn, should benefit the local community and what the miners receive in terms of export earnings, he said in an interview.
Taxation of black granite exports is conducted at multiple levels.
At a local level, the district within which black granite is mined, collects a levy from the mining companies.
This levy is charged per unit of production — currently at $80 (equivalent of US$1) per tonne of black granite.
A 2% royalty is collected by MMCZ.
Before 2009, the royalty was paid to the RDCs as black granite was not categorised as a mineral by the government.
"What these RDCs are getting is ridiculous," said Farai Maguwu, director of the Centre for Research and Development, who has carried out extensive research and documentation on human rights abuses, illicit trading and corporate looting in Zimbabwe's extractive sector.
"At the national level, we don't really know much in terms of what the government is getting because we are not getting disaggregated mineral revenue figures," Maguwu added.
"But it's clear that what we are getting as people are peanuts."
Comtrade data from the average prices paid for imports of black granite from other countries show that Zimbabwe gets prices close to the average.
Italy paid an average of US$352 per tonne in 2018 for all black granite imports as compared to US$269 per tonne for imports from Zimbabwe.
South Africa paid US$123 per tonne for all its imports (inclusive of imports from Zimbabwe), and US$301 per tonne to Zimbabwean exporters.
Spain paid US$248 per tonne for all imports, and US$344 per tonne to Zimbabwean exporters, according to the UN Database for trade statistics.
"This does not rule out forms of illicit finance — for example, tax evasion, bribery and illicit externalisation of foreign currency earnings," mineral economist Norman Mukwakwami said.
Raw black granite is sold at over US$1 000 a tonne, and blocks weigh 20 to 30 tonnes each.
A check on markets across the world shows that black granite goes for around US$1 000 on www.stonecontact.com and Alibaba, indicating that this price is probably on par with international market prices.
Data from ZimTrade shows that 878 000 tonnes of black granite was exported over the period from 2014 to 2018.
However, Comtrade indicated that only 289 171 tonnes were recorded as having been exported – 33% of the official record.
"This underreporting could simply be down to customs officials across the world not sharing data with Comtrade or recording black granite exports erroneously under a different HS code," Mukwakwami added.
"But like I said, we cannot rule out risk of trade misinvoicing."
According to data collected by the Observatory of Economic Complexity at the Massachusetts Institute of Technology, 95% of mined black granite is exported to Italy, South Africa, Germany, Spain, the United Kingdom, China, Japan, Malaysia, Singapore, Argentina, the United States and Canada.
Official records show that granite makes up 1.6% of Zimbabwe's total exports, far below gold (32% of the country's total exports) and raw tobacco (14%).
Most of that granite goes to Mozambique, and the rest winds up all over the world where it is used for different purposes, including in high-end buildings such as Denmark's Royal Danish Library.
The library is one of the most outstanding architectural structures in Copenhagen.
Clad in black granite, the giant structure, known as the "Black Diamond" and built at a cost of US$9,12 million, is among eye-catching sites in Europe, with its clean-cut lines and glittering polished surfaces making it an architectural jewel.
The facade consists of 2 500m2 absolute black granite mined in Zimbabwe and cut in northern Italy.
According to the Zimbabwe Independent newspaper, issue of February 1, 2019, companies that mined granite paid Mutoko Rural District Council tax royalties of less than US$45 000 at a rate of US$1 per tonne and supplied the Italian designers at US$600 per square metre slice before polishing.
l This story was produced by Henry Mhara. It was written as part of Wealth of Nations, a media skills development programme run by the Thomson Reuters Foundation. More information at www.wealth-of-nations.org. The content is the sole responsibility of the author and the publisher.