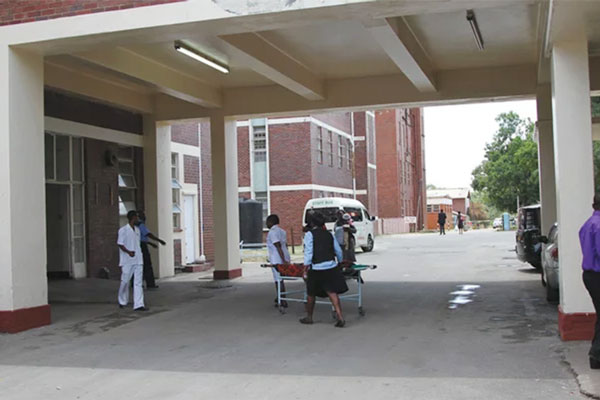 BY LORRAINE MUROMO
A SOMBRE atmosphere engulfs maternity ward at a Harare hospital.
A small cast of anxious-looking women remain speechless as they gather around a young woman lying on the bed in the corridor; a man paces up and down as if possessed by some spirit.
Before long, a nurse emerges from the room next door and suddenly, everyone springs to a wakeful alertness, hoping she would deliver good news.
"I am sorry, but….."
Chido Nyamukuta, the young woman, could not even wait for the midwife, Lisa Chimbetete, to finish her sentence as she broke into some convulsive wailing.
"My baby! I want my baby! No, this cannot be! "You can't possibly tell me my child is no more.
"I swear I heard him cry just a few minutes ago," screamed the heartbroken 31-year-old; and her husband, who had been perambulating the corridors.
He too could not stomach the news. Sobbing, he sinks to the floor, hands on his head, prompting the nurse to walk over and relay the news in person while the other women try to console Nyamukuta  and prevent her from jumping off the bed.
"Sorry, sir, we tried all we could to save your baby, but the situation was totally beyond our control," the nurse explained.
The child died from breathing complications he had just after his birth though a caesarian operation.
Nurses could not connect her to an oxygen machine because the commodity had run out.
According to health experts, this scenario plays out in Zimbabwe's public hospitals with alarming regularity these days.
With the country's public health system crumbling, underlined by shortages of drugs and equipment and an overburdened and underpaid staff, some women have been left with no option, but to resort to pre-historic deliveries in backyard places overseen by untrained midwives, thereby endangering their lives and their babies.
To compound the situation, most expectant mothers cannot afford decent maternal care.
And for those who can, it remains highly risky.
If a circulated video footage of a woman giving birth at the entrance of a health facility in Harare while nurses and midwives looked on and could be heard saying she was not ready, is anything to go by, then it shows the deteriorating standards in the midwifery sector.
After the video went viral on social media, businesswoman Olinda Chapel took to Facebook to castigate unprofessionalism that was being compounded by the lack of drive and resources.
"What happened at Edith Opperman clinic is wrong in every sense. The lack of appropriate midwifery services in Zimbabwe is diabolical. No matter the outcry, we still find ourselves in this same non-progressive situation. Zimbabwe, you can do better!" Chapel said.
"The number of midwives that are applying to join the Global Recruitment drive is a clear indication that we have enough staffing levels to man all our clinics.
"We can provide a world-class standard when it comes to giving birth all the way to neo-natal care.
"I for one am extremely happy to pay two extra midwives at Edith Opperman clinic and this can be funded by Olinda Chapel Foundation."
She added: "If only corporate companies could sponsor a midwife for each and every clinic in Zimbabwe.
"Or is this a case of poor policies? Why turn her away when there was adequate staffing?
"This 2021 mother and baby should not die at childbirth. Are our babies doomed from birth?"
Late last year, 23-year-old Zimbabwean Chido Msimanga gave birth to her first child — not in a hospital or a clinic but rather at the home of 81-year-old volunteer midwife Susan Mutsawashe.
With complications manifested by a swollen left leg during her pregnancy, Msimanga recalls being turned away from both council clinics and public hospitals as they were scared of complications that would arise due to her condition.
"I vividly remember being in excruciating pain as I made my way to the hospital.
"My waters had just broken and I had become agitated. However, disappointment awaited at the doors of the only sanctuary I had hoped to survive in," Msimanga said last week.
A mother of two, Mary Katsande said her own experience was also not so rosy years back when she gave birth to her twin babies at Parirenyatwa Group of Hospitals.
"To be honest with you, I am not one happy mother, even if it feels like it's been a decade, but the memories are still fresh in my memory.
"I recall the nurse's smug face when I asked her to help me with changing my child's diapers," Katsande said
"As I lay prostrate and weak, she looked at me and said that was something I had to do for myself and she was not obliged to help with the clAeaning."
Zimbabwe Confederation of Midwives president Emmanuel Mahlangu said the situation at the country's health centres was depressing.
"Our current situation is regrettable. "The women of our nation deserve better," Mahlangu said.
"The future generations in today's newborns can be better protected. The overall prevailing economic environment, the Covid-19 pandemic and the pre-existing shortage of midwives coupled with low recognition have collectively left a demotivated and despairing midwifery workforce.
"The ongoing skills drain to local non-midwifery employment and international nursing jobs are a dark cloud on the maternity services.
"Burnout appears to be the order of the day in many maternity service centres in the country and more so in the capital city.
"Being in an environment where other women are able to make better income from any other ventures other than public health maternity services tends to create a midwifery workforce that is preoccupied with personal concerns more than the caring profession."
He added: "The nation needs to restore the dignity of the midwives, which will in turn bring protection to the health of the women, newborns and their families.
"All things being equal, such embarrassing incidents of women delivering outside health facilities should only exist in history textbooks.
"We need, as a nation, to closely evaluate religious practices that put women at risk by encouraging delivery by non- trained personnel, late booking for maternity services and many child deaths.
"We need to sanitise our health delivery services from repeated disruptions arising from human resource concerns.
"We need an enabling environment of adequate resources such as ambulances, equipment and consumables.
"Regulations for midwifery should be updated to international standards and the profession has to be acknowledged as such.
"Families need to prepare well for pregnancy and make ready emergency plans for delivery."
Mahlangu called on the corporate world to complement government in the provision of maternity services.
"Government and local authorities need to ensure well-resourced maternity services," he said.
"The private practitioners need to make their services affordable for the women, who may need them."